We've already told you about all the Portland "facts" that're actually lies, but what about the fact that Stumptown's crazy for food carts/trucks? Well, that's actually a fact that's... um, a fact, as evidenced by the way they kept opening even when it was too cold to actually go to 'em. Here're the nine best new ones...
Recommended Video
Here's Our Travel Guide to This Nation of Over 7,000 Islands
Downtown
Recently moved from 3rd and Ash to the pod around 9th and Alder, Bing Mi!
still offers jian bing, a savory crepe found in Beijing. The crepe is filled with egg, black bean paste, chili sauce, scallion, cilantro, pickled veggies, and a wonton cracker that adds a nice texture. You have the option to add sausage, something we highly recommend. The experience is funky and flavorful and unlike anything else you'll find on the streets of Portland.
Sellwood
Portland's barbecue scene is quietly getting better, in a large part thanks to carts like this one. They're not trying to emulate any regional variety of 'cue, instead they're focusing on the flavors and styles they love. The couple here makes tasty renditions of pulled pork sandwiches. They offer an original, Hawaiian-style, Mexican torta, and a spicy "Volcano."
Humboldt
Okay, now that we all remember that pig Latin is kinda annoying, we have to admit it's a clever name for this new cart on Albina. Also clever is focusing on pork and not just offering bacon sandwiches. Igpay's menu mostly consists of three sandwiches, our favorite being the Iowa Bob, which is a saltine breaded pork tenderloin with homemade pickles, onions, and yellow mustard.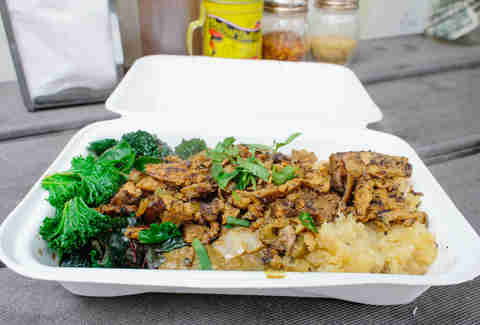 Downtown
A mostly organic, gluten-free, vegan food cart founded by five women who became friends over their shared love of food and health. Is there anything more Portland? Despite the twee backstory, these ladies' success stems from creating delicious food that you won't even know is good for you, like the daily harvest bowl, which is a soulful concoction of root vegetables and seasonal greens, plus there's the option of adding a number of flavorful toppings, which, if you ask, they'll let you know which ones are particularly "hella dank."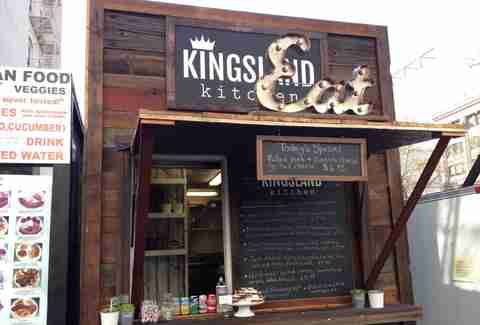 Downtown
Friendly British expats run this cute little wooden shack that puts out surprisingly delightful sandwiches given the stereotype. The menu is largely meat heavy, which is a relief with the focus on vegetarian and vegan carts these days. Look for Guinness-braised beef, jerk- and Mumbai-spiced chicken and slow roasted pork, all on perfectly baked French rolls. And make sure to save room for their desserts, which are temptingly placed at the order window.
King
The cart is located in the Fusion pod off MLK, an area that is just starting to be known for its vendors, thanks largely to the addition of a covered seating area and SD's Midwestern specialty: stuffed burgers. Chris, the chef and owner, dreams up tasty creations like The Calzone, a burger stuffed with pepperoni, mozzarella, and marinara. Or the Tres Hombres, stuffed with jalapeños, olives, and pepper jack cheese.
Downtown
This family-run cart took over the space that Samurai Bento sadly left behind. Luckily, it appears that Green Leaf is a worthy successor. The menu largely consists of Americanized favorites, but they're executed with care and are more elevated than what you'd find at Panda Express. The daily specials are for the more adventurous.
Downtown
Already one of our favorite carts, Polli-Tico specializes in pollo a la brasa, a traditional Peruvian charbroiled chicken dish, where the fowl is slow-cooked in a rotisserie oven that the two brothers imported from Peru, then served with your choice of two sides: fried yuca, beans and rice, fries, salad, or cole slaw. With the city's sudden interest in rotisserie chicken they do often sell out so make sure to get there early!
 
Brentwood - Darlington
Fresh, flavorful Mexican food is starting to become as synonymous with 82nd Ave as top-notch, hole-in-the-wall Asian cuisine. One of the newest additions to the scene is El Fogón, a cart that's open almost all day (10am-9pm) and serves $1 tacos and $5 burritos and quesadillas. We haven't ventured into their soup options yet but will definitely be going back for the menudo next time we're feeling under the weather.
Sign up here for our daily PDX email and be the first to get all the food/drink/fun Portland has to offer.