Portland's got a reputation as a culinary mecca for a reason: there's a little something here for just about everyone. With all of the constant chaos buzzing that makes this city so dang pioneering, there's also a whole world of information buried deep in the tangled tubes of the internet about dear ol' Portland that may surprise even the most hardened Sunday Funday-celebrating natives. Here are a couple of food secrets about the city that are almost good enough to eat (with liberal amounts of Aardvark sauce, of course).
Portland and vegetarians go way, way back
Believe it or not, Portland's fondness for a meatless lifestyle goes all the way back to the 1890s, when the city's first vegetarian restaurant opened its doors on SE 60th and Belmont. Catchily dubbed the "Sanitarium Food Company Cafe" (because there's no better place to eat your food than someplace with "sanitarium" in the title), it served up truly soul-crushing dishes. Take protose, an essentially flavorless wheat-based meat substitute developed by the cornflake king/cereal mogul John Harvey Kellogg and described as having the consistency of "brown nuggets in emulsified, nebulous gravy" by Heather Arndt Anderson, author of Portland: A Food Biography. This humble little cafe proves that there are, in fact, worse things you can put in your mouth than tofu.
And speaking of tofu…
Portland and tofu have a nice, cozy history together -- after all, the Ota Tofu company, which opened up in 1911 on NW 5th and Everett in Japantown, is allegedly the oldest tofu company in America. If you look closely, you can find the operation still around today at a different location, its employees thoughtfully scratching their beards as they stir giant pots and whisper positive affirmations to the tofu. Probably.
Your favorite local pub was probably once an "oyster parlour"
That's right -- these were apparently all the rage in shenanigan-loving ol' Downtown Portland. Many of these parlours didn't stop at oysters, but also served other downright sensible food pairings like bonbons and ice cream for sophisticated ladies looking to get their seafood and sweets on for an evening. Cookbook author Helen Evans Brown helps paint a colorful picture for us, describing Downtown's Keith's Oyster House as a place where people "drank wine, and made whoopee and goodness knows all until 3 o'clock [am]." Now that's the stuff.
The Franz loaf has been around since 1912
You know that giant, rotating loaf of bread that spins around merrily on NE 11th and Flanders? It's got history: In 1912, Engelbert Franz opened up Franz's Bakery, a site which would later become the Portland icon that houses this spinning carb-loaded beauty. According to Anderson (remember, she wrote Portland: A Food Biography), Franz also invented the standard 5in hamburger bun for the restaurant Yaw's Top Notch. Restaurants had mostly been serving up patties on Kaiser rolls or toast prior to then, so the next time you see someone chowing down on a thick, juicy burger, feel free to remind them that they owe it all to Portland.
We're syrup-guzzling pancake pioneers
In addition to all the aforementioned culinary delights Portland had already contributed to the world before the 1920s, the city was also home to the first Original Pancake House, which opened in 1953. It was known for serving up a delightful concoction called the Dutch Baby, aka a giant, eggy pancake covered in powdered sugar, which was more than likely responsible for half the city's cavities prior to the 1960s.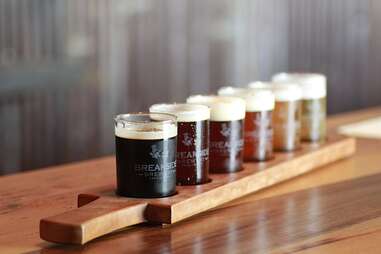 Present-day Portland is all about the beer, baby
Whether you sniff it, stare at it lovingly from across the bar, or take large, appreciative gulps of it, craft beer is the golden currency that flows through Portland's veins. With the highest density of breweries of any city in the world (84 in the metro area alone), it should come as no surprise that an estimated 53% of all draft beer drank in the state is brewed in Portland.
We're the best city for vegans
Maybe it's not so secret, but one of the things that makes Portland so great is its ability to accommodate all sorts of folks with dietary restrictions -- meaning you don't have to trek 50 miles through the subway and sacrifice your firstborn just for a glimpse of a gluten-free bagel. Voted the most vegan-friendly city of 2016 by PETA, Portland has an ample amount of vegan cafes and restaurants, a vegan bakery, surprisingly excellent vegan strip clubs, and oh, yeah -- there's even a vegan cheese shop.
You can grab a latte at the local haunted cafe
Vying for the award of most whimsical cafe on the West Coast, Rimsky-Korsakoffee is both one of the oldest coffee houses in the country and Portland's very own hidden "haunted" coffee shop. If you're here for a much-needed cup of joe to get you through your hangover, beware: The tables are known to change height, rumble, and even disappear into the wall at random, courtesy of the ghosts of two Russian writers alive during the Russian Revolution who formerly lived in the house the cafe inhabits.
We have the secret-est speakeasy
Fulfilling every movie-fueled fantasy you've ever had in one fell swoop, Circa 33 -- dubbed one of America's "most secret bars" (not anymore, we guess?) -- is a speakeasy that's only accessible by sneaky, covert logic. Find the Mafia book on the shelf and enter the secret code to reveal a Prohibition-style bar for an experience so cool it'll make your jaw hit the floor before you ever get around to having a cocktail. There are also a couple of other "hidden" speakeasies around town (Harlem, Paymaster Lounge) if you're the kind of drinker that enjoys a challenge.
You can get your hands on some of the best bread outside of Paris
Thanks to the mighty Tabor Bread, you can now delight in eating a loaf of bread made from flour that's been milled and baked in a wood-fired oven on the premises (trust us, it's not as common as you think it is). Martha Stewart -- and le français -- would be proud.
We're all about the secret menu items
While there are some that are more renowned than others, chefs in Portland seem to be constantly whipping up secret, off-menu food items for the merry, brunch-crazed residents to discover. The Original recently launched its own secret menu complete with The Crazy Burger (made with three burgers of your choice) and The Crazy Grilled Cheese sandwich so big it uses a whole loaf of brioche. You can also nab secret menu items from Kenny & Zuke's, Pip's Original Doughnuts, select food carts, and oh, yeah, Big-Ass Sandwiches, whose secret menu includes the Ron Swanson: nine pieces of bacon, scrambled eggs, a half-order of fries, and cheese sauce. Get your arteries ready.
Our food challenges are really, really insane
Ranging from the "I could do that after a few pints" to the "I would literally sell my soul for intestinal comfort right now" stage of pain and suffering, the city is lousy with plenty of food challenges for all to attempt. Some of the more bizarre choices, like the Mad Greek Deli's "eat a 10lb sandwich complete with four kinds of meat and three kinds of cheese along with a pound of fries and a 32oz soda in one hour" challenge, are so truly mind-boggling that they inspired a local writer to attempt all of the city's food challenges. He failed miserably, of course, but his story makes for some seriously great reading/diet inspiration.
We have a chocolate waterfall
That's right -- a goddamned chocolate waterfall. Head on down to the Candy Basket shop in Portland to get a view of a full-blown waterfall of liquid chocolate spewing 2,700lbs of chocolate straight at you, and be dazzled by the majesty that is nature. And chocolate.
Sign up here for our daily PDX email and be the first to get all the food/drink/fun Portland has to offer.