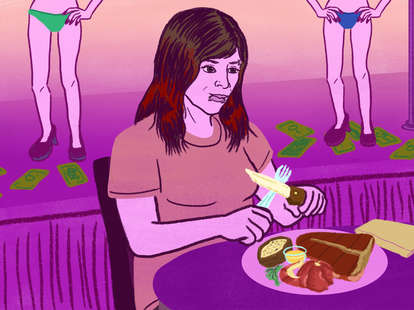 Not long ago, a young woman got on the bus following an especially long day at the office.
Trying to take up as little space as possible, she sat with her hands folded in her lap and stared out the window. Dozens of sights passed by as the bus rolled along: cheap liquor stores with graffiti on the walls, ragged men playing jazz in the park, dilapidated streets, angry drivers. Suddenly, one thing leapt out at her.
"Steak and lobster special, $9.99," painted above the door of a strip club.
In case you're not picking up on this tale, that girl was me, and the sight of the sign led to the question that would go on to shape the next two weeks of my life. Could it be possible that strip club food, like that cheap-as-hell steak and lobster special, was actually delicious? Armed with an ample appetite and the desire to see some sexy ladies, I set out with my fiancee (poor bastard) on a quest to find the best strip club food in PDX.
Northwest Industrial
With humble beginnings as a vegan restaurant called Pirates Tavern back in 2008, Casa Diablo has since transformed into a vegan strip club, an ethos that it takes pretty seriously, Bambi told me. While she was only a newbie, she informed me that the owners didn't allow any animal products -- leather and pearls included -- in the joint. Very classy.

The menu is full of Mexican-American fare, like burritos, chimichangas, tacos, and quesadillas, with a few extra staples like burgers thrown in for good measure. I asked the bartender what the best items in the house were.

"You're going to want to get the Crunch Wrap," she said, smiling coyly.

It was a thing of beauty. Not only was it veritably huge, but it was filled to the brim with glorious layers of pico de gallo, nacho "cheez," cilantro lime dressing, and "taco soy curls" which provided a luscious crunch. Meanwhile, it was almost impossible to tell the cheese on the nachos was vegan, and the deep-fried Oreos (yep, those are vegan, if you were unaware) were an unconventional, albeit delicious, way to end the evening.

Takeaway: Vegans should probably always run strip clubs.
SE Powell
I really, really wanted to love the food here. After reading a Bon Appetit article singing the praises of Lucky Devil's penne mac & cheese, I walked into the place with a grin on my face and ample ones in my pocket, prepared to fill my belly and eyes with all things delightful.

I was, however, sadly disappointed. One bite of the mac & cheese yielded a watery sauce that couldn't quite hold itself together, and an aftertaste that didn't sit well on my palate.

The rest of the menu was more or less typical bar fare: wings, chicken strips, sandwiches. I decided to order the steak bites, and was glad I did. Served with a red wine reduction and plenty of pepper, the bites were tender and went down easily. The happy hour menu also boasts some good deals on cheap drinks and burgers, which were also surprisingly tasty considering the $4 price point.

Takeaway: Don't always listen to the media. *Cough.*
SE Powell
Thanks to a happy city ordinance that requires venues which serve alcohol to also provide food, Kit Kat Club shares its space with the Pink & Black Waffle Shack. It opens "when we wanna" from Thursday-Sunday nights (around 10-11pm when I dined there), but "never closes before 2am," and provides a range of both savory and sweet waffle sandwiches.

It's a cash-only joint; $6 will get you a half a sandwich, $11-12 for the full deal. The menu also has other snackables like avocado toast and "totz" on the cheap. I ordered a Wake n' Bake to go, which consisted of a sausage patty, an egg, provolone cheese, and a "secret maple glaze" sandwiched between two fluffy waffles. The combination of the salty sausage along with the maple glaze (it's real syrup, not just sugar!) was the perfect complement to my booze-filled stomach, and would more than likely make for an excellent hangover cure anytime.

Takeaway: I always thought the booze-food ordinance was overwrought until now!
Chinatown
The place that started it all, Spyce is located a stone's throw away from Kit Kat -- and has that sweet, sweet deal on $9.99 steak and lobster between 7-10pm on Fridays. While part of me was slightly apprehensive about the possibility of going home and spending a night praying to the porcelain gods, my fiancee and I decided it was an opportunity too good to pass up. Or at least try once.

To my immense astonishment, the steak and lobster special was pretty damn delicious. Served up along with a rather bland baked potato, the lobster was a measly portion which only yielded a few bites, but the taste -- buttery, velvety -- was all there. Cooked medium-rare, the steak had grill marks intact, yet remained tender, and was well-seasoned to boot. It was also a fairly large portion, too, making this a deal you definitely won't want to miss out on.

Takeaway: Never ignore your gut when it comes to a sweet, sweet deal.
Northwest Industrial
Nicolai's is an unusual place in the sense that it's a strip club from Monday-Friday, but just your average run-of-the-mill dive bar with live music on the weekends. Why this was the case I can't be sure, but I'd heard word that they served up a pretty decent burger, so I was game for anything.

The burgers on the menu ranged from your typical hamburgers to more eclectic offerings like the Hawaiian burger with grilled pineapple, ham, and teriyaki. I ordered a standard cheeseburger and waited until I came across the following notice on the menu:

"We cook our meat and eggs well-done, but will cook to order."

NOOOOOOO.

Despite the fact that it was well-done, my least preferred method of meat cooking, it was still a tasty burger. The American cheese melted into a flavorful patty, while the raw onions added texture, and the skinny fries served alongside it were extra-crispy -- all for a mere $7.50.

Takeaway: Still hung up on the schedule of this place, to be honest.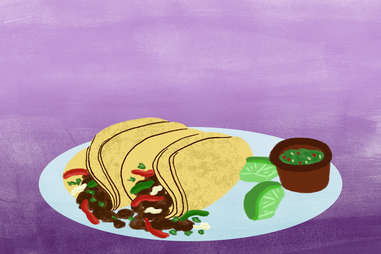 Creston-Kenilworth
Who knew Portland's underbelly was filled with vegan restaurants aplenty? Inside Rose City Strip Club is Hail Seitan, a vegan restaurant designed to provide alternative dining options for hungry horndogs.

Snacks and menu items here are unconventional to say the least. For instance, one of the entrees dubbed "Hellvis" consists of tempura-fried bananas along with "Bac'n'" pieces thrown together with habanero Sriracha peanut butter bundled in a grilled pita. By this point in my quest, my stomach was a thin husk of its former glory, so I opted for some safe options: the Karma Chameleon hummus trio (Sriracha, roasted garlic, and pesto hummus), along with some El Diablo street tacos.

I would have never been able to guess that these were vegan tacos. The meat substitute looked and tasted like steak, while the fresh peppers and onions added much-needed crunch and a good dose of freshness from the cilantro. I polished off all three in record time.

The hummus, however, was hit-or-miss: Sriracha made for a sexy flavor, but for whatever reason, the roasted garlic was described by a friend as "tasting like carpet." Alas.

Takeaway: Vegans!!!
McLoughlin Industrial
It's not the most glamorous of spots but, by god, it's Americana at its best. With over 65 beers on tap and a menu chock-full of… steak, it's easy to see why Acropolis manages to keep the reigning title of best strip club food in the city. The Acrop house special was an 8oz sirloin that comes with your choice of salad or baked potato for $7 -- all in all, a great deal for some tender steak. You can choose from other options, like a 16oz T-bone if you're especially hungry, or an 8oz filet mignon if you're feeling classy, all for under a cool $10.50. Damn.

Takeaway: Strip club steak always delivers. Always.
Sign up here for our daily PDX email and be the first to get all the food/drink/fun Portland has to offer.
Janelle Albukhari is a food & travel writer who's willing to do whatever it takes to find a good bite.