Drew Tyson/Thrillist
Drew Tyson/Thrillist
It's pretty easy to drop some serious cash on a night out it Portland, be it on romantic dates or strippers... or romantic dates with strippers. It's so easy in fact that we decided to hook you up with a (relatively) free way to hit the town by tracking down the eight best complimentary bar eats in the city. Feast your eyes...
Free tapas happy hour
Pix Patisserie/Bar Vivant (address and info)
Kerns
At this bar and bakery happy hour means buy a drink, get a free tapa of your choosing, and on Tuesdays it goes all night long.
Bacon
Saraveza (address and info)
Humboldt
Every second Monday of the month, when you buy a beer it comes with smoky slice of bacon at this Green Bay Packers-loving bottle shop.
Potato chips and hard-boiled eggs
Paley's Place (address and info)
Nob Hill
In the bar area of Chef Vitaly Paley's 50-seat charmer you can enjoy crispy, homemade potato chips and perfectly boiled eggs on the house.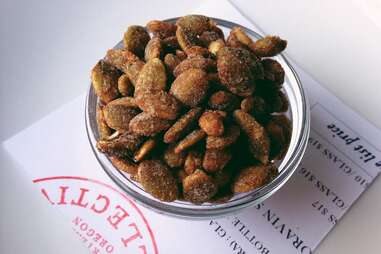 Pimenton and brown sugar pepitas
SE Wine Collective (address and info)
Richmond
This urban winery hub fits right in with the new Division vibe, and all guests are encouraged to try the sweet and spicy pumpkin seeds.

... More bacon
Greeley Avenue Bar and Grill (address and info)
Overlook
Because Mondays generally suck, free bacon really makes them better... and at this neighborhood sports bar it's buy a drink, get a crispy piece of our favorite protein.
Taquitos
La Cocina (address and info)
King
Head into this homestyle Mexican spot on Tuesday nights for a crispy taquito appetizer with sour cream and guacamole on the house.
Dried fava beans
Mediterranean Exploration Company (address and info)
The Pearl
At John Gorham's MEC, every guest starts with a bowl of dried fava beans, a salty Spanish snack that should be enjoyed with a herbaceous Retsina Spritz.

Rice crackers
Departure (address and info)
Downtown
Out on the high-rise West deck of Gregory Gourdet's pan-Asian mecca, nibble on crispy rice crackers while sipping on hibiki Japanese whiskey.
Sign up here for our daily PDX email and be the first to get all the food/drink/fun Portland has to offer.