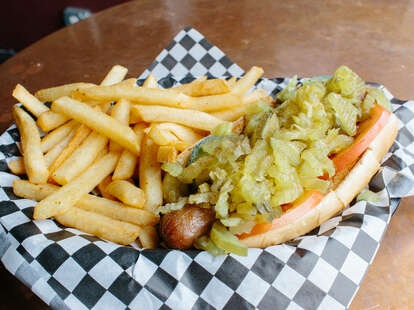 You'd be forgiven for thinking that French fries are Portland's favorite kid food, but it's actually hot dogs, and everyone, from New York transplants to locals, gets in on the action, so we put together a list -- including both old-school wieners and fancy $10 dollar ones -- of the 12 best hog dogs in the PDX...
Beaverton
One of the pricier dogs on the list, Chef Ken Norris' suburb spot serves funky takes like pad thai chicken and beef nachos ($10 and $9, respectively) from a menu that is divided into types of meat: beef, bird, or pork -- surprisingly there're no vegan options -- and it even has three salads to choose from.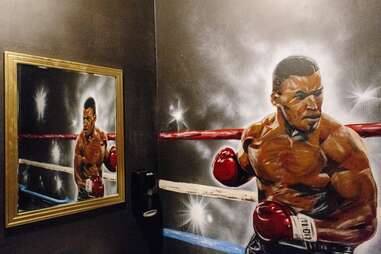 Alberta
The exact opposite of Clutch, Donnie Vegas uses store bought hot dogs and cheap white buns to keep the price down -- you're not spending more than $4 on anything but alcohol. However, the dudes hail from fine dining establishment Ned Ludd and know how to elevate their ingredients with toppings like cream cheese and caramelized onions.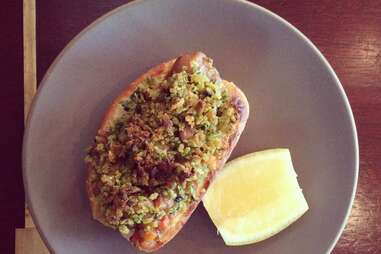 Various locations
Perhaps the trendiest of the trendy, Stray Dogs is brought to us by two New York City alums, Peter Cho and Johnny Leach, of The Spotted Pig and Momofuku (you know, from big timers like April Bloomfield and David Chang). They first started popping up in Chinatown's Big Trouble space but have since moved into some of the hottest kitchens, most recently taking over at Castagna while James Beard-nominated Justin Woodward made whimsical cocktails. Every one of their pop-ups has been a who's who of the local dining scene, so don't expect them to be homeless for long.
Various locatins
One of the first mobile operations to put the gourmet twist on the scene, Bro-Dogs has specially baked buns that are grilled on one side before adding the meat and as many toppings as you can handle. These are almost more like sausage sandwiches than hot dogs and, as long as you're not worried about your cholesterol, that's not a bad thing.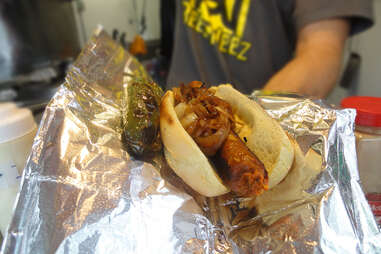 Downtown
Beez Neez is doing its best to take over the Pacific Northwest with a locations in Portland Seattle. They offer traditional sausages and dogs, but its specialty is in wilder meats, specifically an Alaskan reindeer sausage. Tasty Rudolph meat is mixed with beef, pork, and "Old World" spices before being cased and tossed on the grill.
Division
It's no surprise that our favorite food cart pod, and one of our favorite "restaurants" last year, plays host to one of the city's best hot dog selections. And, in true Portland fashion, the folks here make their own buns, sausages, pickles, and even condiments. They offer a few different options, including a Philly cheesesteak-inspired version called the Rocky Balboa, or you can pick up one of their sheets and design your own.
Central Eastside/Industrial
A New York cart through and through, even advertising a surcharge of $1.25 for any Red Sox fans. They're set up on a street corner in the quickly developing Central Eastside District so make sure to get there soon before some developer shows up and buys the plot for one of those new fangled condos we're seeing everywhere.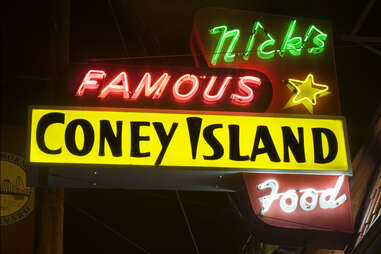 Sunnyside
One of Portland's oldest restaurants, let alone hot dog vendors, Nick's has been a staple on Hawthorne since 1936. Although there have been a few updates since then, the menu remains largely unchanged and includes smokey eight-inchers on local buns with a variety of toppings, from the veggie heavy Chicago-style to those weridos up North who think cream cheese goes well with sauerkraut and mustard. Their pièce de résistance, however, is the namesake coney, which is anywhere from one to four franks smothered in a house ground beef sauce and onions.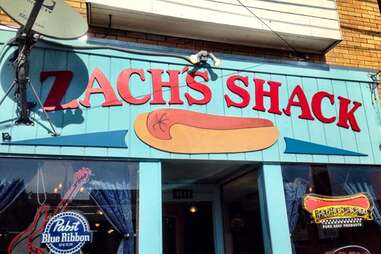 Sunnyside
Having just celebrated its 11th year in business, you may not think Zach's fits in with such stalwarts as Nick's, etc., but thanks to an evolving menu and the fact it stays open late, it's become one of the best dives on Hawthorne.
Various locations
Beaten by Nick's by one year, Roake's first started business in 1938. It's since become a Portland institution and now has two locations in the very North and very South of the city. Not only do they offer average size weiners (7in), but their specialty long sausages at a cool foot in length too. The only downfall to this place is its cash-only status.
Woodstock
Otto's Meat Market was opened in Portland in 1922, making it the longest running business on this list. Founded by German immigrants, Otto's wasn't always known for its sausages, however, in 1983 Otto's grandson took over the store with his wife and began growing the retail shop by focusing on frankfurters. It has grown every year since, and is widely known as one of the best sausage spots in the US.
Laurelhurst
A little A-frame cottage in the parking lot of East Burnside's Whole Foods, Franks-A-Lot was once called The Dog House but has always focused on quick, take-away, drive-thru dogs. Although the name and ownership are different, the franks remain the same. Our favorite? The Long Wiener Frank, which is just what it sounds like and, if you believe the menu, "Kids love 'em."
Sign up here for our daily PDX email and be the first to get all the food/drink/fun Portland has to offer.