With summer already halfway over, there's never been a better time to take advantage of an 85-degree day than by stuffing your face with frosty, creamy treats (or frosty cream-free treats, if that's your thing). For a city that only enjoys 2.5 months of proper summer, Portland takes its ice cream very seriously, and the joy of a waffle cone filled with hibiscus-pear-IPA ice cream or a bowl filled with chickpea szechuan strawberry is one that can be had year-round.
But the sun won't be shining until 9pm a whole lot longer, so there's no better time than now to hit up one of the premiere ice cream spots we've conveniently rounded up in one place for you. Behold -- the most essential ice cream shops in all of Portland.
Multiple Locations
The titan of Portland tourist traps that's still worth the hype (and the lines) after almost a decade in business
Haters can hate, but the craft ice cream revolution may still be stuck in its infancy if it weren't for the immense risk-taking that helped Salt & Straw prove its worth. When it first opened in 2011, pundits bemoaned its lack of accessible flavors for the whole family, citing their focus on haute concept flavors as a smug business decision that would surely bite them in the ass. Well, cruise by their locations on NW 23rd or NE Alberta on any day that ends in a "y" and see how that turned out. They've graciously expanded their portfolio since then to include just about every flavor under the sun, with such disparate offerings as Tomato & Strawberry Sorbet and Arbequina Olive Oil rubbing elbows with classics like Mint Chip and Sea Salt with Caramel. Though the expansion to Los Angeles has slightly stemmed the tide of hypebeast tourists from SoCal who love taking selfies while waiting in line for things, you're still likely to wait at least 30 minutes for a trip through the queue. Trust us, it will be worth every minute and more.
Multiple Locations
An ice cream truck turned brick and mortar that's beloved for simple, elegant flavors in no-nonsense spaces
Prior to becoming Fifty Licks' second brick and mortar, the space at the corner of East Burnside and 28th Avenue was a snake-bitten storefront that saw countless vintage stores and vanity fashion projects come and go. All the offshoot of a cult-classic ice cream cart had to do was throw up a plants, paint everything white, and start scooping their magical concoctions to guarantee a small but steady line out the door on an almost nightly basis. Flavors like Chocolate AF, Horchata, and French Toast are made to be mixed, while Soy Sauce Caramel and That Rice offer curious blends of sweet and salty that make excellent affogatos courtesy of the stovetop espresso maker they keep in back for just this occasion. Vegan favorites range from simple, like the Choco-Coco-Mel, to elaborate, like the Golden Milk, which features ginger, turmeric, black pepper and cardamom for a rich and dynamic flavor that doesn't need dairy to get its point across.
Multiple Locations
The iconic street treat from Hong Kong that made a strong showing in the suburbs has finally arrived in Portland proper
Anyone with a car and enough free time to troll the internet for out-of-town obscurities probably agrees with the notion that some truly great food is hidden in the suburbs, and for a while this confectionery that sold the ubiquitous ice cream snack from Hong Kong out of a stand in Happy Valley is one of them. The original location has migrated a few miles east to Clackamas Town Center, but the real cause for joy is their second location at the eastern base of the Morrison Bridge, just one parcel over from the newest location of chicken-and-curry dynamos Hat Yai. The concept at Puffle Waffle is fairly simple -- just cram as much ice cream, chocolate sauce, and Pocky as you can into a warm, chewy egg waffle -- but the flavors are huge and the fun is unmistakable. Novelty ice cream is not yet big business in Portland, but that may soon change if Puffle Waffle keeps up the pace.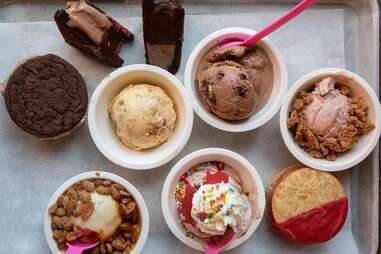 Multiple Locations
Killer ice cream sandwiches made from fresh-baked cookies and rich ice cream that's both good enough to enjoy on their own, but so much better together
You've probably seen Ruby Jewel's more popular offerings like Mint Chocolate Chip and Lemon + Honey Lavender in their premade form at Fred Meyer or New Seasons, and the truth is it almost doesn't get much better than that. Almost. But you should still do yourself a favor and swing by one of their five (and counting) locations for a DIY combination of whatever your heart desires -- or at least whatever ice cream they've got paired with the fresh baked cookies they've crafted just for the occasion. Want nothing but chocolate? Throw a scoop of it between a pair of dark chocolate cookies. Marionberry with one snickerdoodle and one ginger snap? Do it up. Or wimp out and go straight for the grab-and-go fridge, which is still a vast improvement over just about any of the alternatives out there.
Woodstock
Impossibly rich, fluffy ice cream that sets the stage for indulgent blends and straightforward creations alike
Perhaps the newest superstar in the Portland ice cream scene, this Woodstock creamery quickly made a name for itself with a wide variety of unique blends that burst with enough flavors to give Ben & Jerry's a run for its money. Circus Friends and Sasquatch Tracks are two of the most popular blends for children (both young and old), and inventive offerings like Grilled Peach Sweet Tea and Totes Ma'Goats are as oddly delicious as they sound on paper. It's rare that a nouveau riche ice cream boutique manages to impress both adults and children in equal measure, but Cloud City continually knocks it out of the park for tastes that are at once juvenile, sophisticated, and that weird grey area in between.
Multiple Locations
Adventurous varieties of frozen yogurt with an expansive bar of offbeat toppings and impeccably cute bear-themed branding
DIY fro-yo is a great idea in theory, but how many times have you gone so wild with the toppings that you ended up paying $9 for a mismatched heap of nonsense? Even if this isn't the case, a trip to Eb & Bean is in order to learn how it's done from the pros. Between the fresh, house-made berry compotes, crushed hazelnuts, and locally-sourced candies the person behind the counter will scatter lovingly atop your bowl, it's not uncommon to wonder what the point of the ice cream is. But it's somewhere below all those coconut shavings and gummy bears, and it's always delicious no matter what you pile on top. You'll usually find around 8 flavors on tap, most of which fall on the muted, more refined end of the spectrum as to provide a more suitable based for the toppings. About half of them are made with coconut or almond milk, and flavors like Vanilla Latte and Amarena Cherry Lemon are almost too good to be dairy-free.
The Pearl
The latest soy- and dairy-free ice cream alternative from a well-known Portland restaurant magnate
Up until the opening of Little Bean, restaurateur Micah Camden -- the mastermind behind Little Big Burger and Super Deluxe, among others -- has been an unapologetic populist. That's not to say ice cream made from chickpeas is expected to languish in obscurity, but he knew going into the experiment that the alarmingly cheerful space in the Pearl might be a head-scratcher for most. Until you try it, that is. The slogan on their walls is "Chickpeas? Really?", and it's safe to say after tasting flavors like Szechuan Strawberry, Blackberry Basil, and Cherry Chai that it really isn't as bizarre as you'd think. Something magic happens when Camden grinds up the innards of every vegans favorite building block for protein replacement, and the result is a frosty, cream confection that bears only a slight resemblance to ice cream and is completely OK with it. Who knows, maybe when the water wars reach a pivotal point and all industrial animal farms go kaput this is all we'll have left. If Camden has his druthers, this will be more than fine, and the flare with which he pulls of Little Bean means you're likely to agree.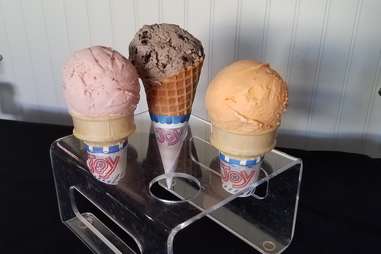 Sellwood
A cozy little ice cream cart in Sellwood that scoops some of the best basic flavors in town
A stroll through Sellwood on a summer day feels a lot like a trip to the fictional town of Mayberry, but Portland style. It's a mellow semi-suburb with an almost beach feel to it, which means ice cream is a thing it's many young families take very seriously. Though the Dairy Queen at the north end does brisk business, Hurry Back is without a doubt the hot new thing in town, and their classic flavors like Grasshopper and Strawberry were immediate hits when its cart touched down in 2015. The focus on fresh, local ingredients is commendable, and you should always double up with a scoop of whatever looks like it was made with berries, or other fruits that came from nearby.
Multiple Locations
A quaint, old-school ice cream spot with modern touches and a new location in Pioneer Square
Don't let the charming logo and bold colors fool you -- this Hillsdale ice cream parlor is actually as forward-thinking as ice cream spots get. Fans adore Dairy Hill for its inclusion of all tastes and dietary restrictions despite seeming like a place the gang from Happy Days would enjoy a sugar cone after a long day of doing nothing, and it's almost shocking just how convincing their gluten-free options are compared to the afterthoughts offered by a lot of their more mainstream competitors. This is one of the only local ice cream spots in Portland that does it all -- shakes, cakes, frozen bananas, etc. -- and does it incredibly well. So if you're looking for a solid lick but aren't exactly sure what of, Dairy Hill should be your new go-to.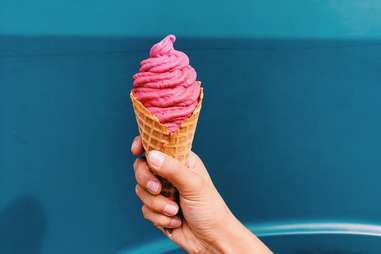 Check their website for current location
An old VW Bus that makes fresh ice cream from fruit and ice on the spot
It was only a matter of time until the #vanlife craze intersected with the farm-fresh foodie world. In this case we have Zeds Real Fruit Ice Cream, which is a cherry old VW Bus containing a couple bros with a dream and a machine that turns fresh fruit into ice cream in just a few minutes. It's hard to pin down exactly what they're offering or where they'll be, but a successful turn near the heart of Hawthorne last summer proved their dream of bringing this New Zealand-style summer classic to the states is a worthy cause, and you can find them slinging treats made from fresh Mt. Hood and Sauvies Island berries in the parking lot of the Oregon Zoo for the foreseeable future. Check their Instagram page before making a day of it just to be sure, but there's a good chance wherever they're parked will be worth the trip.
Sign up here for our daily PDX email and be the first to get all the food/drink/fun Portland has to offer.
Pete Cottell is a writer living in Portland. As you can probably tell, he loves ice cream.