No matter who you are or where in the world you come from, some things are just universal, beloved by all of humanity. One thing that brings us together is a shared love of carbs; in fact, we defy you to find a culture that doesn't feature carbs in some delightful way as part of its main culinary identity. We as humans even have a biological inclination to pine for them... so if you say "nah, not me, man," you're lying.
Inspired by pure hedonism and sheer decadence, I sought out to find the best Italian joints not just for the pasta and risotto (though that was definitely a huge part of the plan), but for the sake of savoring that taste of home-cooked opulence that mom used to spend all Sunday cooking up -- those meals of fragrant rice and pasta. And so, without any further ado, here are the best Italian restaurants in Portland right now.
Recommended Video
Art of the Meal: Chloe Rose Makes Super Mario Bros Art With Hot Sauces
SW Morrison
If you're looking for a romantic spot to take your honey as your eyes lovingly meet over a plate of fresh pasta, this is it. The beautiful Gothic interior is complete with caged chandeliers, gilded mirrors that look like something out of Versailles, and plenty of romantic candlelight to set the mood. Outside of achieving perfect mood lighting, chef/owner and Rome native Simone Savaiano manages to hit the nail on the head with elegant, sophisticated Italian fare that instantly transports you to Italy. Everything from the pasta to the bread is made in-house; all the ingredients are organic and sourced locally, and include uber-trendy items like freshly shaved bottarga or dried fish eggs, added to the pasta for extra creaminess. Good luck trying to choose between any of the opulent dishes prepared before your eyes at the chef's counter, though: between sea scallops cooked in a truffled Parmesan fondue, six different kinds of pasta, and pancetta-wrapped rabbit, you may very well just end up canoodling (not even close to being sorry) here all night.
Pearl District
Founded by Italian immigrant Gino Schettini and his friend Kevin Gorretta, Piazza Italia is a little family-owned section of Italy segmented smack-dab in the heart of the Pearl District. As if the TV emitting Italian in the corner and the ceiling lined with soccer jerseys wasn't quite "authentic" enough for you, Piazza Italia is also complete with a deli offering farm-to-table selections of meat, cheeses, and produce. The smell of espresso wafting through the air creates an environment that's thick with love, a feat that's also found in the menu, with certain items like Linguine Squarciarella (Gino's favorite) and Linguine alle vongole (Gino's oldest daughter Amy's favorite) marked as exceptional. Though first apprehensive to try one of the house specialties -- the Pappardelle al Cinghiale, full of tender boar cooked in red wine -- the fear was squashed as soon as I took the first bite… which quickly became the second, then third, and eventually, an empty plate.
SE Morrison
Walking in here is like setting foot in Noah's ark... only instead of being greeted by copious amounts of animals, it's the smell of pizza gently cooking away in wood-burning ovens. Against the backdrop of immensely high ceilings in a former grocery store amidst gentle chatter is the vision of Italy of six-time James Beard Award finalist chef Cathy Whims. Whims' faithful renditions of aged steaks, pizzas, and pasta are so good that they're able to transport anyone to a land far, far away, where you're suddenly riding in a gondola while stuffing your face full of profiteroles... such is their magical power. Don't miss out on the rosemary-infused, dry-aged steaks (either a seven-day aged Tagliata or 40-day dry-aged St. Helen's rib steak), unless you've been really, really naughty and insist that taking a quick trip to heaven just really isn't your kind of thing. You should also probably take advantage of the pizzas baked up in those wood-burning ovens, because they are some kind of magical. The Fungi Verde, complete with both shiitake and maitake mushrooms along with pecorino cheese, is a personal favorite, but you can't really go wrong with food this good.
West Burnside
With the hype surrounding this place (handmade pasta! cheap prices!), I was half expecting to walk in here and undergo some kind of religious pasta experience. The reality, while definitely good -- handmaking pasta definitely has its merits -- wasn't quite the fanatical "I see God" bite I'd hoped for, though there was something deeply satisfying about seeing arrays of just-made pastas being stacked on trays near the kitchen. Grassa's absurdly reasonable price point, however, definitely leans in its favor here, with the most expensive item on the menu (chilled squid ink pasta) coming in at $15. It's a family-friendly joint that you can afford even on a student budget. Add the fact that you can get mac & cheese with a giant portion of caramelized pork belly for only $12, and you're set for getting your gourmet on for practically nothing.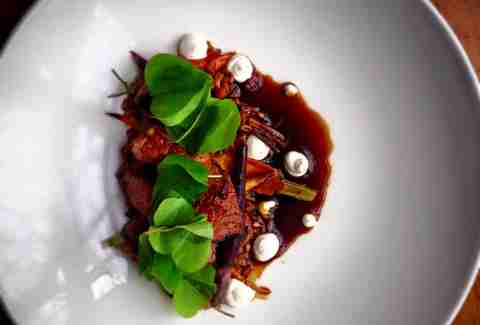 Nob Hill
Chef Tony Meyers is the "product of a Sicilian grandmother who showed him around the kitchen," so that probably tells you all you need to know about the food here, but we'll go on. Serratto takes pleasure in cooking up Italian and Mediterranean fare, and does so with flair. The restaurant in itself is huge, with a near-obscenely sized bar and appropriately sized wine list to match, and is constantly abuzz with the sound of low volume chatter emanating from the families dining within. While Serratto's menu showcases basic Mediterranean staples like risotto, antipasti, rigatoni, and more, one of the best things I've ever eaten in Portland -- the stuffed Piquillo peppers so often used by Bobby Flay -- lays in plain sight on the menu. The sweetness of the red peppers that emerges after roasting them paired together with quinoa, carrots, and corn topped with chile oil is a bite of pure veggie goodness that I still remember perfectly (and crave constantly).
SE Division
Written up in just about every food mag from Wine Enthusiast Magazine to the New York Times, it's easy to see why Ava Gene's rustic, Roman-inspired menu has frenzied crowds wrapped around the block more or less constantly. It's the kind of restaurant you'd expect rich mob bosses cozying up in on their days off, queuing up for a nice glass of vino in this amply lit space with dangling candles and cushiony red booths. Recently bought out by head chef Joshua McFadden, Ava Gene's is a celebration that merges love for Pacific Northwest flavors with classic Italian fares that Nonna would be proud of. Pasta is cooked al dente here, which may come as a surprise to some; bread isn't complimentary, but rather, is thoughtful -- you can snag yourself a large slice of bread, or pane, topped with everything from mushrooms to beef tongue and beyond, for around $10-12. There's plenty to be had, so it's best to get yourself a little bit of everything, including the Gnocco Fritto, aka fried bread with prosciutto and honey, plenty of salad (you never knew salad could be this good), and lamb and pork ragu with rye tagliatelle.
Nob Hill
Caffe Mingo's focus is on delivering simple, hearty Italian classics with a Pacific Northwest spin, so naturally, the menu changes out weekly to accommodate what's in season. There's plenty of basic Italian staples to be had from antipasti to pizza and freshly made pasta (some pricier than others, with the heirloom tomato caprese clocking in at a hefty $16), but all you really need is a quick look at the house specialties to get you drooling. Get at the risotto with lamb sausage, mushrooms, and sheep's milk cheese for a bite of creaminess that's sure to make you moan audibly, or opt for the beef sugo braised in Chianti and espresso if you're craving a huge portion of that sweet, sweet pasta.
Sellwood
Located in Portland's Sellwood neighborhood, the inspiration behind the name of a Cena Ristorante is in itself an invitation, with "a cena" meaning "come to dinner" in Italian. The menu here is simple, which -- after browsing through some of the more extensive menus throughout the city's Italian restaurants -- is a breath of fresh air. Don't mistake simple for unrefined, though, because it's laden with plenty of luxurious recipes passed down from chef Gabriel Gabreski's Italian family, including lobster and mascarpone Agnolotti and Branzino al Sale, aka sea bass baked in a salt crust. If you haven't had the pleasure of eating sea bass this way, you absolutely must: it may seem in theory like the salt would overwhelm, but in reality, it makes for the most tender fish you'll ever have. PS: the cannoli here are a masterpiece, so don't you dare leave the table without at least one.
Sign up here for our daily PDX email and be the first to get all the food/drink/fun Portland has to offer.