There's nothing better than reading this list of the 11 best bowls of mac & cheese in Portland, except maybe reading a list of the PDX's most important restaurants... or um, eating said bowls of mac & cheese. But other than those things, this list is pretty much it. Feast your eyes...

Southeast Portland
​What you're getting: Macaroni & Cheese
DAP is still serving a seriously sweet mac (even though it raised the price a buck to $6 during happy hour) with a blend of four cheeses, including Face Rock Monterey Jack, plus caramelized onions, jalapeños, and breadcrumbs, and it pairs perfectly with a beer and a seat looking onto SE Grand.

Irvington
What you're getting: Bacon macaroni & cheese
Gooey cheddar and bleu cheese-based macaroni topped with house-cured bacon, shallot, and -- for an extra $1-- homemade kimchi. Hell, you can even get some fried chicken on it if you want!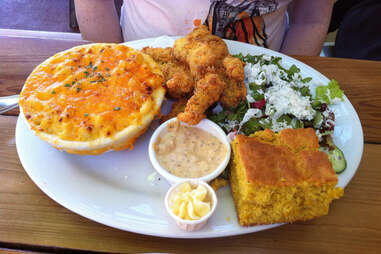 Kerns
What you're getting: House mac & cheese
The thick crust is expertly designed to trap heat while maintaining a crispy exterior, which means you can concentrate on all but sucking the marrow from SD's excellent fried chicken until you're ready for the exemplary rendition of Southern-style mac & cheese.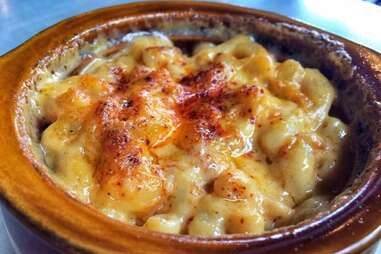 Overlook
What you're getting: Roasted Garlic Mac & Cheese
This popular neighborhood hangout is good at more than just burgers. Its Roasted Garlic Mac & Cheese is a secret favorite (oops, not any more) in NoPo and even comes with a small side salad to make you feel like you're eating healthy.
Sunnyside
What you're getting: A double helping of something
This spiffed up food cart in the Good Food Here pod off of Belmont is made to look like a '50s diner, and it has been serving some of the city's best macaroni & cheese for almost four years now. All macs start with penne in its secret cheese blend and begin at $5 for regular or $7 for double. After that go hog wild on various meat, vegetable, and cheese toppings.
Goose Hollow
What you're getting: Driftwood Mac & Cheese
This simple but elegant homage to the golden age of Hollywood may have recently lost its charming bartender, but the cocktail program remains intact, and so does the absurdly affordable happy hour food menu and its filling, no nonsense $7 mac & cheese -- a hearty bowl of velvety noodles that never disappoints.
Downtown
What you're getting: Macaroni Gratin
Okay, so Gabriel Rucker's Downtown French bistro calls it Macaroni Gratin, but we know what it really is. And sure, it's got a three cheese blend of Tillamook white cheddar, Emmi Gruyère, and whatever chef's in the mood for, but we also know that it's going to be delicious. Haven't you had the burger?
Laurelhurst
What you're getting: Crabby Mac
This contemporary Cajun and Creole restaurant has recently found success under new Executive Chef Anh Luu, who's bringing a Vietnamese palette to the bayou. Most of the changes have been subtle tweaks, but there's certainly something special about the blue crab-stuffed, baked mac & cheese.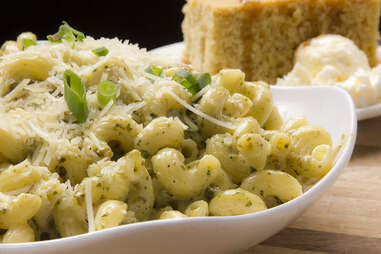 Overlook
What you're getting: Trashy Mac
Miss Delta's Trashy Mac can be done three ways: meatloaf, gumbo, or creole sauce stewed tomatoes and okra with chicken & pesto. And at only eight bucks during happy hour, there's no reason not to bring some friends and try them all.
Downtown
What you're getting: Pork Belly Mac & Cheese
If one of our favorite pork belly dishes is mac & cheese you better believe it's going to find its way onto this list. Grassa's handmade pasta comes with a sweet barbecue pork belly, jalapeños, and crispy cornbread crumbs.

Southeast Portland
What you're getting: One of nine (!) mac & cheeses
It was a divisive decision to leave this off of our last round-up. Most of y'all jumped into the comments to tell us how stupid we were but, at the time, Montage's game was slipping. We're happy to report that its back to its old self again.
Sign up here for our daily PDX email and be the first to get all the food/drink/fun Portland has to offer.