Marukin Ramen

| Jannie Huang
Marukin Ramen

| Jannie Huang
In a city that's in the midst of a foodie renaissance, how do you choose a favorite neighborhood for dining out among so many choice pockets of restaurants? The answer is you must be a person of compromise, ready to make the hard choices that hardworking Portlanders rely on. (No, we're not running for public office.)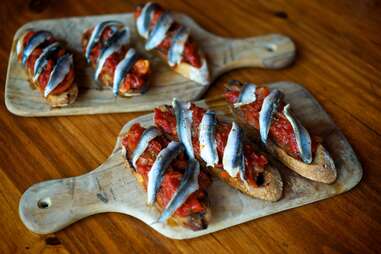 11. Williams/Vancouver
Essential restaurants:Toro Bravo, Lincoln, The People's Pig
Whether the recent addition of a New Seasons to this bike corridor irks you or not will likely determine how you view the restaurants in this 'hood. Williams/Vancouver is one of the early neighborhoods to adopt the sleek combination of uber-modern apartments and boutique retail spaces at the demise of old Portland bungalows. But a classic PNW brunch at Tasty n Sons followed by oyster shooters at EaT will help you forget all that.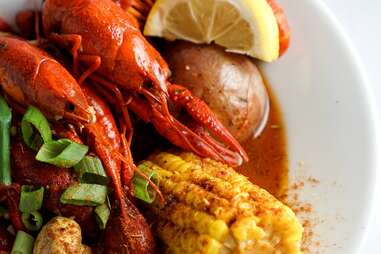 10. SE 82nd Ave
Essential restaurants:HK Cafe, My Brother's Crawfish
The culinary and cultural influence of 82nd and its nearby neighborhoods is invaluable. Various Asian-American communities have thrived here, bringing Portland the wonderful world of dim sum -- a favorite of those nursing Sunday morning hangovers -- among many other specialties. From Pho Oregon to Mekong Bistro to Van Hanh Vegetarian, you can find authentic dishes and fusion experiments inspired by a diverse and vast continent halfway across the world.
9. Hawthorne
Essential restaurants:Apizza Scholls, Castagna, Lardo
Oregonians have long known Hawthorne to be a sanctuary for the eccentric, the misfit, the hippie. Long-time residents might speak of this district fondly, remembering a time when the Northwest was not a well-known national destination, vegan restaurants were considered by most to be straight-up weird, and food carts were referred to as "roach coaches." Now, Hawthorne is an example of the balance between mainstream and counterculture, where vegetarian spots like Harlow draw diners of all kinds and food carts like Chicken and Guns and Fried Egg I'm In Love are considered among the best dining spots in town.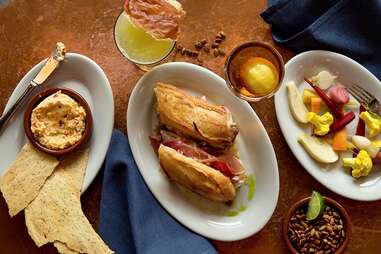 8. Pearl
Essential restaurants:Andina, Oven and Shaker, The Parish
The Pearl, aka the Land of Restored Brick. Walk down NW 13th and bask in the charm of old deep-red buildings refurbished to their former glory. As long as you're OK hanging with yogis originally from every state but Oregon, this part of town is a great date spot with no shortage of intimate atmospheres and well-prepared food. For all-things pork, try out Hamlet. For tours of South America and the Mediterranean, respectively, head to Andina and Mediterranean Exploration Company. Or if you just want a big ol' burger, Tilt is the place to be.
7. Mississippi
Essential restaurants:Lovely's Fifty Fifty, Sweedeedee, Olympia Oyster Bar
Mississippi is one of those neighborhoods that, after debating with your friends for an hour about which part of town to have dinner in, everyone can agree on heading here. It's eclectic, unique, alluring, and stacked with restaurants that always satisfy. From the heavily curated plates of Radar to the overfilled plates of Gravy, Mississippi represents Portland well.
6. Alberta
Essential restaurants:Aviary, Grain & Gristle, Vita Cafe
Alberta is an amalgam of arts, fine restaurants, and all kinds of bars, making for one of the most well-attended and spirited recurring events of the summer: Last Thursdays, one of the finest art walks in this city. On a light stroll, you can pass by terrific Italian at DOC, food cart Jouk Li Jou, the sole Haitian restaurant in Portland, and Beast, an experimental prix-fixe experience courtesy of James Beard Award-winner Naomi Pomeroy that'll blow away anybody who appreciates when they're presented with an expertly prepared meal.
5. Nob Hill
Essential restaurants:Ataula, Marrakesh, St. Jack
While some east-siders disparage this part of town as a microcosm of all they don't like about the changing Portland -- on a Friday night when the suburbanites take over, you might agree -- but we can't deny the great restaurants peppered throughout these undeniably attractive streets. For a true Portland dining experience, venture into Bamboo Sushi, where you can choose your fish based on sustainability ratings. Other standouts include Fireside, a brunch favorite, and Smokehouse 21, some of the best barbecue in the city.
4. Buckman
Essential restaurants:Ken's Artisan Pizza, Kachka, Marukin
Nestled between Kerns and Hawthorne, Buckman continues as a home for trendsetting chefs looking for a less expensive place to try out fresh ideas. Nong's Khao Man Gai made Buckman its brick-and-mortar home, alongside Biwa, a ramen and skewer favorite. And two of Portland's most adventurous prix-fixe restaurants, Holdfast and Farm Spirit, bring to the 'hood the sense that Portland's innovative food culture is only getting started.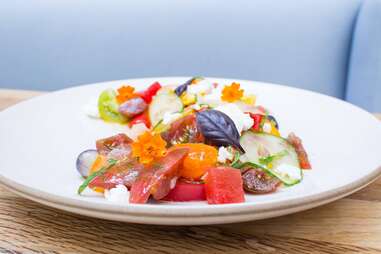 3. Downtown and West End
Essential restaurants:Clyde Common, Imperial, Urban Farmer
In some of our country's less fortunate major cities, Downtowns are restaurant deserts, particularly for dinner, once all the 9-to-5ers head home for the day. Thankfully, that's not the case with Portland. For tourists and residents looking for a night of casual yet high-end food and libations, it doesn't get much better than the impeccable duo within the Nines Hotel -- Urban Farmer steakhouse and pan-Asian rooftop lounge Departure. In Downtown, you're never far from a great food cart pod, either, with a wide variety of worthy options, or late-night pho and vermicelli at Luc Lac.
2. Division
Essential restaurants:American Local, Ava Gene's, Pok Pok
Welcome to Restaurant Row. When Portland's seminal Pok Pok first opened in 2005, Division, like much of the Southeast, used to be a place for middle-class families and hipster 20- and 30-somethings to enjoy the fruits of Portland cheaply. Now, this boutique street is full of sleek new apartment buildings, high-end clothing shops, and some of the best restaurants the city has to offer. While gentrification has inevitably boosted prices, the neighborhood has retained some of its past with places like dive bar and fried chicken haven Reel M Inn and Night Light Lounge on nearby Clinton St. From Portobello Vegan Trattoria on the western end to Kim Jong Grillin' at the eastern end, there are incredible eats sprinkled all along the way. Even the most dedicated residents of this neighborhood haven't tried them all.
1. Kerns
Essential restaurants:Le Pigeon, PaaDee, Pambiche
Kerns, which includes inner East Burnside -- a restaurant mecca in its own right -- is home to many restaurants helmed by deservedly well-respected chefs. It represents the early expansion of Portland's food culture from Downtown to the east side. Chefs came here for lower rents and the chance to experiment. The result is nothing short of delectable. Luce, Harvest at the Bindery (100% plant-based), newcomer chicken sandwich counter Basilisk... the list goes on and on to the behemoth American plates at Screen Door and its massive brunch line. If you're hosting a friend from out of town who's looking for the P-town restaurant experience that they've heard so much about, take them to Kerns.
Sign up here for our daily PDX email and be the first to get all the food/drink/fun Portland has to offer.
Dan Schlegel spent a lot of time researching Portland neighborhood boundaries. Follow him to cartography class @ddschleg.