Recommended Video
Meat Flowers Are Here to Give You The Best Valentine's Day
Southeast Portland
Occupying the old Esparza's space, TBG's slinging Mexican and Tex-Mex cuisine. That means margaritas and tacos, sure, but you'll also find carne adovada, smoky brisket, and enchiladas. Not surprisingly, the bar is stocked with more than tequila, giving the city's rising collection of mezcal spots another standout.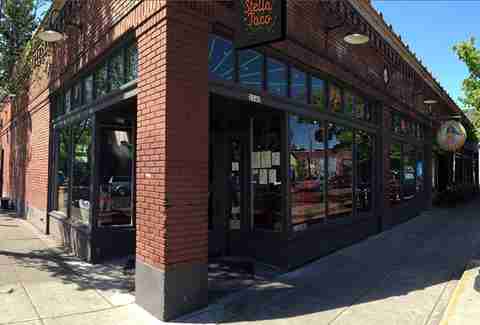 Alberta
Opened on a bright corner of Alberta by a couple who just blew in from El Paso, this laid-back Mextaurant has super-garlicky salsa and posole, plus an assortment of quality tacos that make it easy to get distracted from the main attraction: the giant margarita machine!
The Pearl
John Gorham's latest addition to his roster, MEC (as it's often shortened), channels the stalwart chef's extensive time in Israel and the surrounding area. Think orzo, lentils, eggplant, and hummus. In typical Gorham style, most of the plates are smaller and you're encouraged to get a few to share, which you'll probably be in the mood to do once you start in on the cocktail list from barman Jamal Hassan.
Southeast Portland
Speaking of Portland restaurateurs, Micah Camden's latest challenge is to go after Popeyes and other fried chicken slingers from a giant blue building. Once its doors opened, and what might be Portland's best fried fowl for the money was dispensed, it quickly became the most popular destination on an already quality-packed street.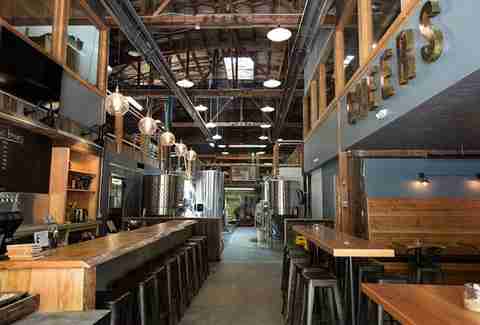 North Portland
What's being called the city's first not-for-profit brewery, Ex Novo, has been open for a few weeks on N Flint. Here's what you need to know: the space is airy, the brewing takes place mere feet from the bar, and they're currently splitting profits between four charities, including Impact NW, Friends of the Children, MercyCorps, and International Justice Mission.

Southeast Portland
A new restaurant on Division that serves artisan wood-fired pizza? You don't say! Despite the neighborhood's almost comical attempt to replicate Portlandia, Pizza Maria (like most other restaurants in its sights) is damn good. They have a very limited menu of marinara pies, salads, and five appetizer options. The cocktails are good, but pricey, and there are only two taps for beer. Considering their current selection though (Barley Brown and Pfriem's Wit), you won't be disappointed.
Downtown
The new restaurant in the recently revamped Hotel Rose, B + K is serving a full menu (breakfast, lunch, dinner, happy hour, etc.) of "new-American" eats -- including Painted Hills Beef Tartare, Pacific NW salmon, and duck roasted in Pinot Noir -- in a dining room dominated by a brick and tufted-leather clad wall and a floor-to-ceiling fireplace.
Hawthorne
Sure, it's sad when a bar/restaurant closes, unless, like Bar Dobre, it only closes so it can reopen and start slinging an expanded version of its badass sandwich menu, including choices like their beloved Do'Burger and a bunch of other meat-and-veggie-based options. Everything's served with a dollop of potato salad or hand-cut fries too.
Hollywood
You'd be forgiven for thinking they meant to call it "Seoul Kitchen", but this Japanese/American hybrid is actually serving Asian-flavored takes on what Southerners would recognize as good-ol'-fashioned BBQ, including grilled spare ribs w/ hoisin BBQ glaze and braised meatballs w/ baby bok choy. Plus there're NW seafood options like Dungeness crab croquettes and roasted wild king salmon, oh, and an entire range of sushi options.
North Portland
With three food carts and a successful Kickstarter under their belts, owners Heather and Joe were facing high expectations for their first attempt at a brick-and-mortar, which they're meeting with paleo-centric offerings in a casual, kid-friendly space.
Downtown
Billing itself as a "finer diner", this old-school space feels a bit like the diner in Twin Peaks. There's a magazine and candy counter in one corner that no one seems to touch; just quick enough service that once you start questioning whether or not you'll get another cup of coffee, one arrives; plus a menu full of classics. All-in-all it's one of the only places you can go in Downtown and feel like you're transported somewhere else entirely.

Sign up here for our daily PDX email and be the first to get all the food/drink/fun Portland has to offer.