Another year, another fresh set of restaurant openings and closures. In general, 2019 brought a lot to the city, though. A few places that Portlanders had been waiting on for years finally opened. The city's Indonesian food scene improved tremendously. And we had only a handful of heartbreaking losses (RIP Little Bird, Tapalaya, and seemingly half of Portland's breweries).
To that, a few serious restaurants like Canard and Eem have garnered national attention, and many others have quickly laid the groundwork to become Portland mainstays. These are the best restaurants that opened in Portland in 2019. 
MORE: Check out the 12 new restaurants we named best in the nation this year
Recommended Video
Tuna Eyeball with Timothy DeLaGhetto and Ben Sinclair
Downtown
Texas meets the Pacific Northwest
Bullard opened at the tail end of 2018 with considerable fanfare -- chef Doug Adam's Texas/Northwestern restaurant had been in the works for years, and came in hot and highly anticipated. The menu is best when shared amongst friends, with great platters of Texan food inspired by Pacific Northwest ingredients hitting the tables. The roasted chicken, meant to be torn up and sprawled upon the fresh, house-made tortillas, is a can't-miss, as is the unique take on shrimp and grits, with a crispy block of polenta standing in for the creamy grits. For drinks, guests can choose between different variations on classic cocktails like daiquiris and sazeracs, or go all-in and opt for a frosty pitcher of margaritas. Not content just to run dinner, Bullard offers a meat-and-three lunch with unique sides like kimchi radishes or smoked beets with guacamole goat cheese, and brunch sees some amazing breakfast tacos, golden flapjacks, and a killer buttermilk fried chicken sandwich.
Hollywood
Chinese-Indonesian cuisine in cute, colorful digs
A homey Chinese-Indonesian restaurant, Gado Gado began its life as a series of pop-ups before settling into a cozy, colorfully-tiled brick and mortar. Here, bright, aromatic dishes of seafood, pork, noodles, and fruits are piled high with fresh herbs. The menu is a bit difficult to pin down, and sometimes a little chaotic, but when you get something like the spicy smashed melon and cucumber salad or the Chinese sausage and shrimp dumplings, you're hit with a vivid, striking way to start a meal -- especially when followed by whole roasted Dungeness crab with chili tomato gravy and sesame noodles. Opting for the Rice Table puts diners in the hands of the chefs, who will send out plate after plate of playful, bold dishes. Don't skimp on the cocktails, either, most of which are as bright and creative as the food.
Hosford-Abernathy
Filipino home cookin'
A long awaited Filipino restaurant from lauded local chef Carlo Lamagna finally arrived in Southeast Portland after a year of bumpy starts and stops. The intimate dining room is filled nightly with guests coming in for plates of silky, salty noodles with seafood and pork, as well as the signature crispy pork lumpia rolls. The experience feels very much like a family meal as Lamagna brings the recipes and memories of his upbringing to fruition with dishes like Mom's Crab Fat Noodles, which see squid ink noodles topped with chunks of crab, peppers, and sweet corn.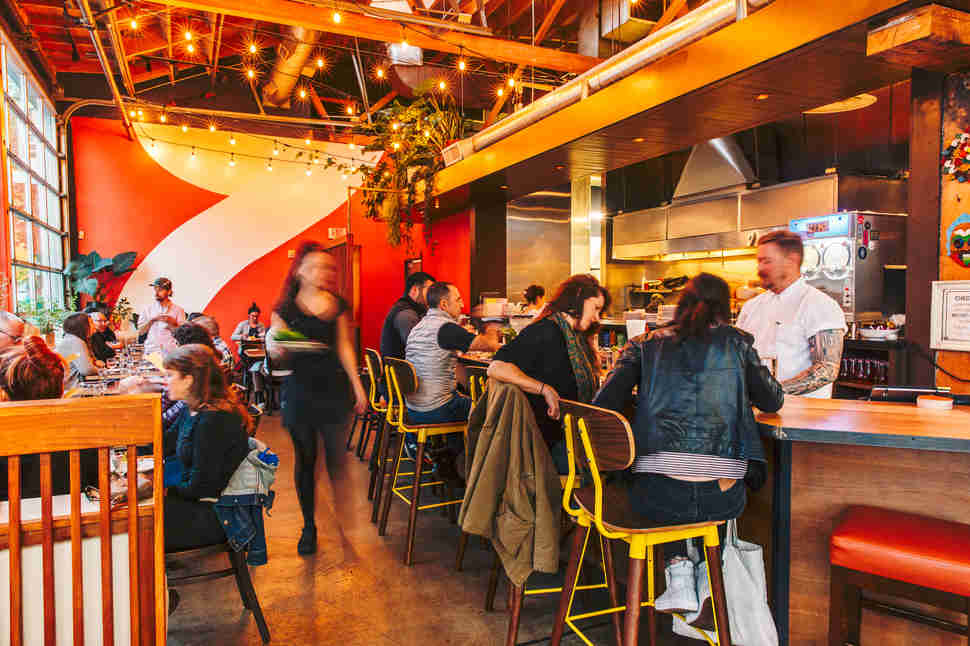 Boise
A super trifecta of barbecue, Thai food, and amazing cocktails
Easily one of the most popular openings in recent years (and a place so good it made our list for best in the U.S.), EEM is the product of a powerhouse trio -- Portland's most celebrated barbecue chef Matt Vicedomini (Matt's BBQ), Portland's top Thai restaurateur Earl Ninsom (Paadee, Langbaan, Hat Yai), and bartender Eric Nelson (Shipwreck pop up). The result is a combination of flavors and styles that may seem polarizing on paper, but all marry into something beautiful, like delicate bits of brisket burnt ends floating in a rich and spicy white curry sauce, baby back ribs with Thai spices and citrus, and fried rice tossed with mixed, chopped barbecued meats. However, it's not all meat here, and items like beet salads, roasted cauliflower curry, and soy curl stir fries are sure to satisfy vegetarians and meat-eaters alike. None of it is complete without one of the colorful, bold tropical drinks -- both alcoholic and non-alcoholic -- served at the perpetually busy, window-lined restaurant.
Beaumont - Wilshire
True southern comfort makes its way to Portland
The sky-blue diner Yonder is the product of Maya Lovelace, who once worked at famed Southern restaurant Husk in Charleston. Yonder is really about one thing: delicious Southern-fried chicken by the full bird, piece, sandwich, wing, or bucket. Each order comes dressed one of three ways, or as a mix -- dusted with a spice blend, dipped in a sweet and zesty sauce, or a spicy, almost Nashville-style hot sauce. Anyway you get it, the chicken's perfectly crispy, moist, and tender, and competes to be the best fried chicken in town. The sides are a hit too, though that might be because Lovelace cheats with pimento cheese mac and cheese as well as greens cooked in hearty bacon. The sleeper hit, though, is the cornbread, which achieves a smooth consistency that is almost like cake, but without being sweet. Here's a tip:  dunk it in some of the rice and beans.
Sunnyside
Breakfast tacos with BBQ flair
Matt's BBQ tacos sees Matt Vicedomini's beautiful brisket and sausage resting on light, house-made tortillas, served out of a blue food truck on SE Hawthorne. The base taco comes with fluffy scrambled eggs, potatoes, and cheese, and is entirely satisfying on its own. However, a variety of barbecued meats can be added, including Matt's famed brisket, slices of pork belly, pulled pork, and there's even a vegetarian option with portobello mushrooms. The cart stays open past breakfast, and for lunch diners can find the same barbecue options, served with guacamole and onion rather than egg and potato. Matt's also serves migas throughout the day, loaded up with chips, eggs, pico, cheese, and guac.
Buckman
Hyper-minimalist tasting menu
Berlu is an exercise in simplicity and minimalism. The stark, white space plays host to the whims of chef Vince Nguyen, who spent time at LA's two-Michelin-starred Providence (and the famous Noma in Copenhagen) before working at one of Portland's most renowned fine-dining experiences, Castagna. At Berlu, he takes simple ingredients -- Oregon shrimp, local chicken, zucchini -- and presents it simply over multiple courses. The chicken, grown locally, is divided and distributed in seven different ways to fully experience the range of the meat, while small fruit dishes play homage to his home cooking. The focus on simpler ingredients also means a lower price tag -- $80 with an optional $45 wine pairing. It's not cheap, but it's far more accessible than many of Portland's other chef tasting menus.
Creston-Kenilworth
Portland's new BBQ contender steps into the ring
For years, Matt's BBQ has dominated the barbecue food cart conversation, with only a few spots, including Road Runner on Foster and Bark City at the Asylum Food Cart Pod, really competing (the latter is especially fierce, serving excellent brisket, ribs, turkey, and links). Now, they're joined by newcomer Holy Trinity. In an otherwise barren parking lot on SE Powell, Kyle Rensmeyer, a Texas native, smokes thick, juicy slices of marbled brisket, along with tender pork ribs, pulled pork, and sausage made from brisket trimmings. The portions are large (especially the brisket) and overshadow the sides a bit, though the cheesy grits are a nice sidekick to any of the meats.
Buckman
Super sustainable wood-fired seafood dining
Portland has seemingly been riding sustainability train since the Industrial Revolution, especially when it comes to seafood, but young chef Jacob Harth takes the concept to the next level with Erizo. The seafood here is often caught or harvested by Harth and his chefs, or bought directly from fishers. Most are byproduct catches or invasive species that would normally never see a menu, especially an intimate chef's tasting menu like the one Erizo offers three nights a week. All those commendable actions wouldn't mean that much if the dishes weren't great, but Erizo delivers with a minimalist touch, roasting the seafood directly over a wood fire with ingredients that emphasize just what's best about each piece of caught fish or scavenged barnacle.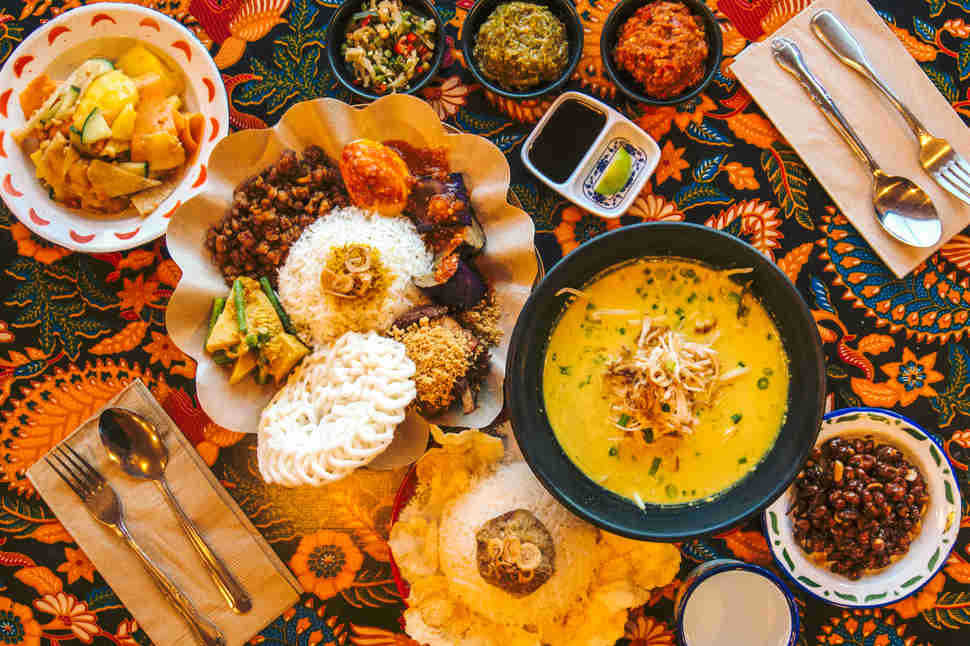 Laurelhurst
Indonesian comfort food in a homey setting
Portland saw not one, but two Indonesian restaurants this year, with Wajan acting as the more traditional of the duo. The restaurant, which is decked out in murals and art, focuses on Jakarta street food and conventional home cooking. Small, fried bites like bananas and corn fritters make for excellent starters or sides to the arrack cocktails, as do the chicken skewers and fruits drizzled with spicy peanut sauce. Bone-in or shredded chicken float in bowls of savory, rich curry; spicy beef rendang sapi is served with grated coconut and aromatic rice; and gado gado salads made with steamed vegetables, tempeh, egg, and peanut sauce make for excellent vegetarian fare. There's really a sense of homeyness here, with a style of comfort food rarely seen in Portland.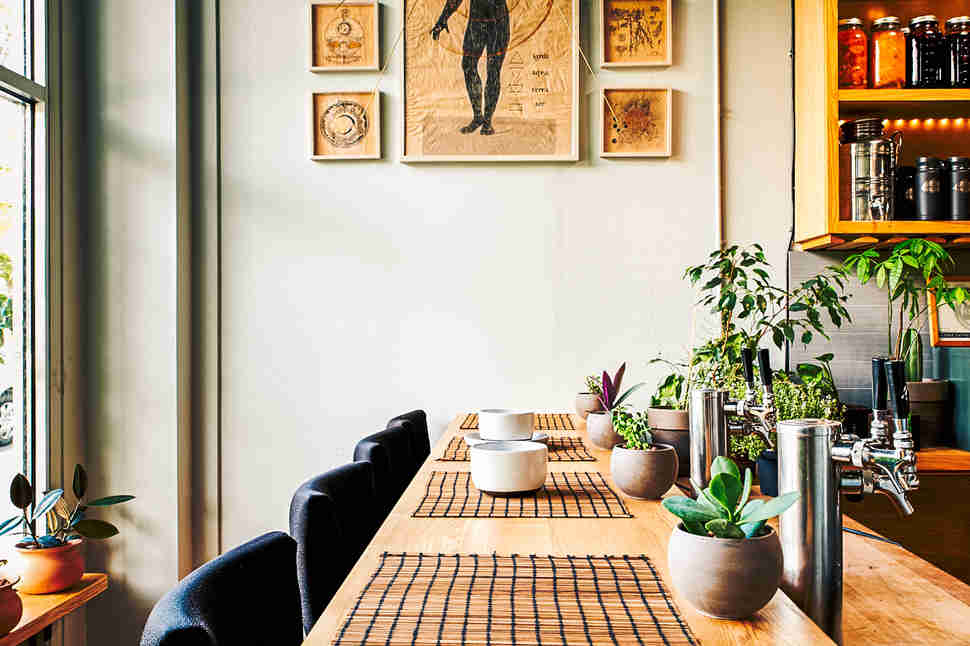 Buckman
Grab and go vegan food that kicks serious ass
When the groundbreaking vegan chef's table Farm Spirit left its modest, intimate dining room for larger surroundings, it reopened the old space as Fermenter, a more casual vegan experience, but no less impressive. The seasonal lunch menu features bowls and sandwiches made entirely vegan, with roasted and house-fermented vegetables, whole grains, sauces made in house, and cultured drinks. Rather than hide the fact that it's all vegetable-based, Fermenter revels in the bounty of the Pacific Northwest, fully embracing locality and seasonality. Diners are welcome to grab one of the few seats, or to take their food to go in reusable containers.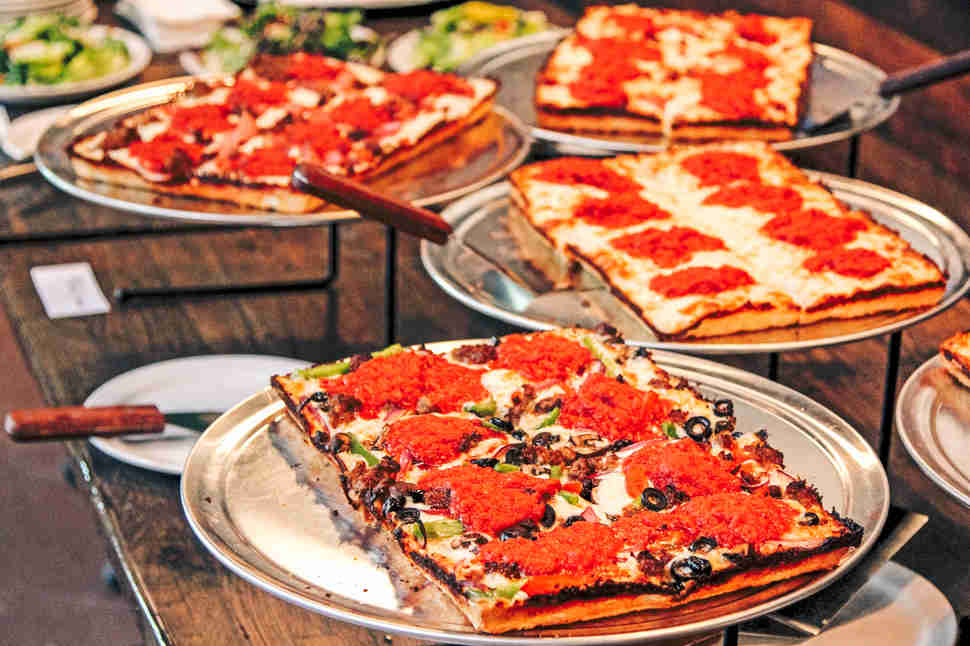 Foster-Powell
Detroit-style pizza. Portland beer.
Assembly Brewing landed in the Foster-Powell neighborhood early in 2019, bringing Northwest ales and Detroit-style pizza to an otherwise sleepy district. Co-owner, and head brewer, George Johnson -- a long-time resident of Foster-Powell -- traveled to the Motor City to learn how to make real Detroit-style pizza from Shawn Randazzo (who helped popularize the style), and then brought it back to PDX to pair with his beer. The thick cut square crust gets melted cheese, then tomato sauce, with hearty meat and vegetarian toppings. Our favorites are the Supreme, with sausage, pepperoni, peppers onions, mushrooms, and olives; and the Veggie, with all of the above minus the meat. Assembly's beers don't stray far from Pacific Northwest classics, with simple offerings like IPAs and stouts -- a welcome respite from the deluge of sours and smoked fruit beers that permeate our beer culture.
Irvington
Portland's best Korean food isn't in Beaverton
While Portland's Japanese, Vietnamese, and Thai food scenes are nothing to scoff at, Korean food has always been relatively underrepresented. Luckily, Hak arrived in the Lloyd area to help remedy that. The bright, window-lined cafe serves warming Korean comfort food like steaming bowls of kimchi stew, spicy brisket noodle soup, and stone pot bibimbap (a godsend in the cold winter months). Smaller bites like beef croquettes and fried dumplings round out the menu and are an essential addition to whatever bowl you decide to try.
Sign up here for our daily PDX email and be the first to get all the food/drink/fun Portland has to offer.