Portland's gone through a bit of a pizza renaissance recently, which means that whatever you're looking for -- from classic wood-fired pies, to hip-hop fueled pizza pop-ups -- Stumptown's got a 'za option for you. It also means picking PDX's best pizza is almost impossible, unless some sweet men's lifestyle site went and did it for you. Oh, wait...
Chinatown
What you're getting: A pint of Cent's & Centsibility and the House Special -- a combination of three meats and veggies they've been making since 1974.
In addition to turning out gold medal winning beers on the reg -- and delivering said beers all over the city by bike -- this old-school spot slings pies (and slices after 9pm) with a fluffy, almost sourdough-like, crust that they get by constantly making fresh dough, ensuring the yeast is still alive when it's baked. Oh, and they do it all in a building that's supposedly haunted.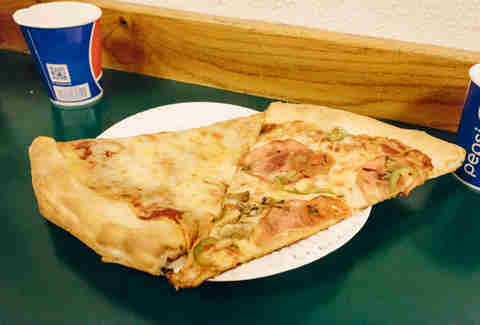 Alphabet District
What you're getting: A slice of whatever looks good
Despite the decor barely changing in the last 30 years, the city's first slice spot is still going strong, mostly because the pizza hasn't changed either: it's still thin, gloriously gooey, and topped with high-quality but hardly exotic ingredients (pepperoni, sausage, mushrooms, etc.), plus it's incredibly consistent.
Downtown
What you're getting: John Stamos vs. the entire Comanche nation, which comes with Alfredo, bacon, artichokes & parsley
It's hard to decide what's best about this brick-clad pie spot: the fact that delivery runs from 11am to at least 3am (4am Thursday through Saturday!); their sense of humor (they have a GeoCities-style website dominate by floating slices); or their whimsically named pies, including a Middle Eastern one named after Brigitte Nielsen, which presumably has a lot of Flavor (Flav).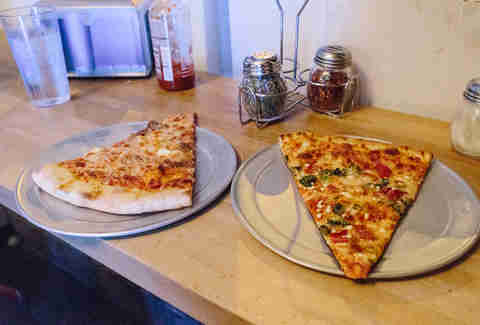 Baby Doll Pizza
What you're getting: The bacon, mushroom, date, garlic & walnut
Posted-up on a stretch of Stark St that's more popular for its dive bars than quality pizza, BD still manages to turn out a sweet slice with bubbly cheese and a thin, but foldable, crust that's chewy, but not bready.
Northeast Portland
What are you getting: Whatever they're making
It's not a restaurant. It's a chef's celebration of his favorite food via an ever changing, one-day-a-week pop-up. You can go and eat delicious, if a little fancy, pizza while hip-hop blares and general goofiness abounds. We've mentioned it before, and if you haven't been there yet, it's time to go spend some of your cash (rules everything around me) on whatever 'za they're cooking up.
Buckman
What you're getting: The Vongole Bianco w/ clams, Mama Lil's peppers, oregano, garlic, smoked provolone, mozzarella & gremolata
Neapolitan pizza from six-time James Beard Award finalist Cathy Whims sounds fussy, but there's nothing overwrought about the rustic combinations she dreams up to complement her beautiful crust. Just don't expect to get it sliced. That's not how they do it in Naples.
Northeast Portland
What you're getting: Zoe's soppressata w/ fresh mozzarella & chili flake
Much like Nostrana, Firehouse is a full-service Italian restaurant that also happens to specialize in Neapolitan pizza. The difference is that it's tucked away in the nether region of Northeast Portland, but don't worry, the trek will make what might be the city's best brick-oven-baked pies taste even better.
Northeast Portland
What you're getting: CHOP spicy salami w/ Mama Lil's peppers, goat cheese & honey
A relative newcomer to the wood-fired pizza craze that has gripped Portland, Life of Pie has quickly become a mainstay thanks to a crust that is perfectly charred, but still chewy, and always topped with fresh, seasonal ingredients. Or maybe because of their seven hour happy hour.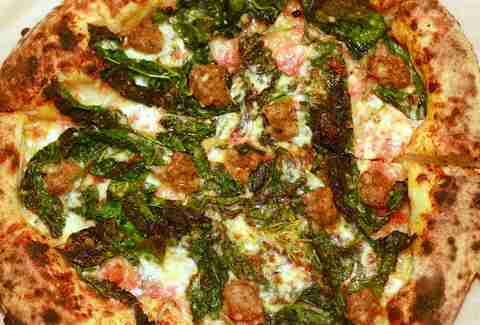 Mississippi
What you're getting: The Fennel Sausage, with braising greens & rosemary
This quirky Mississippi pizzeria serves chewy, slightly charred wonders topped with seasonal ingredients ranging from sweet corn to squash... plus normal stuff like salami and sausage. Luckily, at 12in apiece, you and a crew can crush several in a sitting. As long as you leave room for their homemade ice cream.
Southeast Portland
What your'e getting: The Soppressata with spicy basil
KAP's thin-in-the-middle, thick-on-the-outside masterpieces are topped with high-end meats (like soppressata, prosciutto, fennel sausage, etc.), tangy sauces, and the freshest cheeses imaginable. Thanks to their ultra-hot oven they are finished in about two minutes, which means after dinner you can rush home and proudly tell your girlfriend you aren't the only one.
Hawthorne
What you're getting: The Sausage & Mama
Probably PDX's most popular pizza -- just look at that line! -- Apizza's got a lot of rules, including a limit on toppings and a policy that say if they run out of dough, you're SOL. But really, they could tell you to do anything they wanted and you'd obey just to get some of that perfectly chewy, ciabatta-bouncy (but somehow still thin) crust, topped with... um, not that many ingredients, obviously.
Sign up here for our daily PDX email and be the first to get all the food/drink/fun Portland has to offer.