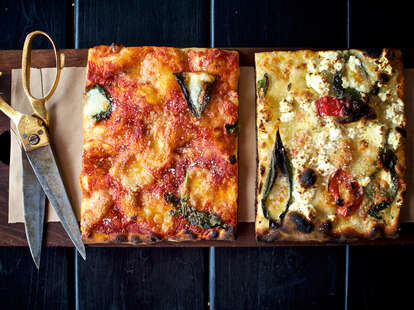 <strong>Roman Candle Baking Co. |&nbsp;</strong>David L. Reamer
<strong>Roman Candle Baking Co. |&nbsp;</strong>David L. Reamer
Hot damn! Or hot capicola! Hot whatever -- Portland's in a pizza boom, with new spots popping up quicker than bubbles on crust. Thing is, most of these new hot spots are wood-fired, Neapolitan joints (poor, poor Portland!), meaning the myriad other styles are hiding in the shadows. With diversity in mind, we took it upon ourselves to track down every style of pizza available in Portland and offer up your best option for each. It was an arduous process, but we are brave and strong. Below you'll find every style of pizza in Portland, and the best example of each.
But first, some caveats!
There is no St. Louis pizza in Portland: Because it's gross. Stick to fried ravioli at Bar Bar if you're getting nostalgic, Lou.
We've also excluded tomato pie: Mainly because it's just pizza without cheese. Which is fine, but until some dude from Philly or Trenton does it right, we're calling it like it is.
This list is perfect: But if you decide to be the first person on the internet to disagree with perfection, please tell us your go-to spot in the comments.
Ready? Mangia!
Neapolitan: <a href="https://www.thrillist.com/venues/kens-artisan-pizza" target="_blank">Ken's Artisan Pizza
Buckman
Portland's unofficial pizza style is rooted in (but not completely beholden to) the Neapolitan tradition of wood-fired, springy, slightly charred, and conservatively topped pizza, with the pie taking over Portland faster than hipsters swarming Foster-Powell. Ken's has long led the pack, expertly blending simple ingredients to create a local legend. But the city's most celebrated purveyor of pizza-that-sounds-like-ice-cream has some stiff competition coming out of the recent pizza boom.
Honorable mentions: There are tons of fantastic spots, but our favorites include P.R.E.A.M., Life of Pie, Lovely's Fifty Fifty, Oven & Shaker, and Firehouse.
New York: <a href="https://www.thrillist.com/venues/sizzle-pie" target="_blank">Sizzle Pie
Lower Burnside & Downtown
Transplants insist it's impossible to replicate New York's famous, floppy, foldable contribution to Italian pie. They usually blame the water. Well, they also considered A-Rod to be clean as a whistle, and they're missing out on Sizzle Pie, which slings slices day and (late-)night to crowds lingering Downtown and on East Burnside while blaring punk anthems. It's the real deal. And the water in the joint doesn't taste like the Hudson. Plus, there's beer and cocktails, so even if it did, you'd have options.
Honorable mentions: Escape From New York Pizza, Atlas Pizza, Pizza A Go Go
Chicago deep-dish: <a href="https://www.thrillist.com/venues/thick-97205" target="_blank">Thick
Downtown
The whole debate about whether Chicago or New York pizza is better is super played out (especially since the answer is Chicago), but it does lead to a more important question: why has it always been so hard to find a decent slice of sauce-on-top, butter-crusted pizza with a pound of cheese in this town? Well, about a year and a half ago, Thick opened its cart, and all is now well and good. The sauce is sweet and chunky. The sausage is house-made. And one slice is just about the perfect lunch size. If it's not, well, it has Chicago dogs, too... whiich are better than New York dogs. Not that we're debating these things.
Honorable mentions: Via Chicago, Good Neighbor Pizzeria, and Midwest Pizza Company.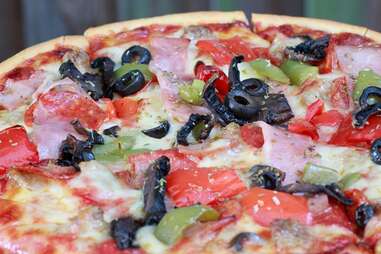 Chicago thin-crust: <a href="https://www.thrillist.com/venues/bridge-city-pizza-97206" target="_blank">Bridge City Pizza
Woodstock
Thin crust gets lost in the conversation about Chicago pizza, mainly because a whole pie weighs as much as a slice of deep-dish. But at Bridge City, it's all about the thin, square-cut, circular pies, which have a nice little crunch, but still enough bend to prevent shards of crust from cutting your gums. Bonus points: Bridge City also makes a hell of an Italian beef, which can be consumed via pizza, sandwich, or dripping fists.
Honorable mentions: Eddie's Flat Iron Pizza offers a thicker version, while American Dream Pizza and Satellite Dream Pizza come close. Unlike the Cubs.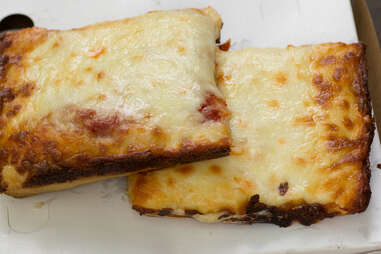 Detroit: <a href="https://www.thrillist.com/venues/midwest-pizza-co-97217" target="_blank">Midwest Pizza Company
Mississippi
Detroit pizza is an elusive cousin to the Sicilian, a rectangular pie cut into squares, with cheese melting and caramelizing over the corners, to achieve some sort of Italian alchemy. This new-ish cart outside Prost does it solidly, right down to the blend of mozz and Muenster stacked crazy-thick on top of an airy crust. It manages to upstage MWP's also-solid Chicago deep-dish. Get a slice with a bottle of Faygo. Trust us, the Red Pop is worth every stupid Juggalo joke you'll hear.
Honorable mention: The only thing even close to this in PDX is the Little Caesar's DEEP!DEEP! Dish, which, well, no.
New Haven: <a href="http://www.thrillist.com/venues/apizza-scholls" target="_blank">Apizza Scholls
Hawthorne
Rooted in Neapolitan tradition -- but springier, more oblong, and more generous with the cheese -- New Haven apizza originated in coal-fired ovens. Apizza Scholls does it in an electric oven, yet tradition is in every bite. Consistently named one of the best pizzas in the PNW -- and the US -- it's got a ciabatta bounce to die for. And while the place is equally famous for its omnipresent lines and strict rules (no more than two meats?!), we'd endure a hell of a lot more for a bite of this beauty.
Honorable mention: If there's another New Haven pie in Portland, we have yet to try it. But in Hood River, Double Mountain vies for supremacy with Scholls.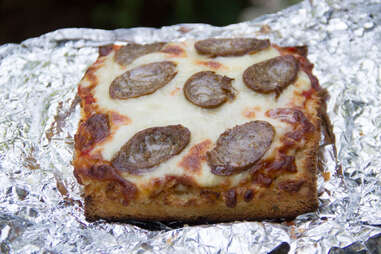 Sicilian: <a href="http://www.thrillist.com/venues/omalleys-saloon-grill" target="_blank">O'Malley's Saloon &amp; Grill
Foster-Powell
The thick, focaccia-style variety of Sicilian is huge in New York, but not so much here. Weirdly, one of the only spots to score a slice is O'Malley's, a gem of an Irish dive in FoPo that makes thick slices to order at the bar. Pro tip: have them throw it in for a few extra minutes to get that NYC crispiness, which otherwise eludes the doughy base.
Honorable mention: With Tributes closed, we've come up blank.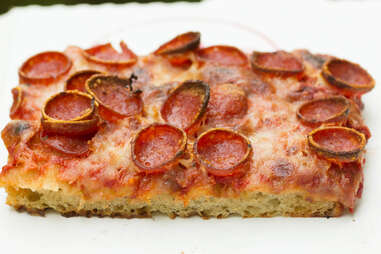 Nonna: <a href="https://www.thrillist.com/venues/baby-doll-pizza" target="_blank">Baby Doll Pizza
Buckman
"Grandma" pizza -- popular in Long Island -- is basically a thinner version of Sicilian. Or a thicker version of Detroit. Either way, it's delicious. Most often found in Italian bakeries, its anatomy includes bready crust, with cheese teetering over the edges and caramelizing against the pan. At Baby Doll -- which was about to win the New York title until we found out about dude's grandma -- it's not a permanent fixture on the slice display. But when it's there, it's overloaded with the kind of tiny pepperoni that curls up into crispy grease-Jacuzzis when hit with heat. And it's perfect, as are all of grandma's recipes.
Honorable mention: We're sure somebody has an amazing Italian granny out there. We wouldn't decline a dinner invite, and would bring a nice can of wine.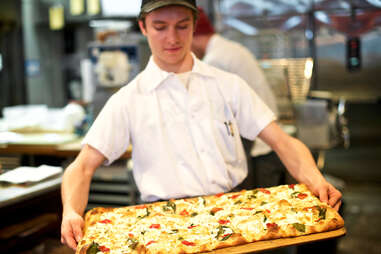 Pizza bianca: <a href="https://www.thrillist.com/venues/roman-candle-baking-co" target="_blank">Roman Candle Baking Co.
Division
Occupying a strange space between flatbread and what we've come to know as focaccia, bianca can be served in a number of ways: topped with tomato sauce, loaded with regular toppings, or just served plain with salt. Oh, and as far as we can tell, it's only served at Roman Candle, which cooks up the remarkably singular pizzas in huge slabs, and sells them in squares the size of small plates.
Honorable mention: Somewhere on Tinder, you can likely find a gal named Bianca who loves pizza. Otherwise, we're pretty sure you're S.O.L.
Late-night: <a href="https://www.thrillist.com/venues/lonesomes-pizza-97209" target="_blank">Lonesome's Pizza
Downtown
There are two types of late-night pizza: the one you wander up to after a night of drinking, and the one you have somebody else bring to you after a night of drinking. Lonesome's does both, with delivery to a huge swath of Portland until 3am, plus a walk-up window at Dante's, just in case a night of light bondage makes you hungry.
Honorable mention: Hammy's Pizza delivers big-ass pies to the majority of PDX until 4am nightly.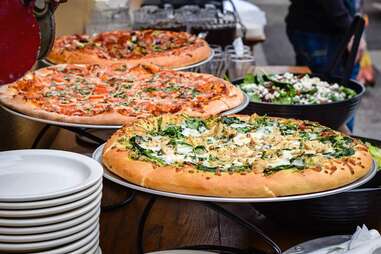 Best...&nbsp;um? We're not sure: <a href="https://www.thrillist.com/venues/eat/portland/restaurants/pizza-jerk" target="_blank">Pizza Jerk
Cully
When Bunk Sandwiches mastermind Tommy Habetz announced he was opening a pizza joint right across from Red Sauce (our pick for last year's best new pizza), well, we knew it'd be good, especially when he promised something akin to New Haven-style pies, but not beholden to it. But we're not sure what to call pies like the Sunday Sauce, which is like a full Italian dinner on a pie, including ribs. Or his clam pie with bacon. Or one with kimchee and BBQ sauce. A while ago, he was rumored to be messing with a stuffed-crust pizza... with meat in the dough. Pies come served with everything from homemade Hot Pockets to dandan noodles, and you can eat them in the pizzeria or on the huge-ass patio out back. The pizza defies classification. The only adjective that works across the board? Incredible, right down to the homemade ranch.
Just pizza: <a href="https://www.thrillist.com/venues/old-town-pizza-97209" target="_blank">Old Town Pizza
Downtown & King
This list is bound to be controversial. But this category is a tinder box, because generic Greek/pizzeria pizza isn't about ingredients. It's about nostalgia. To me, Old Town tastes like childhood. That greasy pepperoni, bready crust, and chin-burningly stringy cheese remind me of family Fridays, sleepovers featuring USA Up All Night!, and lost track meets (that were probably lost because of pizza). When nostalgia is an ingredient, there is no right or wrong. There is just pizza. And your go-to is always perfect. Except when it's not Old Town.
Honorable mention: Totinos, Hot Pockets, Red Baron, and Bagel Bites

Sign up here for our daily PDX email and be the first to get all the food/drink/fun Portland has to offer.
Andy Kryza is a senior editor at Thrillist. If you need him, he'll be at the gym. And by "gym" he means literally anywhere except the gym. Follow him to the doctor's office @apkryza.