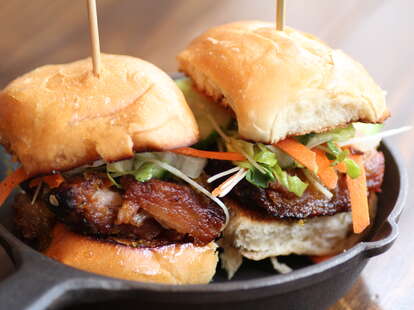 While everybody else is focusing on bacon, here in Portland we know that it's almost always better to eat that pure, uncured pork belly. Don't believe us? You will after checking out these 11 PDX dishes...
Pork belly skewer
The AmericanLocal (address and info)
Richmond
The simplest iteration on the list, one of our favorite local izakayas skewers and grills hearty pieces of pork belly and serves them with a dollop of Sriracha and maple syrup. It's a sophisticated way of convincing yourself you're not sitting at the bar eating fatty chunks of bacon.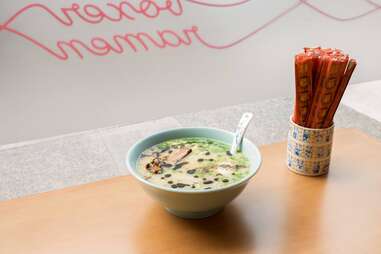 Tonkotsu Shio
Boxer Ramen (address and info)
Multiple locations
Okay this may be a little bit of a stretch, but hear us out. While the pork belly is properly balanced with the other ramen toppings, the overwhelming porkiness of the underlying tonkotsu is what makes this a contender for best ramen in town.
Pork Belly Cubano
Bunk Sandwiches (address and info)
Multiple locations
One the absolute best sandwiches in the city, Bunk's Pork Belly Cubano is also nationally recognized by food television's talking heads as a superior combination of caramelized pork belly, melted Swiss cheese, and pickles.
El Diablo Arepa
Teote (address and info)
Ladd's Addition
Teote's buttery corn cakes topped with spicy slow-cooked pork belly is what dreams are made of. Maybe it's the warm sun on a lively outdoor patio, maybe it's the micheladas, whatever it is, there's no better way to enjoy it than savoring every bite of the signature arepas.
Pork Belly Benedict
City State Diner and Bakery (address and info)
Kerns
Anyone can quickly upgrade their breakfast game by swapping bacon with pork belly, but it takes a measured hand to achieve perfection. City State does this by properly cooking a slab of belly and slapping it on an English muffin with arugula and apricot jam followed by a dill hollandaise bath.

Pork Belly Mac & Cheese
Grassa (address and info)
Downtown
It should be no surprise that the crew behind Lardo easily whips up a decadent rendition of bacon mac. It's a classy Southern homage with handmade macaroni, barbecue pork belly, and jalapeños topped with cornbread crumbles.
Aina Burger
Ate-Oh-Ate (address and info)
Kerns
Is it bold to say that this burger sets the standard for how pork belly should be used on all other burgers from here on out? We don't think so. Granted, it's complemented by the perfect brioche bun smeared with spicy mayo and topped with shredded iceberg lettuce and funky kimchi relish, which helps, but the belly's the star of this show.
Pork Belly Dan Dan Noodles
Smallwares (address and info)
Beaumont
Duh! Of course one of our favorite new brunch spots serves some of the best pork belly, but not how you think; it's topping a fiery combination of dill pickle, Sichuan pepper, and peanut in dan dan noodles.
Kakuni
Pono Farm Soul Kitchen (address and info)
Hollywood
One of our favorite restaurants to open last year, Pono Farm Soul Kitchen uses only its own farm-raised beef and pork, which really shines in dishes like this 10-hour braised pork belly with tatsoi and a soft boiled egg in umami-rich soy and black truffle broth.

Heirloom Hominy
Ox (address and info)
Eliot
Pork belly is an obvious dish when you're serving "Argentine-inspired Portland food." Ox makes it special by presenting it with braised pork belly, chiles, cilantro, and a fried duck egg. There's a reason why it's one of the busiest restaurants in the city.
Sign up here for our daily PDX email and be the first to get all the food/drink/fun Portland has to offer.