It's hard to think of a more perfect comfort food than bowls of steaming hot ramen. Noodles, broth, usually egg, seaweed and pork, all served in a giant bowl with the endgame of filling you up and warming your bones. Luckily, in recent years Portland has been going through a ramen renaissance, with Japanese ramen stores finding themselves warmly welcomed by Portlanders, as well as spots popping up from residents. It's gotten to the point where, when you want to go out for a bowl of ramen, you actually have choices in most neighborhoods. Here are nine of the best ramen spots in town.
Recommended Video
This Restaurant Makes Lobster Roll Ramen
Kerns
Straight out of Tokyo with creamy pork and chicken ramens
Marukin marked a sea-change in Portland's ramen scene. It wasn't the first great spot, but it was the first one that came directly over from Tokyo. Chef Mayumi Hijikata moved to the city to help oversee the locations and carry out executive chef Masaji Sakai's vision. And what a vision it is: the tonkotsu ramen is the store's classic, with a rich broth made from pork bone, but it's the paitan that steals the show here, with its rich, creamy chicken based broth. Both are available as "red", a vividly crimson spicy soup base (perfect if you have a cold). Other options include a vegan shoyu and a number of other flavors. Besides the vegan option, you can usually find salty pork belly and a perfectly cooked soft egg, as well as bamboo and seaweed, all on top of noodles made fresh each day. Marukin has two locations, one on Ankeny next to Nong's Khao Man Gai, the other in the busy food hall Pine Street Market. Both are quick counter service restaurants with $11 bowls.
Buckman and Northwest
Portland's own take, with fried chicken bowls and gluten-free noodles
While not exactly traditional, Boke Bowl has defined itself as a Portland-style ramen shop, with two shops providing fast counter service bowls of ramen, as well as steamed buns, rice bowls, add-ons, and sides. Ramen is available dry, as well as with gluten-free yam noodles -- which are appealing even for those not avoiding gluten. A defining trait of both restaurants is the option to add chunks of crispy buttermilk fried chicken, which helps to cement Boke's position in the now-competitive ramen scene.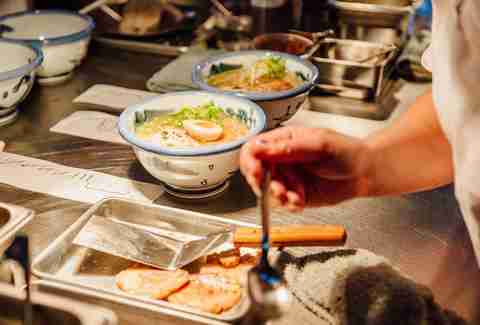 Buckman & Downtown
High-end dining from Japan with Portland's best vegan ramen
Also from Japan, Afuri opened its first American franchise in Portland in late 2016. It's a more formal affair, with seated dining and an extensive cocktail program. The broth here is bright and vivid, a little more on the delicate side, with thin, delicious chewy noodles. The surprise breakout is the vegan tantanmen, made with a rich, creamy hazelnut broth. As criminal as it may sound, adding some pork to it for $2 is the way to go. Afuri also distinguishes itself from other ramen spots in town by price; with ramen bowls starting at $14 to $16 it's on the pricier side for ramen, but it's worth the splurge.
Kerns
Japanese comfort food with sushi and ramen
Mirakutei has history on its side, having served the East Burnside crowd its delicious sushi and ramen for years now. The options are few, just five or so each day at around $12 a bowl, with most of which enlisting a rich paitan broth. Its defining trait is the grilled char siu pork that tops most of its ramen bowls, which is comfort food at its finest. Even if you're coming here specifically for ramen, it's worth trying some of the fresh sushi or grilled fish, even as just a precursor to your noodles.
Beaverton
Traditional ramen hidden in suburbia
If you're a Portlander, it's hard to blame you for not making it out to Yuzu, or even knowing where it is. Tucked away in a strip mall in Beaverton, it's easy to miss, but it's worth tracking down. The kakuni ramen is the signature here, with a shoyu broth and pork belly, and it's the place to start for any diner. The large selection of sushi and shareable Japanese plates are also worth the trip out to The Beav.
Division/Clinton
The wild child of Portland ramen with unconventional offerings
Alongside the sushi and Japanese shared plates at Yama, you can find a few options for ramen bowls, each around the $12 mark. And while you can find a traditional chashu pork with green onion and sesame seeds, you can also nab more creative fare, like a spicy kimchi ramen with sliced pork, or a seafood ramen with shrimp, scallops, squid, and mussels. Odder still, a miso ramen made with meat sauce, topped with ground beef and, bizarrely, Parmesan. Is it authentic? Not even remotely. But it's actually really damn good.
Richmond
Japanese restaurant with great happy hour
This izakaya and sushi-style restaurant has been sitting on Division Street for years now, and is too often passed over for the hipper, more name-recognized locations on the street. That's a good or bad thing, depending on your perspective. Sushi and izakaya are the major draws here, but the ramen here should not be skipped. You can find five ramen varieties (and an udon bowl), and the brothless Abu Ramen is a fun one, though the classic is the Tokyo Ramen, with a chicken and veggie soy broth, green onions, mushrooms, and chashu pork. Maru, as it's known, also boasts the best ramen happy hour in town, when bowls are a mere $5 (with one drink per person).
Sellwood
Fun neighborhood shop with classic bowls
The once sleepy neighborhood of Sellwood, known only for Saburo's Sushi and its absurdly long lines, as been getting an influx of dining in recent years. Chef Tommy Shin of Samurai Blue opened Nama Ramen in August 2017, bringing some great bowls of steaming ramen to the neighborhood. Like some others, these come fully dressed, with salty-sweet chashu pork and delicate soft boiled eggs oozing yolk into the broth. While there are the more traditional options of tonkotsu shoyu and a spicy miso, you can also find inventive dishes like a coconut shrimp tonkotsu and vegetarian with corn and tomato. For lighter, cooler food, Shin also serves Hawaiian poke.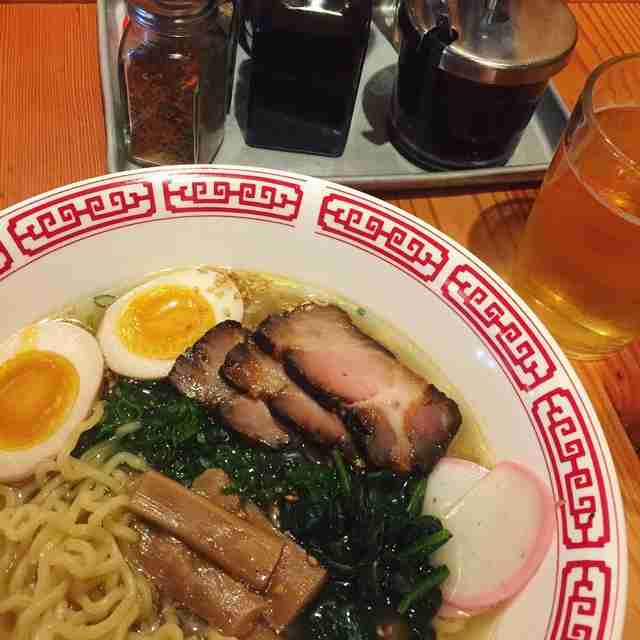 Eastside Industrial
A late-night build-your-own ramen shop
Noraneko, from the same owners as Biwa, serves some basic ramen bowls, like a shio, shoyu, and miso, plus some seasonal options and vegetarian specials. Each bowl comes mostly adorned, allowing guests to pick and choose their favorite toppings, or simply slurping up the bowl of noodles. Biwa also happens to be open until 2am each day, for all of your late-night, post-bar crawl ramen cravings.
Sign up here for our daily PDX email and be the first to get all the food/drink/fun Portland has to offer.