Porchetta and cheesesteaks: 5 PDX sandwiches you need right now
You're not a Portlander if you haven't experienced Lardo's Mortadella, Bunk's Cubano, Pine State's Reggie, Huber's turkey-wich, a Big-Ass Sandwich, Michael's Italian Beef, or anything from Meat Cheese Bread. Like complaining about Fred Armisen and being inexplicably salty toward Seattleites, eating these wonders is in our blood. But there are endless amounts of beautiful sandwich glory to behold… here are five to get right now, before stupid Carrie Brownstein finds out about them and Seattle decides to copy them.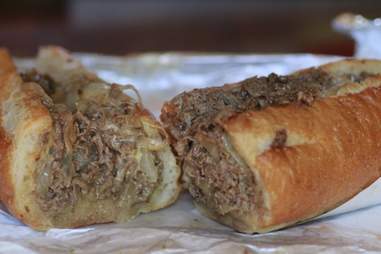 Andy Kryza
Broad St Bomber, Shut Up and Eat
SE Portland
This cart-turned-restaurant's run by a Philly expat, so expectations were high when it was announced they'd have a cheesesteak… and despite its lack of bright-orange cheese product, it's been the best in town since the doors opened. Loaded w/ half a thin-sliced cow, cheese, and peppers, the thing comes packed into a custom-made Amoroso-style roll that has nothing to do with The Apprentice (that'd be an Omarosa roll). One bite, and you'll be silenced.
Banh Mi, An Xuyen Bakery
Foster/Powell
Portland's sandwich shops are loaded w/ chefs offering up high-end, overpriced, inexplicably fancy versions of the Vietnamese sandwich staple, which is completely contradictory to what makes these cheap, light street snacks perfect. At less than $3 a pop, An Xuyen hits all the right notes, from the fresh pickled veggies, to the pate spread, to the mysterious pork product that constitutes the meat, all served on a fresh-baked baguette that's best followed w/ a delicious quail-egg-stuffed steamed bun that's about as fancy as this joint's getting.
Andy Kryza
Ultron Get-Along, Eugenio's
Clinton/Division
Sharing a name w/ The Avengers villain is oddly indicative of the size of the monster meatball sandwich at this funky, hidden gem of an Italian market tucked amid the chaos of Division. It's a traditional meatball sandwich done with crazy finesse -- w/ meatballs the size of a cat's head packed w/ Di Carlo sausage and chuck -- then slathered in the requisite sauce and cheese. It's enough to put Gary Busey to sleep after only one.
Presidential Schnitzelwich, Tabor
Downtown
If you want a badass taste of Prague without needing a fork, Czech (ugh!) out this amazing downtown cart that's home to the Schnitzelwich, which's exactly what it sounds like -- a perfectly breaded hunk of pork or chicken loaded into a ciabatta roll w/ paprika spread and sauteed onions. What makes it presidential?  There's a "Schnitzelwich for President" sticker included, plus a bunch of Muenster cheese to honor the 14th president, Eddie Munster.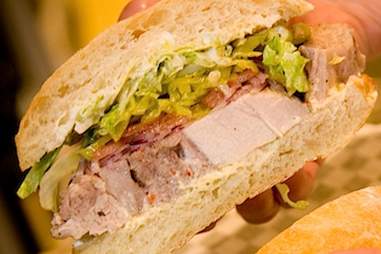 Chop
Porchetta, Chop Butchery & Charcuterie
Nob Hill/Alphabet District
Getting any sandwich from this amazing butcher and charcuterie shop is cause for celebration, but go in on the weekend and the meat market turns into a meat mecca, as the pork lords roll out their porchetta special on Fri & Sat. It's a half hog stuffed w/ house sausage, rolled up, then cut into thick slabs and served up on ciabatta rolls until it's gone. It goes fast… which you certainly won't once the meat sweats kick in.