Whether it's the simple pleasure of a peanut butter and jelly, a towering, multilayered monstrosity of meats and cheeses, or a bacon, egg, and cheese, a sandwich is a hard thing to beat for literally any meal of the day. Luckily, Portland is rife with sandwich shops (a couple of the best, to be exact), from the artisanal market with house brined meats, to the workhouse deli sandwiches doled out over busy countertops. 
We've rounded up a few of the best restaurants in Portland devoted to the craft of the sandwich, including brekkie sandos, bánh mì, subs, and pastrami on rye. You will not find any hot dog joints or carts here, however, as a hot dog is a sausage, not a damn sandwich.
Recommended Video
The Fasties: Kat Thompson Mukbang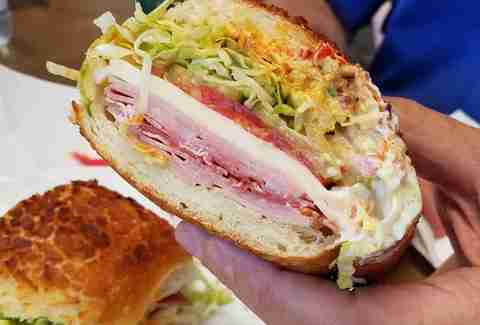 Hoford-Abernathy
Hip, industrial sandwich shop 
For whatever reason, Portland doesn't tend to be much of a sub town, though there are a few exceptions. One of these is Baker's Mark, a classic submarine sandwich deli with bread made fresh daily in house. The menu is equally split between hot sandwiches like French dip, pastrami, and meatball sandwiches, and cold, deli-style ones. The latter come in classic styles including turkey and cheese, ham and cheese, and tuna, and all come with "the works," which means mayo, mustard, lettuce, tomatoes, onions, pickles, Italian dressing, and hot or mild pepper salad. For those looking for a working-class, Italian-style sub, this is the spot.
Albina and St. Johns
Legit, New York-style bagel sandwiches
The argument that Portland doesn't have good, authentic bagels has been pretty much put to rest at this point, and Bernstein's Bagels is the chewy, delicious nail in that coffin (to really mix metaphors). The bagel shop has two locations, and while the bagels here are perfectly good with just some schmear, they're even better when sandwiching cream cheese, eggs, prosciutto, and arugula betwixt the breads. A fair number of other sandwich offerings including vegetarian options, lox and cream cheese with capers and onions, and regular daily specials.
Kerns
Bright, hip Mexican sandwich shop and margarita bar
Relatively new to the mix, Güero helped popularize the torta scene in Portland's sandwich culture. The casual, colorful spot is all about the Mexican sandwich, including a killer Mexican street burger and a juicy pollo pibil with achiote-marinated roasted chicken. The real draw, though, is the incredibly messy ahogada -- the shop's version of the Jalisco classic with pork, habanero slaw, and cilantro on a grilled bun. The beast gets drenched in a spicy achiote tomato sauce, which means it's not available for take out. And it's best washed down with one of the many margaritas on offer.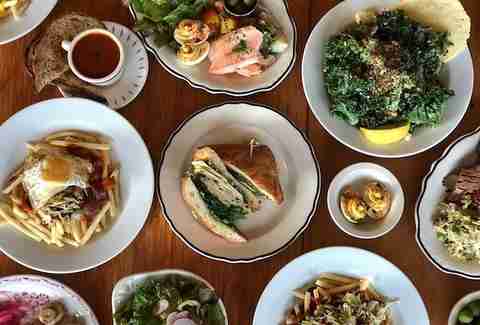 Woodlawn
An absolutely adorable neighborhood bistro and market
A cute, cozy bistro and market up in the sleepy Woodlawn neighborhood, Ps & Qs offers a modest but lovingly crafted menu of deli sandwiches, each served with a pickle. The menu changes a lot, but usually has fun and creative offerings like a crispy polenta sandwich; jerk chicken with cilantro slaw and jalapeño jam on a hoagie; turkey and hummus with olives and arugula; or a fun vegetarian chickpea salad sandwich. The whole thing feels a bit like a French cafe meets an American bodega. Go see for yourself.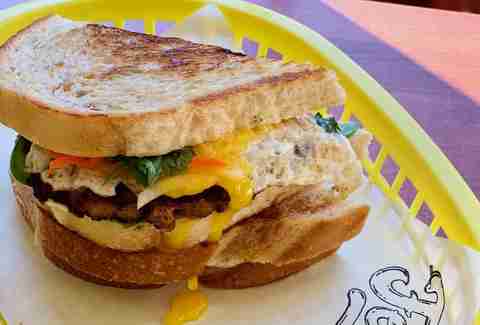 Sunnyside
Buzzy breakfast sando shop with a side of hashbrowns 
This sandwich shop does one thing, and one thing only: eggy, cheesy brekkie sandos. A classic tale of the Portland food cart turned brick and mortar, Fried Egg I'm In Love serves its musically punny sandwiches (Huevo Mutilation, Free-Range Against the Machine, etc) daily in its subway-tiled space. Its signature sando, The Yolko Ono, remains its best -- a greasy, satisfying amalgamation of egg, parmesan, peso, and housemade sausage patty on toasted sourdough -- it's even better with the addition of a crispy hash brown patty. Just get ready to wait in line, especially on weekends.
Hosford-Abernathy
A super fun sandwich shop from a serious chef
One of two sandwich shops to make it all the way to our national list, Stacked Sandwich Shop comes from chef Gabriel Pascuzzi, who spent time at Copenhagen's Noma, one of the most lauded restaurants in the world. Despite his fine-dining background, Stacked is a pretty casual affair, a counter service restaurant in a busy industrial space that serves hearty, home-cooked sandwiches. Everything here is prepared in house, save the bread -- meats are brined, smoked, roasted, and carved, vegetables are preserved or pickled, and even the chips are hand-fried. Much of the menu changes seasonally, but favorites like the smoked turkey reuben or the beloved oxtail French dip remain year round. 
Powellhurst
Busy bánh mì drive-thru shop
In a city well known for its bánh mì, Best Baguette stands out for its fast-food style service, complete with a drive through, a sprawling space, and a massive menu of sandwiches priced extremely low. Newcomers should start with the Best Baguette special, a classic Vietnamese sandwich with pâté, ham, pork roll, and head cheese. Like the rest, it gets slices of jalapeno, shredded carrots and daikon radish, a house mayo, and loads of cilantro. Those with a sweet tooth can also find a ton of bubble teas and sweet coffee drinks.
Laurelhurst Market
Sneaky sandwich counter and butcher
During the day Laurelhurst Market serves fresh sandwiches from its butcher counter at the front of the restaurant (the spot is best known as a steakhouse). These hearty sandwiches stacked with premium meats and cheeses come wrapped in butcher paper, and are offered as full or halves. A few of them stay on daily, like the cold corn beef on baguette; hot pastrami and swiss on a hoagie; or the truly excellent turkey with bacon and arugula on levain, while others are offered as a daily special, rotating weekly. Fans of fried chicken sandwiches should get in here on Tuesdays for one of the best versions in town.
Buckman
Late-night sandwich shop and bar
Devil's Dill serves Italian and American-style sandwiches with unique flair on crusty, fluffy ciabatta bread from the excellent local bakery Fleur De Lis. Meatier options include things like grinders, pulled pork, and red wine-braised beef with grilled onions and peppers, while the less meat-inclined diner can find grilled cheese with vegetables or barbecue seitan. Diners can either swing by the grab-and-go deli, which is open until 3am nightly, or tuck into a Devil's Dill sandwich at the attached No Fun Bar.
Downtown and Buckman
Iconic, pork-fueled counter shop
It's hard to think of a sandwich shop more iconic to Portland than Lardo. One of two Portland shops to make it to our best in the US list, the two Lardo shops are always busy, with lines sometimes out the door. Here, it's all about overindulgence, with rich, greasy pork and beef sandwiches going out alongside towering fried chicken sandwiches and pho-spiced French dips. Adding a side of dirty fries -- golden fries topped with parmesan, herbs, peppers, and pork bits -- is the most delicious way to get your weekly sodium intake in a single meal. While the menu stays pretty consistent, there's also a monthly "chefwich" made by a visiting chef, with proceeds going to a charity of the chef's choice.
Buckman 
Cozy, friendly neighborhood cafe
A cozy cafe and sandwich shop, Meat Cheese Bread is all about using high quality, locally-sourced ingredients from its meats and cheeses to its breads. Equally split between hot and cold sandwiches -- as well as a few breakfast specials -- the shop rocks elevated takes on classics, like a turkey and cheese kicked up with some havarti, bacon, and sweet onion on a rustic white bread, or a solid BLT with heirloom tomatoes, thick, local bacon, and lettuce on a crusty ciabatta. Its simplicity makes it a neighborhood favorite in Buckman.
Boise and Laurelhurst
Slow-cooked Chicago and Montreal cooking
Sammich's Chicago-style Italian beef sandwich may be the first item on the menu at this charming shop housed in a warehouse space, but it's the pastrami zombie -- which gives the food cart offshoot its name -- that's the real show-stopper. Owner Melissa McMillan brines, smokes, and steams the meat in a process that takes days, and the results are clear with a smoky, tender, juicy Montreal-style pastrami that gets swiss, slaw, and Russian sauce on sour rye. It's not a New York pastrami, nor is it trying to be. It's simply damn delicious.
Assorted Locations
Toasted sandwich chain with industrial-chic vibes
Vying for sandwich chain dominance, Bunk Sandwich has shops across town serving hot, grilled sandwiches and crispy, housemade chips on metal trays. The industrial shops offer a wide variety of meaty and vegetarian dishes, but the mainstay is the Cubano made with pork belly and shoulder roast. Bunk also offers a very straightforward but satisfying breakfast sammie in the form of an egg and cheese, or bacon, egg, and cheese, served on a fluffy toasted bun.
Foster-Powell
Cozy bakery and bánh mì cafe
A cramped space means that this Vietnamese bakery is mostly meant for take-away service, save for a few outside tables and a tiny interior one. That's just fine, though, as the numerous bánh mì served at An Xuyên are made quickly on the cheap and served as a perfect lunch break. Generally, pork is the way to go here, either as BBQ, pate, shredded, Vietnamese ham, or combination, but all the sandwiches are served piled with cilantro, shredded carrots, cucumber, and jalapeno on a tender, flaky Vietnamese baguette. Rarely will they break $5, which leaves plenty of cash leftover for the numerous sweet and savory baked treats, from moon cakes to Chinese style bao.
Shout Outs
Competition is tight in this town, so if none of the spots above are making you drool on your flannel, here are some honorable mentions to peruse.
• Eastside Deli (Hawthorne & Other Locations) offers impressive vegan options.
• Brass Tacks (Boise) offers a menu of build-your own-sandwiches, as well as a few house specials and a daily special.
• Addy's Sandwich Bar (Downtown) offers solid sandwiches built on French baguettes.
• King's Deli (Sunderland) serves classic deli sandwiches and toasted subs alongside teriyaki bowls and yakisoba.
• Taste Tickler (Irvington) has teriyaki boxes as well as deli sandos in a variety of sizes.
• Kenny and Zuke's (Downtown) is pretty much the closest thing Portland has to a New York deli.
• And let's face it: Bowery Bagels (Downtown) has the best bagel sandwiches west of the river.
Sign up here for our daily PDX email and be the first to get all the food/drink/fun Portland has to offer.