It's no surprise that Portland, a city with its own Asian enclave and a wide variety of excellenteats from the Far East, has so many great sushi options that it can be hard to pick the best ones. Thankfully we've gone and assembled a list of Stumptown's sweetest sushi spots, because 1) we like alliteration (!), and 2) because... well, it's our job, so here's all 12 of PDX's best raw fish options: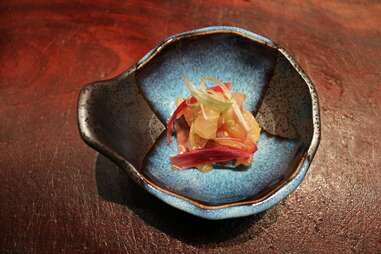 Downtown
One of the pricier options in town, Masu is an upscale, quiet little spot on the edge of the Pearl and around the corner from American Apparel. The sushi, as well as the cocktails, are top notch. Most of the rolls are eight pieces, so if you want to try a few things, bring a friend. Just be prepared for a steep bill.
Multiple locations
Yama Sushi is an upscale version of that chain of Yukis you see everywhere you go. Not surprisingly, it has the same owner, who sells it as an izakaya as well, so it's got a full, if not exactly authentic, menu with rolls named the Big Easy and Flaming Jack, but hey, that's what everyone calls your parents and we still love 'em.
Kerns
Sustainability is the cornerstone of this growing chain of restaurants. With locations in almost all of our quadrants (Downtown's coming soon, you can feel it), Bamboo ensures sushi-lovers don't have to worry about ethically caught seafood. That would be noble enough, but it doesn't hurt that its whimsical take on the omakase might be the best way to spend $100 on a date. (Unless your date wants the burger.)

Belmont
Bold Japanese flavors made with Northwest ingredients in a small, understated building off of Belmont. Its omakase is probably the best in town, and is surprisingly only $60 for five courses. No wonder it's one of the 21 Best Sushi Spots in America.
Hawthorne
One of last year's eleven best new restaurants, Nodoguro doesn't always keep itself confined to sushi, but occasionally Chef Ryan Roadhouse manages to source some of the freshest and strangest food to come out of the sea for what he calls "hardcore sushi night." If you manage to score a coveted reservation go with an open mind. It's an experience you'll never forget.
Sellwood-Moreland
One of the busiest restaurants in town doesn't get that much press, but it consistently has a line rivaling some of our most epic brunch lines (believe us, it's definitely worth waiting for). Maybe it's because it sounds a lot like your favorite childhood mall pizza, maybe it's because its all the way in Sellwood, we don't know why people don't really talk about it. Either way it doesn't seem to matter since lines start forming well before 5pm to get some of the best and cheapest nigiri in Portland.
Central Eastside/Industrial District
One of the city's best ramen joints also happens to put out some of the city's best Japanese fare period. We don't have the stats, but Chef Hiro Ikegaya might be the oldest and most qualified sushi chef in town. It shows in the delicate way he prepares even some of his whacky rolls, like the Spicy Dynamite Roll, a balanced blend of chopped yellowtail and tuna with romaine, cucumber, and spicy sesame miso.
Beaumont-Wilshire
One of the most Japanese-feeling locations on this list, Daruma excels at maintaining a laborious pace that lends itself to long waits. But go between 9-10pm and not only has much of the neighborhood gone to bed, but the menu format has also changed. For one hour Chef Yuki Yamada switches to a pay what you want and choose how adventurous you're feeling, omakase-style that's sure to please.

Creston-Kenilworth
Another cramped little spot that'll force you to wait if you show up at the wrong time, Yoko's has built a great neighborhood following with fresh sashimi and wildly creative rolls. One of our favorites, is the Bat Man Roll, with barbecued eel, cucumber, avocado, and cream cheese. Sure, it's not traditional, but it tastes damn good.
Richmond
This Shigezo offshoot on Division separates itself from its Downtown sister by offering a slightly more upscale izakaya feel. (Only slightly though, as they both feature bidets, which is obviously reason enough to go). The menu is a nice collection of sushi, ramen, and tapas, but what you should make sure to get every time are the oshi rolls. The seared mackerel with shiso, gari, green onion, chili pepper, and sesame seeds is a particular favorite.

Ladd's Addition
This is some of the brightest, most flavorful sushi in the city. And yes, those are fried grasshoppers. And don't think your eyes are deceiving you, those are Pop Rocks perched atop the roll at the next table. And your server's right, the roll with caviar and hot sauce is to die for.
Sign up here for our daily PDX email and be the first to get all the food/drink/fun Portland has to offer.