Courtesy of Natural Selection
Courtesy of Natural Selection
Portland Contrary to popular belief, we at Thrillist eat more than fried chicken and pizza. Okay, that's mostly what we eat. But sometimes, we need something a little healthier or a little less formerly alive. Luckily, you don't become one of the country's best food cities without a wealth of vegetarian options, ranging from healthy options to gravy-soaked pastries. These are the best the city has to offer. Pass the soy-based fried chicken and live pizza! More Stuff You Will Like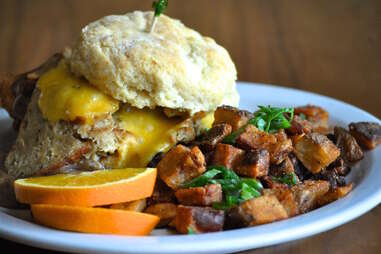 Alberta Arts District What you're getting: Huevos racheros Not all vegetarian restaurants are created equal, and Vita Café can certainly prove that all on its own. This café has amazing brunch that anyone of any food preference can appreciate. The huevos rancheros are on point, and smothered in salsa and guacamole. Speaking of smothered, the biscuits and gravy take no shortcuts. The biscuit is buttery rich, perfectly paired with a gravy that's thick and savory. And you're not going to want to slack on the corn cakes and vegan sausage. It's brunch, after all. If you're not in physical discomfort by the end, you're doing it wrong. Continue Reading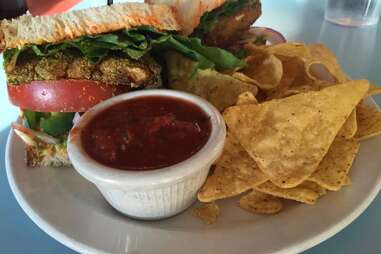 Alberta Arts District What you're getting: Eastern bowl With its big-ass patio serving as the Western gateway to the bustling Alberta district, Bye and Bye hits the three most important points of any solid bar: good drinks, tasty food, and sweet scene. The veggie-intensive menu items range from meatball sub (get it!) to bowls (also get these) packed with tofu, brown rice, and veggies with a nice mix of creamy, crunchy, and spicy. Also of extreme note is chili pie, which is exactly what it sounds like, except not packing half a cow's worth of meat.
Downtown What you're getting: Chicken salad sandwich DC Vegetarian's menu is short and sweet... and full of lies! You've got your burger, BLT, grilled cheese, Philly cheesesteak, Italian sub, and most importantly, there's a killer chicken salad sandwich made of taste bud-tricking soy curls. Now, chicken salad isn't usually the most exciting dish at your local diner, but it may be the most exotic and unique item on DC's menu. There's nothing average about it here: The texture is just right, and it's so flavorful, it's definitely better than that roadside week-old batch you'll usually find at places where they call you "hon" when they plop down a mayo-drenched plate of fowl in front of you.
Lloyd District What you're getting: Live nachos, baked Brie Fact: Blossoming Lotus will make you look classy as hell. The baked Brie is among the city's best, and the live nachos are crawling with flavor (not literally of course). And if Blossoming Lotus happens to have its live pizza (no ingredients are cooked or heated) on the menu, you're not going to want to skimp on those little slices of heaven.
Downtown What you're getting: Coconut dulce de leche, birthday babycake As if these veggie restaurants aren't spoiling you enough, there's always Petunia's to take it that extra mile. The babycakes are moist, delectable, and freakishly amazing. And they're vegan, though you wouldn't notice a lack of butter as you get down on the richer offerings. Get a slice of the dulce de leche cake. It's thick, sugary, and has that irresistible coconut crunch.
Mississippi What you're getting: Combo plate Don't let the lack of animal parts fool you: Homegrown Smoker knows BBQ and does not mess around. The BBQ sauce? A perfect balance of tangy, sweet, and smoky. Their tempeh holds that smoky flavor perfectly and builds with every bite. Don't forget to order hush puppies, and never, ever skip the chili-cheese fries. That's just a general tip, but one that applies even more here.
82nd What you're getting: House special (roast pork) Do you consider going back to being a carnivore due to nostalgia and hunger pangs for greasy Chinese food? Well, we've got that vegetarian category covered too. Located out on 82nd -- which also has a wealth of Vietnamese veggie options -- Van Hanh's got your kung pao, your five-spice tofu, and your green beans seared with not-beef. Equal opportunity for vegetarians does not get better than this. As if this deal isn't already good enough on its own, the restaurant (a quaint craftsman-style house) is also run by Buddhist monks.
Downtown What you're getting: Chickpea bowl If you work Downtown, this should certainly be your go-to veggie cart. With a modest and humble façade, Sonny Bowl mixes up crunchy, tangy chickpeas and thick pieces of kale into heaping bowls. The 3rd & Washington carts definitely boasts a lot of cart competition -- including DC Vegetarian -- but if you're looking for a flavorful and healthful meal, then set Sonny's is your spot. The line here is consistently a few people deep, but it goes quick, just like that bowl will once you get it in your hands and have a bite. There may not be any seating around, but that's the cart life, and when you have a hulking bowl to devour, you find a way to eat it with or without the table and chairs.
Downtown What you're getting: Lunch special (whatever it is that day, it's going to be a slam dunk) This is your Indian food safe haven. No chicken tikka masala, goat curry, or lamb samosas on this menu. Here, the Indian gods have listened to your prayers and opened up an exclusively vegetarian Indian food truck. The curries here are Mr. Cooper caliber, and the lunch special combo (six items included) alternates on a daily basis. Don't expect to find mushy over-cooked veggies here -- since vegetarian Indian food is this place's specialty, it's got freshness on lock.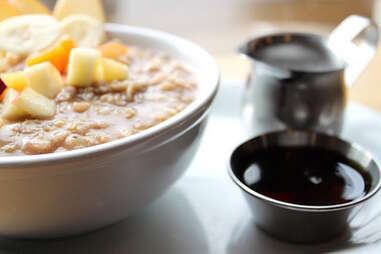 Downtown What you're getting: Dragon bowl with quinoa Feeling like you should probably put something good in your body after yoga, or just thinking about yoga? Are those yoga pants cutting off your circulation? Then Prasad is your place to be. Conveniently (strategically?) located right next to a yoga studio, Prasad feeds the healthy food craving induced by all that yoga. The menu is jam-packed with light and fresh fare. Though the most popular items are the rice or quinoa bowls topped with beans, sauce, and veggies, there's also a breakfast menu including parfaits, chia pudding, and oatmeal. Basically if you've maxed out on heaping piles of vegetarian "meat," Prasad is there to help you detox.
Alberta Arts District What you're getting: Whatever's on the menu... just be sure to get the prix fixe With pan-European influences converging on a menu tailor-made for Lisa Simpson's tastes -- both culinary and philosophically -- Portland chef Aaron Woo has ditched the meat substitutes -- no veggie burgers or tofu bacon here -- for a menu that puts veggies front and center as entrees. The rustic restaurant's menu is based on what's locally available, and it changes constantly, but every item is available a la carte. Don't do that. Spring for the prix fixe, on which you'll find items like Moroccan cous cous, arancini, and polenta. Sign up here for our daily PDX email and be the first to get all the food/drink/fun Portland has to offer.Though formally trained and groomed in Portland food and culture, Michelle Udem is at heart one of those East Coast/West Coast transplants you hate to love. Follow her to omnivore dilemmas: @mudem.