Portland is well known for its foie gras and pork belly, whole-hog butchery, and crispy fried chicken. But for a long time, the city was heavily associated with vegetarian diets, thanks to places like Ota Tofu, the longest-running tofu company in the United States, as well as general perceptions of Portlanders all being vegan hipsters and freegan hippies. And sure, we do meat well… but we do vegan and vegetarian cuisine just as well (if not better).
For those that eschew meat, or avoid it on certain days, or just want to sample some of the amazing, meatless cuisine that the city has to offer, we've developed this list of the best places in Seattle for vegetarian and vegan dining.
Recommended Video
This Restaurant Sells 20+ Types of Poutine
Kerns & St. John's
Busy restaurant and bar with Indian-inspired vegan cuisine
The Sudra, named for the working class of the Hindu caste system, has perfected a vegan menu of Indian-inspired dishes like the Red Lentil Kofta Plate -- spicy, herbal, and filling. With an inviting, colorful bar (and a cocktail list that ain't no schlump), a large shared patio, and a killer happy hour with cheap drinks and $5 plates, The Sudra should be on everyone's go-to list, vegan or not.
Alberta & Division
Bakery with none of the dairy or gluten, but all of the flavor
Baked goods fanatics who thought they had to give up their indulgences because of a newfound gluten (or soy) (or dairy) (or whatever) sensitivity have a home here. Between savory daily quiches and desserts like the raw lemon bar and chocolate chia pudding, you might consider this bakery a kind of Eden, indeed, and you won't ever want to leave.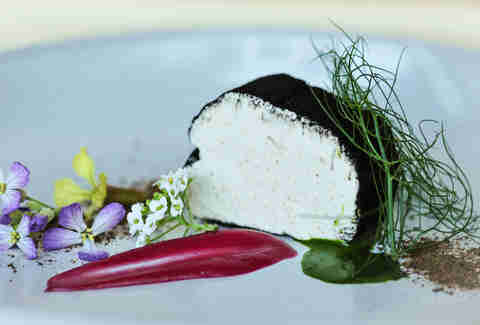 Buckman
Game-changing vegan chef's table
Having recently moved into a larger space that allows for more regular dining times, Farm Spirit's astonishing prix fixe menu is more accessible than others. The locally-focused, bold, and innovative vegan menu changes regularly with the seasons, but it's likely guests will always be trying something new. Farm Spirit doesn't try to replicate meat dishes, it's simply a celebration of the incredible bounty of produce, fruit, and mushrooms in the Pacific Northwest.
Hawthorne
Vegan cafe that's so hip it's almost a cliché
Skeptics who find it impossible to be truly satisfied by a meat-free meal will likely have their assumptions broken by a Harlow Bowl. A sister restaurant to Prasad, Harlow is a staple of the neo-hippie Hawthorne neighborhood, and the menu is entirely gluten-free. With a base of either brown rice or quinoa, the bowls are heaped with various greens, beans, roasted veggies, and a choice of sauce. Regulars might say the jalapeño cashew cheese sauce is the best -- and they're not wrong -- but the avocado cilantro is a close second.
Kerns
Peruvian food and pisco drinks gone vegan
Epif aims to reinvent the vibrant flavors of South America without meat, and very few animal products whatsoever. (Most of the menu is vegan.) The ceviche, in particular, surprisingly succeeds: mushrooms soaked in bright mango leche de tigre take on the texture of citrus-cured fish. As for cocktails, Epif brings us variations on the conventional Peruvian pisco sour with recipes from all over the Andes region, introducing most of us to the versatility of the lesser-known liquor.
St. John's
Proof that delicious BBQ can be vegan
Calling a vegan restaurant "barbecue" in any southern state might be a risky proposition to life and limb, but here in Portland it's acceptable. And that's because Homegrown Smoker makes delicious, smoky vegan dishes that would convince all but the most stalwart of Texans or North Carolinians that it's worth the title. A combo plate with smoked short ribs, macnocheese, and collard greens is the way to go here.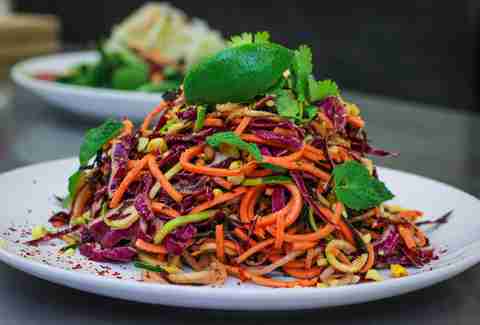 Irvington
OG Portland vegan cafe
One of the older vegan spots in town, Blossoming Lotus has been a trendsetter in the surge of vegan fare that's come out of the past decade. It consistently turns out good food that attracts non-vegans as well, like the live nachos with cashew sour cream, which incorporate mostly raw ingredients, as well as the coconut curry. It's also got a standout brunch menu for vegans and omnivores alike. Plus a full bar.
Richmond
Kick-ass Thai food without the meat
While most of the many, many Thai restaurants in Portland are pretty vegan and veggie friendly, the rustically chic Kati goes above and beyond with its entirely vegetarian menu that even sees a housemade vegan fish sauce. None of that would matter much if the food weren't as good as it is, but Kati continually impresses with its large menu of veganized Thai staples, so much so that even the most voracious carnivores will likely barely notice the absence of meat. The bar here is also solid, making cocktails that riff on Thai dishes, like a Tom Yum soup inspired cocktail.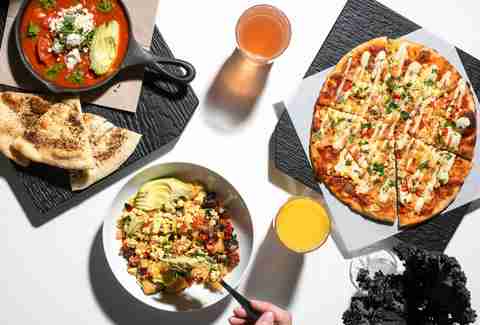 Brooklyn
Vegan pizzeria with Kinfolk vibes
For many, pizza and ice cream are the very antithesis of vegan dining, but not so at the bright, picturesque Virtuous Pie. The pizzeria makes everything completely free of animal-products, and manages to do so while maintaining all the joy of pizza. Cashew cheeses, spicy buffalo cauliflower, mushrooms, and other toppings make for a rich, indulgent pizza experience just like any other. To finish, the ice creams are also absolutely worth a try, with flavors like key lime pie, rocky road, and peanut butter cookie dough that rival their dairy-filled equivalents.
Downtown and Kerns
Hip, quick lunch spot for vegans
Vegetarian dining is often lambasted as being "rabbit food," so the name here isn't doing that any favors. Luckily, the vegan bowls and smoothies more than make up for it, with hearty bowls and wraps full of vegetables, soy curls or beans, and sauces. The Downtown store's location at Big Pink and its quick counter service makes it a popular destination for people working in the area to stop by for a healthy lunch break.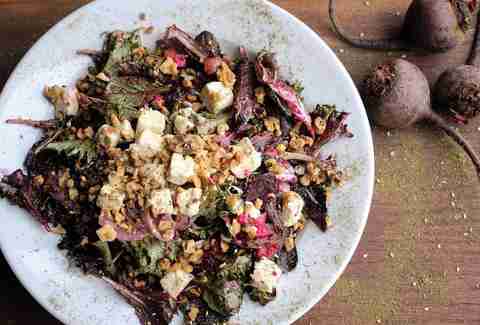 Hosford-Abernethy
Argentinian-spiced Middle Eastern food gone veggie
Named for Tel Aviv, where owner Chef Tal Caspi was born, the plant-based Middle Eastern restaurant puts out food that is as bold and flavorful as it is colorful, with Argentinian flair that speaks to Caspi's heritage. Besides the "gonzo hummus" and variety of vegan shawarma and falafel plates, the restaurant also boasts an impressive brunch menu, complete with vegan scrambles and smothered bourekas, and chilaquiles with tofu goat cheese.
Jade District
Spiritually sound Vietnamese food
Van Hanh is run by Buddhist nuns who dole out delicious vegetarian Vietnamese and Chinese food from a peach-colored craftsman home on Division. Aside from the novel set-up, the food here speaks for itself. Well-spiced tofu is typically used as a mock-meat in many favorite dishes, such as Kung Pao and roasted pork belly. Any last temptations to revert back to a meaty lifestyle are quelled here.
Sign up here for our daily PDX email and be the first to get all the food/drink/fun Portland has to offer.