Portland is a very friendly city -- in the sense that we're meat-friendly, gluten-free-friendly, paleo-friendly, soy-free-friendly, nut-free-friendly, lactose-friendly, lactose-intolerant-friendly and, of course, vegetarian- and vegan-friendly. You may think it's a major chore to be so friendly. You'd be right. It's a tiring business for our chefs to keep up with (or pave the way for) the health- and environment-conscious population of Portland. But those hardline restrictions also encourage some of the most inventive food around.
So to those who've eschewed meat, or animal products altogether, this one's for you. Not only are these the city's best vegetarian and vegan restaurants, they also represent the creative cuisine pioneered in the Northwest. Go on, eat your way through this delectable forest.
Recommended Video
The Best Cheap Tacos in the Bay Area
Kerns & St. John's
The Sudra, named for the working class of the Hindu caste system, has perfected a vegan menu of Indian-inspired dishes like the Red Lentil Kofta Plate -- spicy, herbal, and filling. With an inviting, colorful bar (and a cocktail list that ain't no schlump), a large shared patio, and a killer happy hour with cheap drinks and $5 plates, The Sudra should be on everyone's go-to list, vegan or not.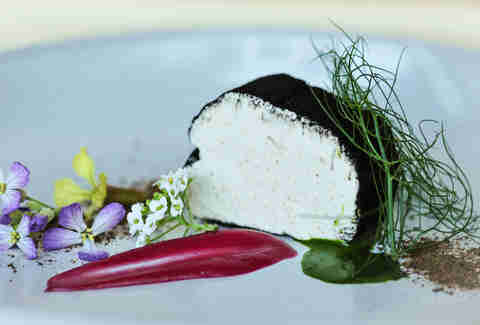 Buckman
A ticketed prix-fixe restaurant, Farm Spirit is an experiment in high-end plant-based food. The menu changes often, relying on local seasonal ingredients. It's likely you'll be eating a vegetable you've never even heard of, despite the fact that it's grown at a nearby farm. Like, what's a "filbert?" (Just a hazelnut.) Or "agastache?" (It's a flowering plant! That you eat!!) For vegetarians and vegans tired of the typical roasted red pepper and mushroom sandwiches, Farm Spirit is the place to discover something exciting and fresh.
Hawthorne
If you're a skeptic who thinks it's impossible to be truly satisfied by a meat-free meal, we challenge you to a Harlow Bowl. A sister restaurant to Prasad, Harlow is a staple of the neo-hippie Hawthorne neighborhood, and the menu is entirely gluten-free. With a base of either brown rice or quinoa, the bowls are heaped with various greens, beans, roasted veggies, and your choice of sauce. Regulars might tell you the jalapeño cashew cheese sauce is the best -- and they're not wrong -- but the avocado cilantro is addicting, too.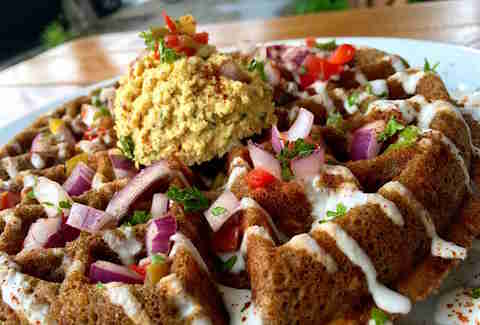 North Tabor
Sick of people freaking out over brunch abominations like bacon-wrapped trout with lardons? Perk up, because A.N.D Café serves brunch where you won't walk out smelling like a literal pig. The walnut meatloaf Benedict and the Full Nest -- hash browns, vegetables, and herb tofu -- are as comforting as any brunch plate you'll find. But what's brunch without booze, you ask? Don't worry, bloodies, bubbles, and beer are all here.
Alberta & Division
Baked goods fanatics who thought they had to give up their indulgences because of a newfound gluten (or soy) (or dairy) (or whatever) sensitivity have a home here. Between savory daily quiches and desserts like the raw lemon bar and chocolate chia pudding, you might consider this bakery a kind of Eden, indeed, and you won't ever want to leave.
Kerns
Epif aims to reinvent the vibrant flavors of South America without meat, and very few animal products whatsoever. (Most of the menu is vegan.) The ceviche, in particular, surprisingly succeeds: mushrooms soaked in bright mango leche de tigre take on the texture of citrus-cured fish. As for cocktails, Epif brings us variations on the conventional Peruvian pisco sour with recipes from all over the Andes region, introducing most of us to the versatility of the lesser-known liquor.
Laurelhurst
Harvest's 100% plant-based menu is for those of us militant about keeping our food far, far away from animal derivatives hanging around the kitchen. All creams and butters on the menu are nut-based, and the chefs create flavorful and inventive dishes like akras (bean cake) floating in chickpea jus and the Harvest Hash Barbecue, an impressive tray of roasted vegetables with poblano cream and lemon-tahini.
NW Industrial
What other city in the world can stake a claim to a vegan strip club? Soy stroganoff and a shot of your choice will be a good start to a night of the wildest leather-free strip show you'll ever see. Enough said.
Sunnyside
Sweet Hereafter is Bye and Bye's Southeast sister, and while you can tell they're related, these siblings aren't twins. Hereafter's exceptional cocktail list and entrees like the Jamaican Bowl with jerk-marinated tofu and the blackened tempeh sandwich show a spicier side to the Lightning Bar Collective. The full menu can be enjoyed every night of the week until 10pm, while cocktails and snacks are served 'til 2am.
Lloyd District
Hailing from Hawaii, Blossoming Lotus has been a trendsetter in the surge of vegan fare that's come out of the past decade. It consistently turns out good food that attracts non-vegans, too, like the Live Nachos, which use mostly raw ingredients, and the coconut curry. Want to impress your new health-conscious love interest? This is your date spot.
Downtown
The only food cart on here, DC Vegetarian has mastered the art of taste bud deception. Seitan, soy curls, and cart-made vegan burger patties are hiding in plain sight among conventionally meat-heavy American classics like bacon cheeseburgers, Italian subs, cheesesteaks, and chicken salad sandwiches. But what's really got us pining is the (not)egg & cheese breakfast sandwich. A tofu patty with avocado and tomato on ciabatta is a guilt-free dream.
82nd
Van Hanh is run by a Buddhist nun who doles out delicious vegetarian Vietnamese and Chinese food from a peach-colored craftsman home on Division. If that doesn't pique your interest, you're a monster, plus you should know that the food speaks for itself. Well-spiced tofu is typically used as a mock-meat in many favorite dishes, such as Kung Pao and roasted pork belly. Any last temptations to revert back to a meaty lifestyle are quelled here.
Sign up here for our daily PDX email and be the first to get all the food/drink/fun Portland has to offer.