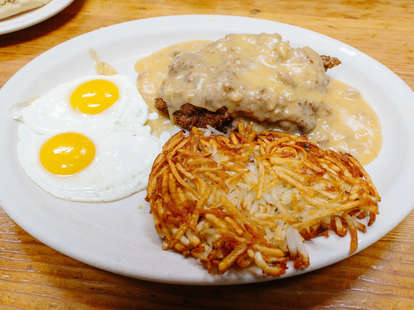 DREW TYSON/THRILLIST
DREW TYSON/THRILLIST
Even if you've already eaten all 11 of Portland's best sandwiches, or tried these sweet French fries, or if you weigh like, 350lbs, there's still no guarantee you'll be able to finish PDX's 13 most colossal meals, from almost impossible eating challenges to never-ending pita, and if you can finish, then you'll definitely end up over 350lbs. At least...
The Dalise
Gravy (address and info)
Boise
We just covered this, so it goes without saying that you've already put Gravy and its ridiculously sized Dalise omelette on your to-eat list. If you weren't paying attention, we'll recap: what must be a half-dozen egg omelet filled with bacon, sausage, ham, sweet peppers, mushrooms, onions, and cheddar cheese is smothered with sausage gravy. Bring a friend.
Pho Challenge
Pho Tango (address and info)
Hillsboro
Another popular eating feat, Pho Tango offers the Pho Challenge. If you can manage to eat 2lbs of rice noodles, 1lb of meat (your choice), plus traditional garnishes in under an hour, you'll get the meal for free and a photo on the Wall of Fame! Lose, however, and you get to spend thirty bucks and get your photo on the Wall of Shame.
Jumbo Burger
Helvetia Tavern (address and info)
Hillsboro
A rustic burger spot known for its Jumbo Burgers, which have not only become a local favorite, but also a national one. With two patties, American cheese, special sauce, and traditional toppings nestled between two halves of a soft, sesame bun, it's also one of the biggest dishes in town.
Tomahawk Ribeye
Urban Farmer (address and info)
Downtown
What happens when a restaurant with its own butchery program gets in whole cows? You get steaks cut to whatever damn size you want. And Urban Farmer's Chef Matt Christianson likes his rib eyes the proper size -- and with the whole rib attached! These steaks range in size and can be upwards of 40oz. But there's no prize for eating this on your own, and it's encouraged to share.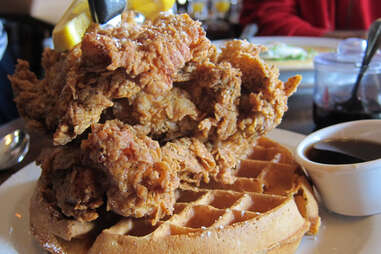 Unlimited pita and enormous portions
Nicholas Restaurant (address and info)
Eastside Industrial
We've been touting this little gem that's been feeding the Eastside Industrial neighborhood since before it was cool. It might be the best Lebanese food in the city, a crown that, admittedly, isn't frequently challenged, but it's definitely the most food per dollar spent. Even though it recently went through an expansion and remodel, losing the cheapest way to get two meals in one (RIP Falafel Delight), there're still plenty of options like Stephen's Beef (or Chicken) Shawarma, a heavily saffroned rice dish topped with what's most likely half an animal.
Mancakes
Stepping Stone Cafe (address and info)
Alphabet District
It should be no surprise that one of the Northwest's best breakfast spots is home to the largest stack of pancakes this side of the Mississippi. They've been featured on Man v. Food and been the neighborhood go-to hangover cure since the '80s. Although all of the portions are large, 13in "mancakes" are definitely the largest.
Anything
Big-Ass Sandwiches (address and info)
Buckman
We say order anything because we can't think of any other restaurant or food cart that takes such pride in making big ass sandwiches. Part of the allure? They do what you used to after "taking a drive" with your friends in high school: stuff french fries inside a 'wich! And since they're putting out some of Portland's best fries, you know it's going to be good.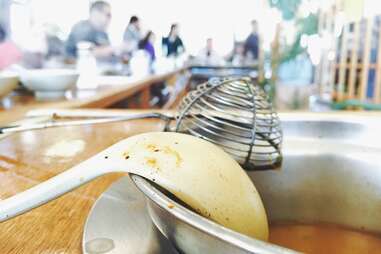 Never-ending broth
Hot Pot City (address and info)
Downtown
If you're not familiar with Hot Pot, the gist is this: choose your broth, and while the waiter prepares it, you head over to the buffet of "fresh" ingredients. Choose from spinach and baby bok choy, to frozen wontons and slices of marinated pork. Head back to your seat where a small stockpot is sitting on an induction burner and start making soup. Occasionally someone comes by to fill your pot of boiling stock. Eat until satisfied.
Anything covered in gravy
TILT (address and info)
Pearl District
When we first covered TILT's Downtown expansion we said, "these guys put pork and bacon gravy on everything" and we meant it. Sometimes there's a bit of hyperbole when a new restaurant opens, but Tilt puts its money where its mouth is. They have one of our favorite cheesesteaks AND you can get it covered in gravy!
Presidential Schnitzelwich
Tábor (address and info)
Downtown
Of course one of Portland's best sandwiches is also one of its biggest meals. You get the option of breaded and fried pork or chicken, but since we're talking about biggest meals forget about your arteries for a second and go with the pork. Plus, the Presidential comes with Munster.
Sign up here for our daily PDX email and be the first to get all the food/drink/fun Portland has to offer.