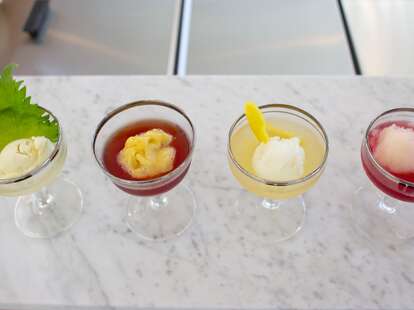 Just when you thought David Lee Roth was the pinnacle of funky, boozed-up ice cream men, along came the folks from Fifty Licks, who are raising their game from food cart to brick 'n mortar creamery and offering 11 daily flavors like their celebrated caramelized apple, plus soft-serve options like cinnamon churros, and, most importantly, a lineup of ice cream & sorbet cocktails that's guaranteed to satisfy.
Not just a Golden Girls episode where Betty White gets upset with Bea Arthur, this Bitter Rose combines grapefruit-rosewater sorbet with Cocchi Americano Rosa and a dash of orange bitters... Ahh, now it makes sense.
Legend has it that whenever Arnold was traveling through Scandinavia, he'd order this Nordic Palmer (it's a very obscure legend), which combines a little Rhode Island-stye frozen lemonade sorbet (they're known for it, for real) and Maine Mead Works sparkling iced tea, which, in case it wasn't already clear, has booze in it.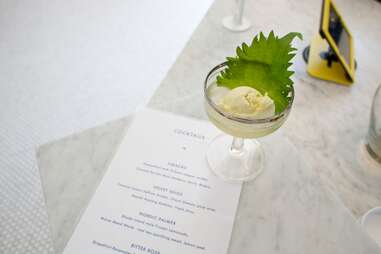 The coconut/lemon/saffron sorbet in this Velvet Shiso is paired with some Choya Umeshu plum wine, AlexEli riesling bubbles, and a fresh shiso leaf, because, when you're combining dessert and cocktails, the least you can do is throw some greens in the mix.
If it's caffeine calling your name rather than alcohol, try getting some Cuban coffee poured over a hefty scoop of toasted almond ice cream.
Of course, you can still get your ice cream fix the old fashioned way as well. And if your "old fashioned" way means boozy, don't worry -- they'll also have rotating spiked flavors for the 21-and-over set, starting off with cherry bourbon, so yeah, it's a solid bet that you'll make this place your regular stop. B-B-B-BABY!