Get schooled on fish while drinking aquariums of booze
The culinary water park of a third-generation chef who has spent so much time working with fish that he practically has an honorary degree at one of their schools, Division's Block + Tackle's rocking fish (but not rock fish) so fresh, half of it isn't even cooked, and's serving it up in rustic/fancy digs that look like the kind of joint Popeye might take Olive Oyl on their anniversary.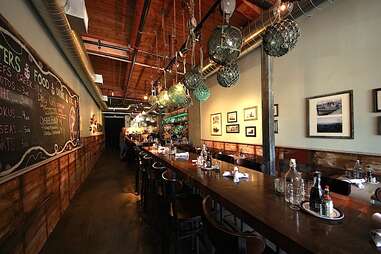 Housed in the owner's former Wafu spot (don't worry, upscale seafood shrine Roe's still hidden in the back), the place is ultra-narrow, with long communal tables in the center, a full bar, and an open kitchen where you can watch the cooks prepare the freshest seafood our neighbor Gresham the Pacific has to offer.
The interior's covered with more artfully placed ocean-inspired ephemera than Billy's fan club HQ, including these net-wrapped orbs, antique barometers, and old-school hooks that, sadly, aren't the ones from "Caribbean Queen".
Life with Louie's way better when it features shrimp, avocado, and radishes rather than that dude from Family Feud. Other small dishes include marlin rillettes, tuna confit, and marinated raw seafood "charcuterie" boards.
For the VFW Friday fish fry set, there's this ultra-crispy fried cod sandwich topped with a house tartar sauce and pickled ramps that won't help you do awesome tricks on your BMX, because they're just leeks.
Larger plates include pan-seared sand dab, grilled hanger steak w/ salted cod fritters, and this mackerel atop a bed of pressed watermelon cubes.
For refreshment, there's spiked punch available, and it isn't even a horrible concoction of Hi-C, Sprite & Monarch Gin. Instead, it changes almost daily, and uses premium booze.
Though all cocktails should come in a gigantic bowl, you can also get them in glasses, so be sure to order up a souped-up take on a Bloody or the applejack-y Jack Rose, which will impress your date way more than your usual shtick of just shotgunning a can of spinach at the bar and beating up other sailors.