Pok Pok-style Thai noodles for breakfast, lunch, and dinner
Offering more Thai street style than the team that almost pulled an upset in that one Step Up movie, the dude behind Pok Pok continues his Division St domination w/ Sen Yai, an old-school noodle house serving up three squares a day.
Noodles are cooked up in a huge open kitchen and served steaming, with minimal spice. It's up to you to hit tabletop bars full of chilis, fish sauce, and sugar. You don't get any Ginger Spice solo action, though... that's typically cooked into the broth.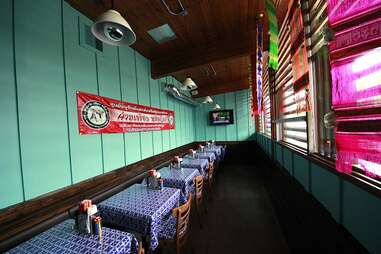 There's a patio outside, plus this indoor area decorated with flags to look like a Thai alley... not to be mistaken for the woman selling bootleg Jenny Craig DVDs in a Bangkok bar. Her name's not really Kirstie.
Doors open at 8a so they can serve up breakfast dishes like this porky Jok porridge or Sen Lek Naam Kai soup, which you can top with poached eggs that were actually procured legally.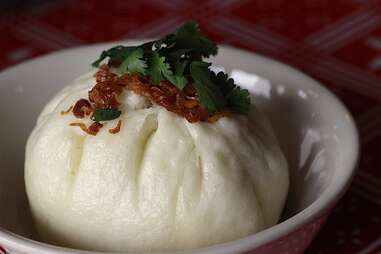 If you prefer your breakfast hand-held, hit up this softball-sized salapao bun filled with sweet shredded pork and not, thankfully, cork and yarn.
Lunch and dinner noodles dominate the huge menu, and include this dry noodle dish served w/ broth, roasted pork, and cracklings. You can also score thick boat noodles w/ springy meatballs and the loaded rice noodles called Phat Thai Jay, a favorite dish of Snoop Dog when he's kicking it in Bangkok.
The place is stocked with Pok Pok's famous non-alcoholic drinking vinegars, which are made yes-alcoholic in cocktails like this Hunny w/ grapefruit & tequila... just don't go overboard, or you'll forget what you ordered before you get served... noodles.