In NoPo's Concordia neighborhood, the BBQ lines of battle have been drawn in red sauce, with area king Podnah's holding court against strong foes like U-Licious and Cannon's Ribs. But now, a new challenger rises from the smoke in the form of Crown Q, which brings a hybridized Texas/NOLA style to the pits and casts another spell w/ beasts like chicken-fried bacon and enormous burgers. It's like Game of Thrones out there, but with BBQ instead of incest and dragons and crap. Here's what Crown's Q-ing.
Recommended Video
The Most Overlooked Sauce in American BBQ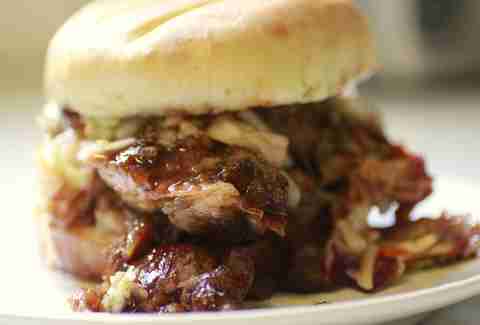 Of all the animals making a bid for supremacy, the pig is the best-represented on the menu at this eatery/meat market, where you can score this gigantic pulled-pork beauty dripping w/ sauce & slaw, plus spicy sausages, crunchy rinds, and breakfast sandwiches w/ sausage & bacon.
Further swine action includes these ribs that look like they were cut from a hog raised on a combination of HGH and radioactivity, but're actually super farm fresh. You can also score smoked trout and turkey legs that double as prehistoric softball equipment.
Much like the movie Twister, the cow makes a small but memorable appearance on the menu in the form of this atypically thin-sliced brisket and a grandma-caliber meatloaf loaded w/ peppers, but no insistence you find a nice girl and settle down.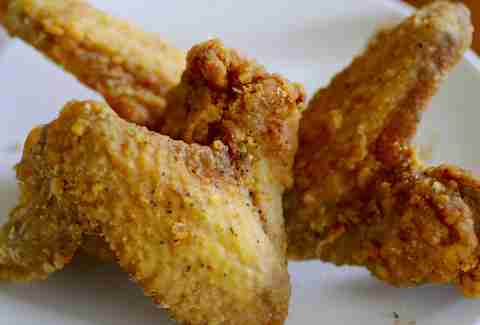 Rounding out this production of Charlotte's Web: The Massacre is the bird, represented by these gigantic fried wings, slow-cooked 1/2-birds, and a spicy jerk chicken. And if you want to surf-and-turf it, you can score fish bits like a shrimp po' boy or a fried catfish that totally isn't that Nev dude the time he tracked down a dude's girlfriend and discovered she was really a gregarious Rastafarian.
All the barnyard animals come together in harmony in this gigantic Q burger, which makes up for its lack of James Bond gadgetry by combining .5lb of beef, an egg, a sausage link, and tons of cheese under a grilled bun that sadly isn't also a homing beacon.
Classic sides include these salty collard greens, mac & cheese, and baked beans... but who needs those when you've got deep-fried pickles and chicken-fried bacon, which is sexier than a kingdom full of incestuous queens and dragons, but just as likely to kill you on the spot.
Previous Venue
Next Venue
Venue Description
1. Crown Q BBQ
445 NE Killingsworth St, Portland, OR 97211
A contender for the best BBQ in Concordia arrives in the form of Crown Q, where they not only sling quality 'Q, but they also do a monster burger and a magical thing called "chicken-fried bacon".