The Grain & Gristle crew fires up the hearth and the bonesaw
Emulating an old-school wagon trail-era grocery -- minus the part where you had to buy & eat pretty gross stuff -- the crew behind Grain & Gristle has set up camp in Concordia w/ Old Salt Marketplace, offering a lunch counter rocking sandwiches w/ house-cured meat, a full butcher shop, and supper service roasting up pretty much every character from Animal Farm.
Something of a cautionary tale for God-fearing chickens and pigs, all the meats are fired up in a wood-burning brick hearth right out in the open.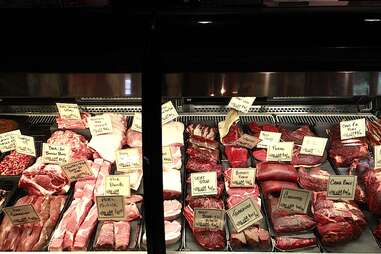 Much like the animals it serves, this place is split in half, with this side featuring soups and sandwiches, plus a full array of take-home steaks, bacon, roasts & sausages courtesy of the in-house butcher.
The other side's reserved for supper, and rocks a rustic/fancy aesthetic (kinda like Yosemite Sam's Summer home), with jars of veggies pickling on reclaimed-wood shelves and taps pouring local micros served up on a hand-built bar.
The small plates menu's loaded with all kinds of complex flavors. If, like ODB, you like it raaaaaaaaaaaaaw, feast on this steak tartare with thin-sliced crisp toast. If, baby, you like it cooooooooooked, score some turnip/potato griddle cakes or fluffy ham biscuits.
Entrees are gigantic, and include that half chicken w/ wheat berries & pie crust way up top. They've also got catfish, and pig that's constantly changing. The pictured daily selection includes cracklings, roasted leg, head cheese, and sausage on a bed of turnips.
Up at that handmade bar, you can score twists on classic cocktails including a Brown Derby w/ house-made grapefruit bitters, and this brown-butter Old Fashioned. So maybe getting off the wagon isn't so gross after all.