In a recent poll of Portlanders, it was revealed, shockingly, that they enjoy eating. And drinking. And tight pants. To satisfy two of those urges, you should be checking out these five amazing eateries specializing in scratch-made everything... from arepas to pastries, meat pies to ultra-dope cocktails, and marshmallows by the foot. Tight pants are no longer an option.
Recommended Video
Grilled Peaches With Honey & Mascarpone Tastes Like Sweet Summer
Expatriate
5425 NE 30th; Concordia
From a former St. Jack barman and the Top Chef Master behind Beast (not Kelsey Grammer... dude's a terrible cook) comes this inconspicuous, laid-back bit of awesome specializing in high-end cocktails and spicy twists on drinking snacks, like a sweet chili halibut sandwich, rice noodles w/ lamb bacon, and a Chinese sausage corn dog w/ XXX sauce that thankfully has nothing to do w/ Vin Diesel.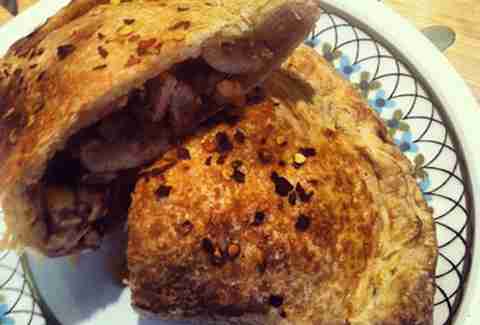 The Honey Pot
4220 N Mississippi; Mississippi Ave; 503.954.1463
Having gained notoriety as a cart-pod favorite, The Honey Pot's expanded into a new brick-and-mortar specializing in breakfast items like prosciutto-wrapped baked eggs, seasonal sweet pies, and hearty savory ones like this Ole Mole pot pie that subs out normal gravy for a figgy/chocolatey sauce. Don't worry. If you still require your pies from a cart, you can still get your Pot fix there too.
Teote Areperia
1615 SE 12th; Hawthorne District; 971.888.5281
Bringing a little much-needed Venezuelan love to our city, this place -- located in a funky two-story house with a badass back patio and a fully stocked bar -- specializes in a wide variety of the country's trademark buttery corn cakes, including pork belly, chorizo/plantain, and steak. You can eat them all by your lonesome, or order them up family-style, then just eat three people's worth of food all by your lonesome.
QUIN
1025 SW Stark; Downtown; 971.300.8395
Like Wonka's factory -- minus all the child murder and horrible lies -- this place is fully stocked with handmade caramels, lollipops, and gumdrops in flavors ranging from smoked cola to tangerine. Were that not enough, there're also five different kinds of marshmallows you can order by the foot... something Wonka might have thought of if he wasn't preoccupied w/ thinking up an explanation for Veruca Salt's horrible fate.
Roman Candle Bakery
3377 SE Division; Clinton/Division; 971.302.6605
The dude behind the Stumptown empire was already on fire after Ava Gene's took off, but that didn't stop him from opening up this crazy-good bakery next door, which specializes in desserts, breads, sandwiches like this albacore/chili verde deliciousness, and -- soon -- pizza bianca, which's a white pizza so addictive, you might as well toss out all your pants and just start rocking sweats.