The Fish Grotto crew sets sail with a rum-soaked cabana for landlubbers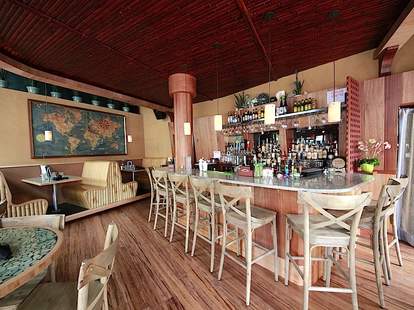 Equal parts watering hole for rum-crazy PDXers and potential reunion locale for when Zack Morris finally reconnects with the chick from King of Queens decades after meeting at Malibu Sands, the cabana-style Sand Bar was launched downtown by the folks at Fish Grotto in an effort to simultaneously atone for Portland's total lack of beaches and make sure nobody has a beach body after becoming hooked on their sea fare...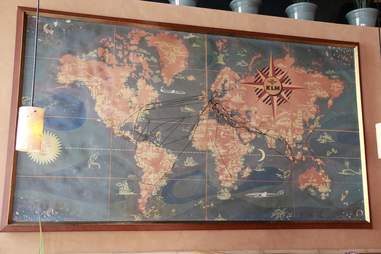 The place is decked out with more driftwood and oceanic relics than Captain Ahab's yard sale, plus tabletops designed to look like rock-laden sea beds. And if you ever feel lost or threatened by sea monsters, this gigantic map'll make sure you know where be the Kraken be before you actually crack a beer.
The menu rocks both surf and turf, the former represented by Patrick Swayze- & Keanu Reeves-shaped fish nuggets these beer-battered fish tacos & prawn fondue, and the latter represented by pulled pork sandwiches and a lamb burger that -- like Gary Busey as Utah's partner, Pappas -- sizzles Greek-style.
You can get your local and imported rums in flights, or score them in fresh-juice cocktails like this Shipwrecked w/ Below Deck, Portland 88 vodka, New Deal gin & Stroh 80, a rummy take on the Manhattan, or the coffee-based White Cuban -- the most redundant name in the Mavericks' locker room since Grandpa Kidd.
During their daily 430-6p happy hour, you can score $3 beers and a cocktail of the day, plus $5 plates like artichoke/crab dip and these gigantic nachos that'll soon have you resembling Paul Blart more than the nubile Bayside preppy Stacey Carosi fell for back during that magical Summer at Malibu Sands.