Vitaly Paley's entry in the Search for the Most America-est Hot Dog needs your vote
With patriotism and local pride in mind, Thrillist has tapped badass chefs from across the country for the ultimate sausage fest, having them concoct some seriously ridiculous, seriously delicious, and seriously jingoistic dogs. And, just to appease the ghosts of the founding fathers, you get to vote on the best one. It's your right, dammit!
In Portland's corner is Iron Chef champ and mastermind behind a trifecta of awesome (Paley's Place, Portland Penny Diner, and Imperial) Vitaly Paley, whose Stump Splitter takes a chainsaw to the concept of the lumberjack breakfast and sticks it all on a bun... which is what we do, because 'MERICA.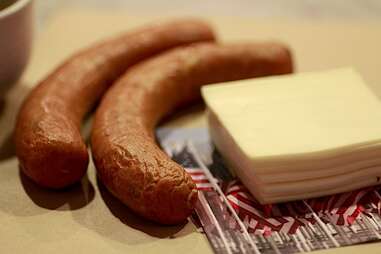 At the base of the hot dog is... um, a hot dog. In the interest of healthy living, it's stuffed with soy paste and steamed to release any toxins.
Psych! That sucker's stuffed w/ beef, green chilis, and cheddar. Then it's dropped in the deep-fryer, because this is the U-S-Effin'-A.
Still dripping in grease (aka "freedom sheen"), it's dropped in a house-made bun slathered in a mustard blend loaded w/ bacon & wood-fired onions.
John Wayne taught us that the cornerstone of any good breakfast is baked beans. These are from a secret family recipe and're loaded w/ bacon, BBQ sauce, bacon, hot sauce, bacon, and cheddar. And some bacon, to taste.
Roll that beautiful bean footage... right on top of that hot dog.
Next up, the only kind of cheese that matters: American.
Because a hot dog covered in bacon-infused mustard and bacon-filled beans isn't quite porky enough, this sunny-side-up egg's also fried in bacon grease, then plopped on top.
As any dietician will tell you, every well-rounded meal requires fruit and veggies... represented here by pickled watermelon. The only way this sucker could be more American would be to have Glenn Beck stuff it into an apple pie while punching Queen Elizabeth in the face. But even without that, it deserves your vote!