Two important facts you probably weren't aware of: 1) a pig's orgasm lasts for 30 minutes, and 2) a night out is vastly improved if said night starts at an eatery where you can get the party going while you eat. Check out our picks for Portland's best party dinner spots below...
Beast
North Portland
Post-up at this famed lady-run resto and let the unassuming-looking, but notoriously hot-tempered chef put on a show in the open kitchen, and put a six-course prix fixe on one of this tiny spot's two community tables, where being generous with the suggested wine pairings might mean you leave with a bigger party than you came with.
Acropolis
Sellwood / Moreland
We love this place, mostly because it's got 65 beers on tap, badass steaks, AND strippers! If that's not a party then we don't know what is... maybe bring a Slip 'n' Slide?
Nicholas
Eastside Industrial
Sure, you're thinking Lebanese cuisine sounds like a night out with that boring friend who teaches Near Eastern History at Lewis & Clark bland and vegetarian, but this EI go-to specializes in some seriously sweet spiced meats, bakes enormous, steaming rounds of pita fresh in their wood-fired oven, and seemingly only serves dishes that're half-priced and/or double-portioned.
Tasty n Sons
Mississippi
This Legendary brunch/ cocktail spot may be famous for its AM eats, but this cavernous, skylit eatery also does sweet farm-to-table (and mostly family style) PM fare, including Pork Chop with bacon jam, and some Pretty Damn Good Chicken Strips, if they do say so themselves... right on the menu.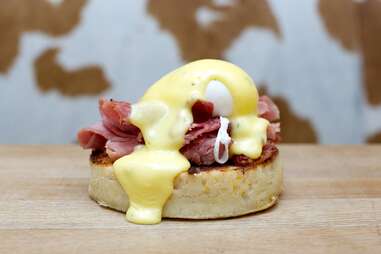 Toro Bravo
Eliot
From the same dude who does Tasty N Sons, this tapas-style joint's siding small plates (duck confit empanadas, Drunken Pork w/ shell bean stew) with a selection of signature cocktails, the Star(z) of which is the Scotch/ Cherry Heering/ Dolin Rouge/ orange Blood and Sand.
Le Pigeon
East Burnside
Seriously next-level meat-based eats like Pig Belly w/ fried oysters, dirty spinach & cherry seaweed jam, or beef cheek bourguignon, are the order of the day from the James Beard winner behind this laid-back eatery that's name is rough translation of what you'll give the rest of your group when they leave you with the check.