Fall in Portland gives us so much to look forward to. The air gets crisper, and the cider follows suit. The Trail Blazers rally for another not-at-all-embarrassing season. Adults treat the entire month of October as an excuse to dress like zombies. Perhaps most exciting, though, is the emergence of brand-new places where you can eat and drink. From Indian food, to an indoor soccer cafe, to a whiskey library, we've done all the legwork in rounding up the most anticipated openings of the Fall. Dates, like the Blazers' coaching staff, are subject to change.
Recommended Video
The Best Cheap Italian Food in NYC
Name: The Richmond
Opening in: Late August/Early September
Why You Should Care: When beloved bar Matchbox closed, tears were shed… until it was revealed that the Olympic Provisions/Clyde Common mastermind was joining the action on bustling Division. The 50-seater will focus on craft cocktails in addition to "old-English" pub food featuring OP meats, including brisket hand-pies and more amazingness that'll make you cry for other reasons.
Name: The Sugar Cube
Opening in: Early September
Why You Should Care: Because there can never be enough potato chip-topped, booze-filled cupcakes in this world. The hugely popular sweet-and-salty cart's taking over a former vegan bakery on Alberta to shell out not-vegan deliciousness like cookies, pies, shakes, and smoothies, in addition to breakfast and lunch options of both the sweet and savory varieties. Also, potato chip-topped and booze-filled cupcakes.
Name: BrewStop
Opening in: Early September
Why You Should Care: The beer-lovers who run the BrewCycle -- that pedal-driven mutant bike/bar thing that always pulls up to your favorite brewery -- are opening up a stationary location in the Pearl, a casual place where you can nurse pours from 24 taps, slug cocktails, and eat a selection of simple Mexican pub food without the terror of actually having to do something physical afterward.
Name: Multnomah Whiskey Library
Opening in: September
Why You Should Care: What, the words "whiskey library" didn't already sell you on this? You have no soul... but you just might find enlightenment at this highly anticipated drinkery, which'll feature a meticulously curated collection of 1500+ spirits stacked up on bookshelves that go sky-high (well, skylight-ceiling-high). It'll have a speakeasy vibe, too, with an old-school setup and a kinda-hard-to-find door located downtown, behind minimal signage and down a long corridor. Also: whiskey library.
Name: La Taq
Opening in: September
Why You Should Care: Podnah's Pit makes Portland's best BBQ. So the very idea of its owners opening up a tequila-soaked Mexi-joint right next door is cause enough for celebration. Just to be clear: this is Podnah's meats in enchiladas and tacos. Try not to break in before they open.
Name: Tamale Boy
Opening in: September
Why You Should Care: There comes a time when every Tamale Boy becomes a Tamale Man, and that time is this Fall for the beloved corn-husking cart, which will set up shop in a Concordia brick-and-mortar rocking one of the neighborhood's biggest patios. But worry not: those badass tamales remain the main attraction… now you'll just know exactly where they are at all times.
Name: Clive's Public House at Rose City Fustal
Opening in: September
Why You Should Care: In addition to introducing soccer-horny Portlanders to the glories of South American Fustal -- footie's faster, indoors-ier cousin -- the NE PDX complex also includes Clive's Public House, which overlooks the field and rocks a bevy of microbrews and healthy pub grub courtesy of the dudes behind Vita Cafe and the Southern-fried Delta Cafe.
Name: Maurice
Opening in: Late September/Early October
Why You Should Care: Because anything combining a pastry shop, bakery, diner, and bar is going to be amazing -- and then put a veteran pastry chef from some of PDX's best restaurants at the helm, and you've got magic. Magic like duck-fat galettes, Norwegian bread wraps, pot pies, tea-smoked meats, and other kitchen sorcery.
Name: Trifecta Tavern & Bakery
Opening in: Early October
Why You Should Care: Ken Forkish is infamous for the double-threat of Ken's Artisan Pizza and Ken's Artisan Bakery. Now, the dude who gave Portland one of its most beloved pizzas is headed to the SE industrial zone, where he's converted a former auto shop into a wood-laden lair of craft cocktails, experimental baking, and full-on dinner featuring farm- and ocean-fresh entrees. Expect a boozy, foodie paradise.
Name: Oso Market + Bar
Opening in: October
Why You Should Care: Bottle shops that double as bars are a growing trend, but this one gets excitement brewing for the one-two punch of being curated by a former House Spirits distiller and offering upscale small plates, including charcuterie and sandwiches, in addition to housemade spreads like oxtail marmalade.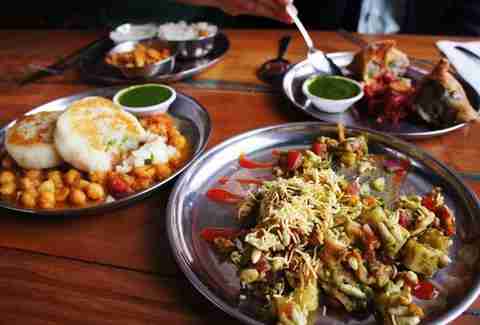 Name: Bollywood Theater Division
Opening in: November
Why You Should Care: In two short years, Bollywood's become one of Alberta's most popular spots, and now it's throwing its curry-scented hat into the fray of the Division restaurant boom, bringing with it some much-needed Indian flavor (and absolutely zero spontaneous dance sequences). The 4000sqft spot includes a gigantic patio and a market featuring Indian foods. And, sure, maybe some dancing.