We're moving steadily towards a day when every business in Portland will be run out of a cart. But until then, we've got hundreds of amazing mobile food vendors to choose from who are slinging some of the best food in the city, addresses be damned. To offer a starter course on eating in the street, we've taken on the unenviable task of picking our favorite seven mobile chefs… If you don't like the choices, mail a letter to our office, located in a cart somewhere downtown.
Recommended Video
New-Age Austin Barbecue from a Food Truck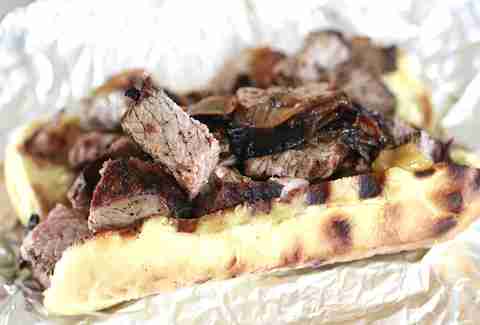 Rip City Grill
Where To Find It: SW Moody & Abernathy
Dish To Get: Smack-dab in the endless construction zone of the SW Waterfront, this joint always has lines of hardhat-wearing workers seeking burgers and chicken sandwiches. But the crown jewel here is the dry-rubbed tri-tip sandwich, loaded with dripping red hunks of steak and smothered in cheese and the toppings of your choice. It's worth the wait, and in that line you never know when an impromptu "YMCA" rendition might happen (hint: never).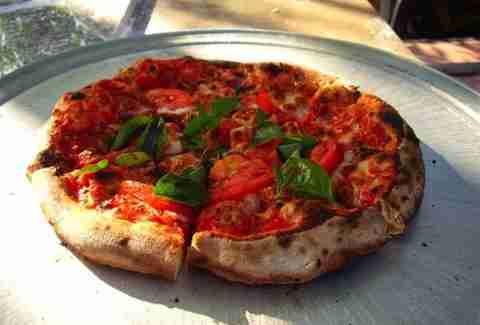 Pyro Pizza
Where To Find It: SE 12th & Hawthorne
Dish To Get: The apricot salad. Pizza, of course. The maniac who runs this joint has turned his trailer into a wood-fired Italian kitchen where he fires out gloriously charred, high-quality pies topped w/ everything from Otto's pepperoni to blue cheese, pistachios, spicy sausage, and capers that have nothing to do with the Muppets taking down a jewelry-stealing Charles Grodin.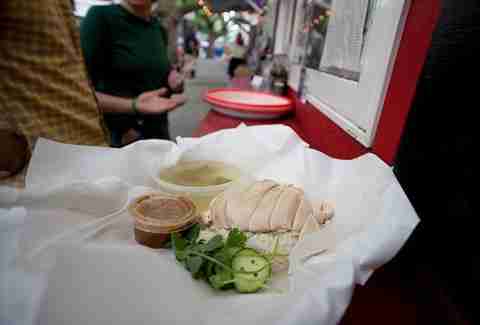 Nong's Khao Man Gai
Where To Find It: SW 10th & Alder & 411 SW College
Dish To Get: The menu simply calls the signature Khao Man Gai "chicken and rice", which, to the unknowing, makes it perplexing that people flock to this Thai joint like religious pilgrims. But holy sh**, it's amazing -- perfectly poached chicken slices simmered in stock and herbs, and topped with Nong's amazing special sauce. It'll enlighten you.
Frying Scotsman
Where To Find It: SW 9th & Alder
Dish To Get: If it's not Scottish, it's… well, you know. But this straight-up Scot serves up huge hunks of breaded halibut w/ "chippies" that are excellent on their own, and excellent-er w/ a side of curry sauce. You can also get red snapper, cod, haddock, and other fish, but save room for that most Scottish of treats, the deep-fried Mars Bar. Just don't dip that one in the curry.
People's Pig
Where To Find It: SW 10th & Washington
Dish To Get: Porky's nightmare is a dream come true, and it all comes to a snouted head with a massive, fire-grilled porchetta sandwich, a gloriously fatty slab of meat covered in fennel that basically melts in your mouth. And that's not all, folks. Save room for some boar sausage, or if you hate pork but for some reason went to a place with "pig" in its name, you can score a steak sandwich slathered in caramelized onions.
Ramy's Lamb Shack
Where To Find It: 5221 NE Sandy
Dish To Get: In a town with a serious gyro deficit, Ramy's is a punch in the tastebuds, upping the ante and forgoing the spit-roasted lamb most places use in favor of gigantic grass-fed chunks of it soaked in tzatziki sauce and rolled up into a thin pita, for a result that's less like a Greek taco and more of a Greek burrito.
Whiffies Fried Pies
Where To Find It: SE 12th & Hawthorne
Dish To Get: If there are two more perfect things than brisket and pie, they've yet to be discovered. This food-cart stalwart combines the two and two-ups the equation by packing in mozzarella and tossing it in the deep-fryer, resulting in the greatest hand-held pie ever. You can also get a holdable chicken pot pie, plus sweet-crust monsters like peanut butter cream and apple pies. Or just follow your instincts and order them all… It's 230a, and you know you want it.