8 reasons El Cubo de Cuba is PDX's closest thing to Havana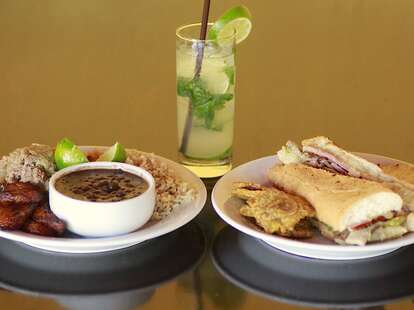 Offering PDXers a chance to live the Cuban life without drawing the suspicion of the ghost of Joe McCarthy, cart-turned-restaurant El Cubo De Cuba's slinging PDX's best Cuban street food. That's not just because it's the only place that specializes exclusively in barrio cuisine, either... It's the real deal, as exemplified by this not-black list of eight reasons this place is bringing the ruckus.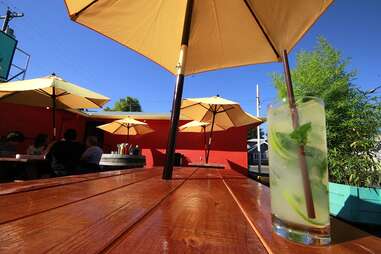 1. Mojitos -- Cuba's greatest non-Daisy Fuentes contribution to society -- always taste better when consumed outside, which's why the restaurant has a massive, picnic table-filled back patio loaded w/ tropical plants. And since mojitos always taste better-er when consumed outside with live music, they've got Cuban bands from time to time, too.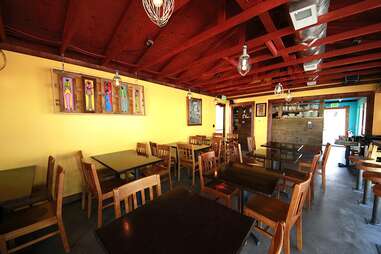 2. Since you're probably never gonna get to Cuba unless you have affiliations with Hyman Roth, the interior's probably the closest you can get in PDX to an old-school Cuban street restaurant, with an open kitchen, communal seating, and a steady soundtrack of horn-driven music.
3. You can score a "Cuban" at a lot of joints around town, but most load them up with fancy-pants ingredients that belie the simplicity of the original. Here, you get a real-deal Cuban sandwich that takes a flaky roll and crams it w/ slow-roasted pork, Swiss, dill pickles & pit ham that can't actually change a stock-car tire but makes up for it by being delicious.
4. Here, a Cuba Libre isn't just a standard rum & Coke passing itself off as a Cuba Libre; it's a perfect mix of cane-sugar Coke, lime & a healthy amount of rum (just look at that translucence!) that'll totally make your goofy side run libre.
5. The small entree menu focuses on traditional, slow-roasted dishes like this tangy mojo pork w/ brown rice & black beans. Other gigantic traditional dishes include ropa vieja shredded beef in tomato sauce and baked guava chicken that has nothing to do with Ween, despite being saucy.
6. The tostones -- aka fried plantain chips -- are the perfect combination of a salty, crispy outside and a soft interior that often eludes restaurants and Chopped contestants who still can't differentiate them from bananas.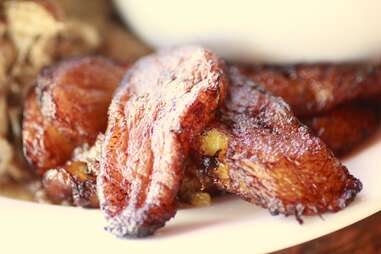 7. But if you do prefer your plantains to be more banana-y, you can score these maduros, which're more ripe and sweet, and're served up glistening.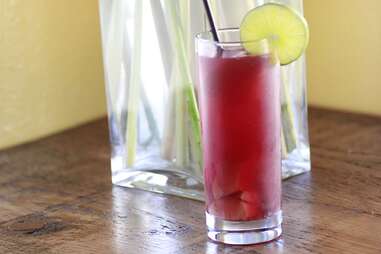 8. There're healthy options like an avocado salad, but why would you do that when you can pretty much get all the fruit you need in this sangria made w/ Willamette Valley Cubanismo Rumba Pinot that'll leave you so red, you're all but guaranteed a visit from the ghost of McCarthyism past.