What happens in Vegas... when you're hungry after a night out is that you hit up one of these great late-night spots. What happens in Portland is that you probably go home and go to bed. Unless you're, like, a bartender and actually know where to go for some early-AM food/drinks. That's why we asked some of PDX's dopest drink-slingers to help us find Stumptown's nine best late-night hangs...
Northwest Portland
"Recently, I have been hitting up Casa del Matador (open 'til 2am, daily) for $5 nachos and shots of Fortaleza," -- Chauncey Roach, The Fireside
Note: Fortaleza is a tequila; its name means... something in Spanish, presumably. Just kidding! Oddly enough, it actually means something in Portuguese, instead.
Downtown
"Well, I love a carne asada burrito from Santeria (open 'til 2am, daily) after a late night. I'll usually wash it down with a beer..." -- Jeffrey Morgenthaler, Clyde Common/Pépé Le Moko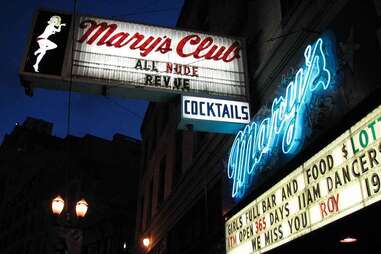 Downtown
"... at Mary's (open 'til at least 2:30am!) and say hello to Tracy, my favorite bartender in town." -- Jeffrey Morgenthaler, Clyde Common/Pépé Le Moko
Downtown
"Some of us definitely head straight over to Saucebox (open Fridays & Saturdays 'til close)." -- Viva, Mary's Club/Bunk Bar
Note: What goes without saying is that Viva has no problem whatsoever with Tracy being Jeff's favorite Mary's Club bartender.
Downtown
"If you've ever wondered how to cure a hangover before it starts, my suggestion would be a giant bowl of Pho immediately following cocktail hour (at Luc Lac, Fridays & Saturdays 'til 4am). Of course a giant, savory bowl of Vietnamese noodles during cocktail hour is even better, right?" -- Brandon Wise, Imperial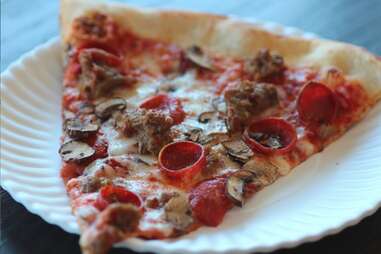 Northeast Portland
"Proximity rules, of course. I eat a lot of terrible pizza at Binks on Alberta (open 'til 2:30am, daily) and have for many years…" -- Kyle Linden Webster, Expatriate
Southeast Portland
"You have to try the ultimate hashbrowns at Hot Cake House (open 24 hours). They're pornographic." -- Chino Lee, Departure Restaurant + Lounge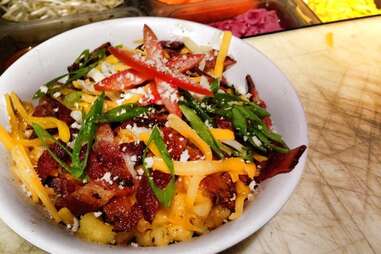 Chinatown
"We always hit Shanghai Tunnel (open 'til 2am, daily) for noodle bowls after work." -- Jordyne Stibitz, Mother's Bistro & Bar
Downtown
"I go to Luc Lac for steak rolls, but when I want a burger or a salad, I go to Cassidy's (open 'til 2am, daily)." -- Jordan Felix, Multnomah Whiskey Library
Note: Ewww... salad?
Sign up here for our daily PDX email and be the first to get all the food/drink/fun Portland has to offer.