Waiting in line for (a probably too expensive) brunch has kind of become a Portland tradition, but what if it didn't have to be? What if you could get a Boozy Brunch without waiting? Turns out you can, provided you hit one of the 12 places on our list of sweet PDX brunch destinations that don't have lines... or at least they didn't until we started telling everyone. Sorry.
Downtown
Sure it's got one of the city's best Bloody Marys, but surprisingly, you can almost always find a seat here on the weekends.They've got Benedicts big enough to share, but because it's a steakhouse, you should probably just go with the steak and eggs or Chef Matt's surprising take on beef hash. Either way do yourself a favor and order a few extra English muffins. You probably won't be able to finish them, but you'll definitely want to take some home.
Southeast Portland
Although it's not your traditional Portland brunch, one of our very favorite dim sum places also happens to be fairly quiet if you can make it there before 11am. (Or 1pm if you had a really good night.) It's best to arrive with a crowd so you can try everything without getting full in the first five minutes. Insider tip: get the sticky rice. It may be the city's best secret hangover cure.
Goose Hollow
How can an institution like Goose Hollow's Leaky Roof not be packed 24/7? This place has been serving home-cooked food since 1947, and you can still walk in at almost any time and have your pick of tables and get cheap drinks/large portions. Just what you're looking for after a late night.
Northwest Industrial
Tucked away in the Northwest, Industrial Cafe quietly puts on one of the best brunches in the extended neighborhood, and considering its location, it's not totally surprising how easy it is to slip onto a stool at breakfast time, but it's kinda shocking that it doesn't get more buzz. The food is consistent and somewhat healthy with a generous offering of breakfast salads and quirky brunch items. If Industrial Cafe was situated on Division or Mississippi there'd be a line every weekend.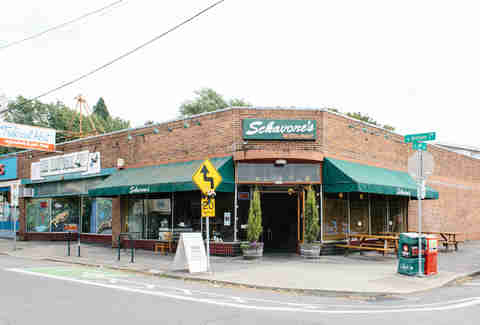 Southeast Portland
There's nothing wrong with a blue collar brunch joint on the same street currently birthing trendy new restaurants at a phenomenal rate. In fact, it almost serves as a badge of honor for a neighborhood that's almost comically crowded with new stalwarts and up-and-comers. Sckavone's isn't one of those places, and for the most part you can expect somewhat greasy classics, just make sure to stay away from anything featuring their "house-made chorizo".
Mississippi
It's probably unfairly overlooked because it's just around the corner from the heavy hitters on Mississippi, but that's good for you because it means you can actually get a table and (more importantly) some booze before your hangover gets worse. So next time you're about to draw straws to see who stands in line for Gravy, do yourself a favor and take the group here. Also, get the Breakfast Pillow. Trust us.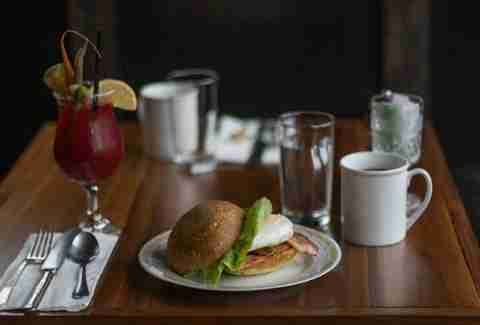 Southeast Portland
This tiny restaurant is somewhat innocuously situated on 39th Ave, smack dab in the middle of Hawthorne and Division. It only has a handful of seats and the kitchen takes its time preparing delicate but hearty dishes on eclectic twee plates, so it's no surprise that this place has a line that rivals the queue outside the Apple store. Wait, what? It doesn't? Why not? Probably because brunch service is daily and folks in the neighborhood aren't limited to the weekends to get their fix. If you're looking for a great weekday brunch, you just found it.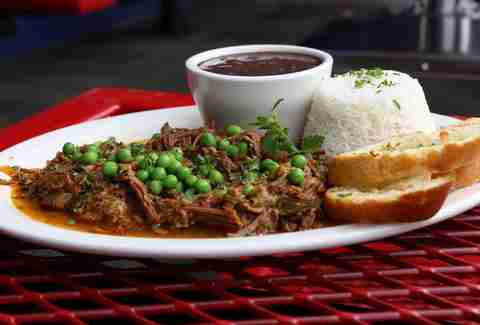 Northeast Portland
Not only do they have a great happy hour, this Cuban restaurant offers a killer* brunch with items that're made up of beans, rice, eggs, and your choice of protein. On a nice day you can sit outside, but now that fall's coming you're going to appreciate the seating inside.
*To our knowledge Pambiche's brunch hasn't actually killed anyone. Yet.
Foster-Powell
It all began with the sisters who founded Dots Cafe on SE Clinton. After selling that business the sisters founded Lily Day Cafe in an awkward strip mall off 52nd and Powell. After closing for remodeling, it opened again as Midpoint Food & Drink and... oh who am I kidding? Grilled cheese breakfast sandwiches! Let that sink in. And then go there. Immediately.
Division
The only reason this place isn't packed in the mornings is because most people don't eat noodles for breakfast. Which is silly... noodles make a delicious breakfast! Especially if you have one of the best noodle dishes in Portland. It doesn't open as early as it used to during the week, but you can walk in anytime after 9am on the weekends for your fix.
Sign up here for our daily PDX email and be the first to get all the food/drink/fun Portland has to offer.