If there's one thing you have to do this Summer, it's... well, these 12 things, but you should also try leaving Portland to do something you probably didn't know was possible: get a good meal. Seriously, you can do it! Provided you check out our list of Oregon's 10 best restaurants outside PDX.

Restaurant Beck (address and info)
Depoe Bay
This fine-dining establishment has been embraced by this traditionally blue collar coastal town because of its local ethos and beautifully plated food (most of which is foraged locally by Chef Justin Wills), and is a can't miss stop for anyone hitting the coast. Anyone who's prepared to spend at least three hours eating a dozen small courses on Beck's constantly changing tasting menu, that is.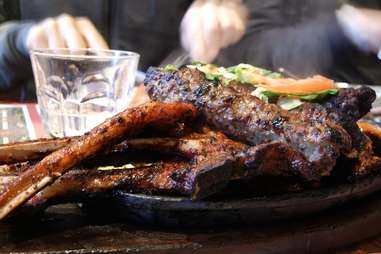 Storrs Smokehouse (address and info)
Newberg
The pitmaster here is helping make Newberg more than a place to stop for gas on the way to wine country with his great Texas-style brisket, as well as ribs that put all those in Portland to shame, thanks to a surprising fish-sauce-inspired BBQ sauce, which seems tacky on paper but will keep you coming back for more. Or to Newberg in the first place.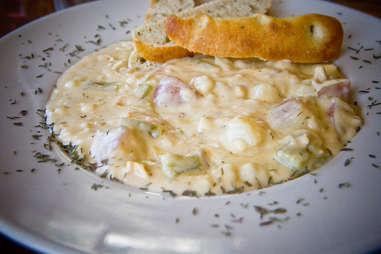 The Schooner (address and info)
Netarts
They are no longer posting their menu online because they "have evolved to a more freshly available, locally caught and harvested farm-to-table approach", but you can bet this traditionally seafood-centric restaurant still has some of the best clam chowder on the coast and oysters so fresh you can see people pulling them out of the ocean and bringing 'em to the back of the kitchen. Biggest surprise hit? The wings, which somehow feature a spicy Asian sauce that doesn't seem wonderfully strange when you're staring out at the Pacific. Or this side of it anyway.
New Sammy's Cowboy Bistro (address and info)
Talent
Hiding behind a nondescript sign in a nondescript location, one wouldn't think a place like this, with just six tables, would have one of the best wine lists in the country, or some of the best food in the state (many of the ingredients for which are sourced directly from their garden out back), but guess what? It does.
Aomatsu (address and info)
Corvallis
Despite being a local favorite for its bang-for-your-buck bento box, this sushi spot also does the kind of next-level sashimi and sushi (try the rice-less bursts of tobiko-topped crab they call their Moby Dick roll) you'd expect to find in... um, someplace that isn't Corvallis, presumably.
Slugs'n Stones'n Ice Cream Cones (address and info)
Brookings
Here in Portland we're spoiled by Salt & Straw, a local ice cream shop that routinely has two hour lines, but this small coastal town has a special shop of an entirely different kind. Instead of wild flavors, they do idealized versions of classics like strawberry, blackberry, etc., made with fruit sourced not just from local farmers, but lifelong friends and neighbors.
Papa's Soul Food Kitchen & BBQ (address and info)
Eugene
What started as a food cart is now a Eugene mainstay, and occasional post-game destination for Oregon players, thanks to their fantastic soul food, better-than-average BBQ, and more importantly, Papa's off-menu specials, like their take on fried chicken and waffles.
Thai Pepper Restaurant (address and info)
Ashland
Yeah, yeah... Who in the heck goes to an Indonesian restaurant in the Shakespeare capital of Oregon? Well, locals, festival goers, and you if you're smart and like the sound of Korean-style spare ribs, or eating Tiger Cries -- a medium rare flank steak served w/ onion, tomatoes & a spicy lime sauce that shouldn't be as delicious as it is.
Albatross (address and info)
Astoria
Helmed by the dude behind Thistle in McMinnville, and ex-PDX Chef Eric Bechard, this cooly laid-back, brick-walled eatery is heavy on the reclaimed touches (an ancient cash register, a retro stereo, etc.), and on farm-to-table eats like boldly flavored clams, and one of Oregon's best burgers w/ caramelized onions & a smooth white cheese sauce on a pillow-soft bun.
This list -- and all the rest -- look even sexier in our iPhone app. Get it now!