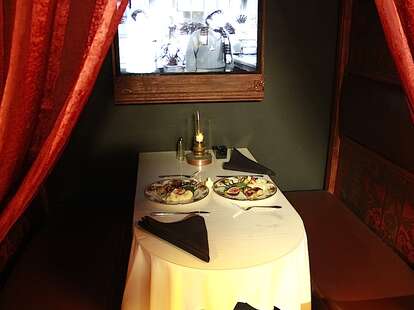 The Modern Man's cornered the market on whiskey-soaked male grooming with its Alberta and Hawthorne locations, but there's something entirely different lurking beneath its depot-themed Mississippi outpost: a hidden bar and restaurant designed to look like a train car w/ sepia lighting that makes you feel like you're walking around in one of those old-timey Western photos your parents made you take when you were eight and still show to your girlfriends. But it has no signage. Or website. Or name. So how do you find this mysterious train? Follow us.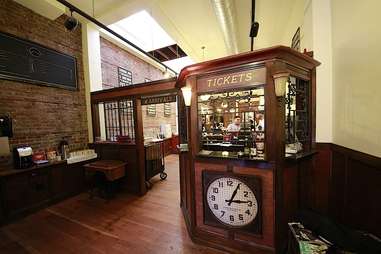 This is the entryway to the shop, but resist the temptation to go through the ticket booth. All that'll get you is a haircut, a straight-razor shave, and a complimentary beer or shot of whiskey. Actually, you probably should go through the ticket booth. And when you're done, walk back over to that clock and look for a curtain that's hiding a stairway.
Behind the curtain, you'll find this not-at-all-creepy mineshaft facade, which is coated w/ rocks and features a faux-underground spring at the bottom. This is the kind of entryway Scooby and Shaggy would totally dig if they weren't out back enjoying "Scooby Snacks" in the Mystery Machine.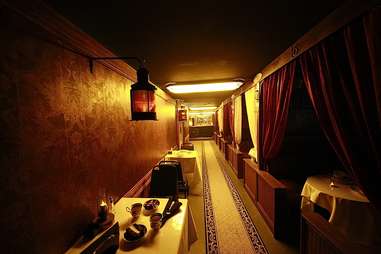 Once inside, you're on the train, which has a facade so meticulously designed, the only thing missing is a dude in a stovepipe hat maniacally twirling his mustache. The dining booths are loaded w/ luggage and outfitted w/ TV screens showing black & white footage of the Klamath-to-Portland train ride. Antique lanterns adorn the wall. Rumor has it there's also a ghost... one employee reported hearing creepy screams at night, possibly from the spirit of the video store that used to call the building home which can sense that you totally loved Wild Wild West.
The centerpiece is this custom-designed bar, which looks like Iron Man a train engine, right down to the steady stream of steam coming from the center and the iron bars underneath the stools rendered w/ stark precision. Behind the bar, there's a secluded room where you can get a baller grooming treatment, complete w/ private bar service.
The kitchen specializes in small plates like roasted portobellos w/ quinoa, fresh-made desserts, and these garlicky chicken meatballs w/ figs, green beans, and creamy mashers. The menu, like the trains it pretends to be served on, isn't stationary, and will change on a regular basis.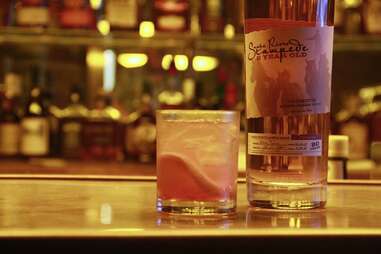 Of course, because it's a Modern Man joint, there's whiskey. Here, they specialize in old-school cocktails -- mostly made w/ Indio Spirits products -- like this Old Fashioned, Manhattans, and the greatest cocktail of all: on the rocks, a few of which will guarantee you'll forget how to get to this secret joint the minute you leave, leaving your friends baffled as you mumble about your trip back in time to when you were eight and bathed in sepia.