Because a round-up of the most sensible salads Portlanders ate in 2013 wouldn't be nearly as much fun, we decided to take a look back at the most exciting, heart-stopping fatness that graced PDX's plates/palates during the past year. Not surprisingly, beef, bacon, and fried lobster(?) were heavily involved...
Recommended Video
This Cheeseburger Is an Egg Lover's Dream
Chili Dog
Castle Cauldron, Southwest
Approximate Calorie Count: 526
Posted up in the Central Eastside Food Carts pod, CC does deliciously meaty American eats in the form of brisket-y chili (either mild or chipotle), which you can have on its own, Frito Pie-style, or on this gigantic hot dog. 
Pulled-Pork Sandwich
Crown Q BBQ, Concordia
Approximate Calorie Count: 636
Crown's created a hybridized Texas/NOLA-style of Q that apparently resulted in unnaturally delicious edibles like chicken-fried bacon and enormous burgers like this pulled-pork beauty dripping w/ sauce & slaw. 
Pork Ribs
Church, Hollywood
Approximate Calorie Count: 680
This wood-heavy eat/drink spot may be stuffed with faith-related objects (a reclaimed confessional, pictures of holy figures like... um, Mel Gibson?), but it's serving some glimmering craft cocktails and a sinfully good menu of deep-fried and barbecued flesh, including these locally sourced pork ribs w/ a generous helping of house-consecrated BBQ sauce.
Kentucky Breakfast
Bungalo Bar, Mississippi
Approximate Calorie Count: 964
Decked out with Christmas lights and a fire pit right by the sidewalk -- which they presumably use to burn anyone who suggests that Christmas lights are supposed to be taken down after January -- BB serves craft cocktails and burgers in a laid-back Mississippi Ave house where they also do a few things that aren't burgers, like this Kentucky Breakfast, which consists of a shot of bourbon after kicking your cousin out of bed a huge hunk of fried chicken, chunky sausage gravy, and maple syrup.
The Monstrosity
Brunch Box, Downtown
Approximate Calorie Count: 1014
This food cart-turned-actual-restaurant's name belies its ambition to stuff PDX with ridiculous bovine meatwiches like The Monstrosity: double-beef, double-bacon & double-cheese stuffed between double-grilled cheese sandwiches that serve as buns.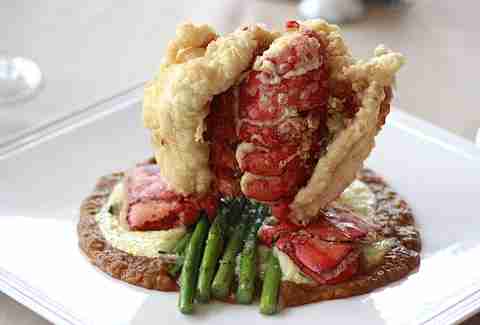 Frank's Fried Lobster
Quartet, South Waterfront
Approximate Calorie Count: 1101
This spot boasts a gigantic, mostly glass dining room providing panoramic views of the Willamette, in which they're serving ultra-high-end eats, including a behemoth crustacean that's called Frank's Fried Lobster. And Frank is apparently effing awesome, since he decided to dip a full tail in batter, fry it, and plop it on a mound of polenta.
Fried Chicken & Cornbread
Bistro Marquee, Downtown
Approximate Calorie Count: 1211
Named not for legendary rapper Biz but for the glowing signs that dominate the Theater District, Downtown's Bistro Marquee does badass Southern eats, like this beautiful bone-in fried chicken that's brined in sweet tea before getting breaded and fried, then served up in a mini skillet w/ cornbread baked into the bottom.
Meaty Deep-Dish
Via Chicago, Alberta Arts
Approximate Calorie Count: 1410
When this place says they're "Chicago-inspired", they don't mean they got the idea to open a pizza place from Peter Cetera, they mean they're serving the area's only deep-dish pies -- tasty, cornmeal-y monsters packed with hunks of spicy sausage the size of golf balls, gigantic pepperoni slices, prosciutto, and meatballs.