While some people's idea of passion involves a slow night of sipping wine in sweats and watching reruns of Law & Order, others' notions of romance may be a bit more eclectic. Perhaps your idea of the perfect night out involves watching your date slowly ladle cheese fries into their mouth -- and if so, you're in the right place. Whatever floats your boat, it's time to step up and see what this glorious, passionate city has to offer in terms of romance -- especially on Valentine's Day. Here are the nine most romantic restaurants you'll find in Portland right now.
Alberta
Cozy Italian restaurant with a great wine and cocktail list
Nestled off Killingsworth and 30th is Portland's very own DOC, the Italian restaurant run by chef Ryley Eckersley with a weekly rotating menu that's distinctly PNW inspired. Enter through the kitchen to find your way to the main dining area fitted with black chandeliers, checkered drapes, and plenty of wine glasses. It's a space that harkens to the quiet cafes of Europe, a fact that's evident in the extensive wine and cocktail list created by wine curator Phaedra Brucato. The menu is beautiful in its simplicity, with dishes like octopus served with potato, olives, and lardon; polenta with lamb sugo; and duck served with seasonal vegetables like squash and radicchio.
NE Irvington
A pocket-sized neighborhood pub serving up wood-fired pizzas and inventive cocktails
True to its namesake, The Pocket Pub is, in fact, Thumbelina-sized. Small enough to be cozy without being absurdly tiny, the charm of Pocket Pub lies in the smell that immediately greets you at the door. While there's certainly enough romantic candlelight to put you in the mood, the freshly made pizza is the real star of the show here. Take a seat in one of the giant velvet backed booths for a little privacy, add in an order of roasted garlic knots with extra Mornay sauce (seriously, get extra sauce) and then grab yourself a cocktail for good measure.
SE Clinton/Division
Oyster bar and restaurant serving up New American fare alongside regional and French wines
The first thing you notice when walking into Jacqueline is going to be the Bill Murray portrait over the bar -- obviously a good omen for the night. Jacqueline offers up some of the best seafood in town in a small dining setting that lacks the pretentious vibes found in some of Portland's more acclaimed spots, making it an inviting and cozy spot to dine in. This vibe is due, in large part, to the work of chef/co-owner Derek Hanson (formerly of Broder Nord), whose focus on championing seasonal ingredients brings even the humblest dishes to life. Get here for happy hour for $1 oysters, or stay for dinner to enjoy some fantastic fish like a refreshing yellowtail crudo served with white ponzu.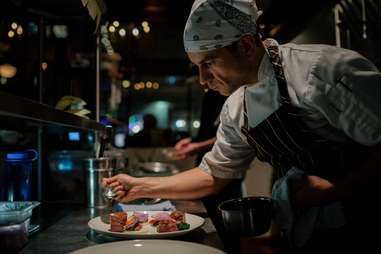 Downtown
Authentic Italian fare served up in a Gothic-inspired space
The folks behind Mucca Osteria are committed to the Pacific Northwest lifestyle, and as such are always using locally sourced, organic ingredients in their menu (which rotates seasonally). A combination of golden chandeliers hanging from the ceiling and old brick walls lends an old-world Gothic feel to the place, making it easy to get lost in the ambiance. The menu is littered with homey Italian meals and includes a selection of house-made charcuterie, braised rabbit ragù, and wild boar pappardelle. It also has one of the best dessert menus in town and features classics like chocolate tortes, tiramisu, freshly baked cake, and cookies.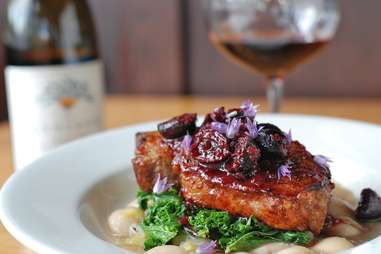 SE Division
European-inspired wine bar and bistro with an industrial feel
With over 80 varieties of wine to choose from Bar Avignon is one of the best drink spots to visit in the city. The extensive wine list is paired with a simple cocktail and spirits menu, reflecting Bar Avignon's atmosphere of simple, sophisticated, and delicious. Take a step inside and you'll be met with tall, imposing wooden ceilings and a dark lighting scheme that plays up the giant wooden bar... or forgo that and sit outside if the weather's nice and sunny. Slurp on oysters to get things going ($1 each during happy hour), snack on a sharing plate filled with cheese and olives, and then go for the entrees (duck, pork sugo, and short rib, among others).
Pearl District
A modern upscale restaurant specializing in Mediterranean-inspired dishes
Bluehour is a beautiful well-lit space thanks to a series of massive windows that give the interior a lovely natural backdrop, complemented by curtains, hardwood floors, and modern art deco inspired chandeliers. The restaurant boasts several notable features including a cafe bar, an elegant dining room, an outdoor patio, and a more intimate private room available upon request. Grab something from the wine and cocktail list before treating yourself to a delicious dinner of duck consommé or charred octopus and squid ink linguine made with Calabrian chilies. And be sure to take a peek at the dessert menu when all is said and done.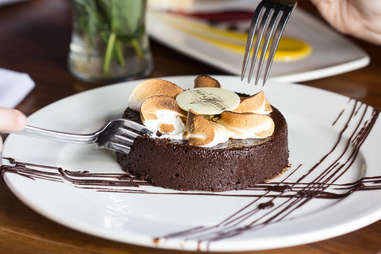 Alphabet District
Classical European restaurant and bakery with an extensive desert menu
Dessert lovers of the world, welcome home. With two locations across Portland (NW 23rd and SE Milwaukie) Papa Haydn's is a Portland institution that doubles as both a restaurant and bakery. The interior is simple and chic, painted black with large open windows that look out onto the street. The dinner menu changes seasonally, and leans to more meaty options like salmon, steak, and rack of lamb. However, the vegetarian or vegan will be happy to see fresh salad options as well as pastas and sandwiches. The dessert menu also rotates seasonally, but will always offer the classics, like cakes, cheesecake, macarons, tarts, and meringues.
SE Buckman
An elegant rooftop wine bar with striking views, and extensive wine selection, and a lovely garden
Voted the best wine bar in Portland by Willamette Week readers last year, Noble Rot has a more sophisticated, upscale vibe. You'll find a score of cushy white leather booths and soft lighting inside, but head out to the patio to get the full experience. You'll be met with the sights and smells of the 3,000-square-foot rooftop garden (where they harvest the ingredients for their menu) along with phenomenal views. The menu changes all the time, so check the website before you go. That said, expect a lineup of heavy-hitting PNW-inspired dishes that all work to incorporate the freshest harvest ingredients.
Downtown
Upscale rooftop restaurant with a Pan-Asian theme with vegan and gluten-free menus available
Though Departure boasts some of the most expensive dining options in the city, the view to be had from the rooftop of this pan-Asian hotspot is a must for any Portlander. You'll be rewarded with a view of the entire city, a sweeping skyline that's best enjoyed during sunset. The menu is loaded, with everything from inventive takes on sushi and dim sum to a chef's recommendation section and a tasting menu (which you'd be wise to order if possible). There's also a full gluten-free menu and a vegan menu. And before diving into your courses, check out the loaded cocktail menu which leans heavily into sake.
Sign up here for our daily PDX email and be the first to get all the food/drink/fun Portland has to offer.
Janelle Albukhari is a food & travel writer who's willing to do whatever it takes to find a good bite.