East Coast deli meets outer Hollywood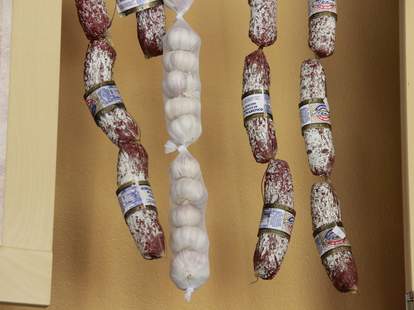 Family-owned Bacchi's is an East Coast deli that takes its roots seriously, in that it ships many of its meats and desserts directly from Jersey, and also in that if you so much as doubt that it ships many of meats and desserts directly from Jersey, there will be trouble
While the cooler's stocked with a variety of NJ's finest deli meats, those dry sausages hanging at top are local, as are these bagels, delivered fresh daily by downtown's Bowery
Sure, it looks like Play-Doh, but this Staccato Gelato -- which is almost as delicious -- is actually made with locally sourced ingredients.
Gigantic cold sandwiches include this hefty Italian hoagie w/ prosciutto & hot capicola, a classic muffuletta, and the Gabagool w/ two types of ham and Provolone so sharp it applied to Bowdoin as a backup
Hot sammies come dripping w/ cheese and include this pork/veal/beef meatball parm, the hammy Fredo panini w/ Canadian Club BBQ sauce, and an Italian sausage larger even than anything claimed on The Situation's OKCupid page
Desserts like tiramisu and this huge cannoli are made fresh to order.
And NYC purists can chow down on this cheesecake shipped directly from Carnegie Deli, which you'll surely agree is delicious! Seriously, you will agree. Or there will be trouble.