Meatball sliders, wood-fired pizza, and pasta that enters the Matrix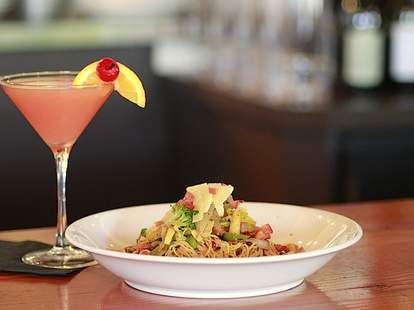 Making up for its complete lack of kung fu knowledge with a huge array of pasta, NE MLK's Pasta Allegro rocks what it calls a "matrix menu", which basically means you design your own plate using tight leather vests a vast array of noodle shapes, sauces, and toppings. Whoa.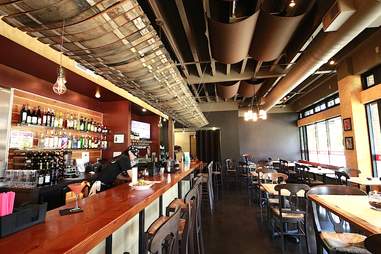 Apparently having robbed Donkey Kong's supply shed, the open kitchen and bar features an overhead awning made of recycled wine barrels.
Using that so-called matrix menu, you can come up with seemingly limitless pasta permutations. Pick a noodle (pappardelle, shells, fusilli), then a sauce (alfredo, Bolognese, butter/herb), and some meats and veggies. This one features a trinity of cheddar, broccoli, and Italian sausage.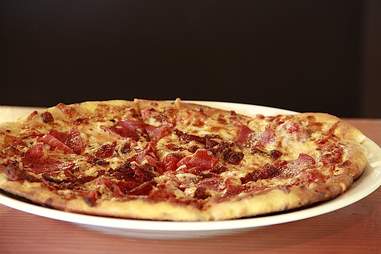 If you want to use those toppings and put them on bread, order up one of the pies and watch it get wood-fired... just like Evan Rachel got from Hot Topic after she broke up w/ Marilyn Manson.
If your appetite's smaller (or if a gigantic bucket of pasta and a whole pizza just aren't enough), snag small plates like fried ravioli, calamari, or this meatball slider.
There're paninis too, stuffed with goods like pulled pork, or artichokes & chicken. They come with homemade chips that're about the size of an elephant ear, yet sadly aren't served by a tatted carnie.
Desserts include made-to-order cannolis, plus this deconstructed take on the cinnamon roll.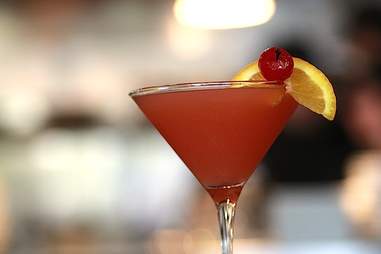 There's a full wine bar, plus a cocktail list that includes this Tuscan Sun w/ limoncello, vodka & campari. With all that booze, sauce, and meat in your belly, you might as well say, "Screw the red and blue pill," and skip right to the purple one (that'd be Prilosec... whoa).