5 places where you should be eating and drinking right now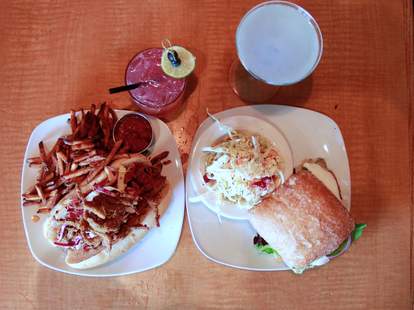 You were so busy floating the rivers, lining up at Salt & Straw, and getting that one last Brazilian of the Summer that a lot of things might have gone right over your head, including the birth of your firstborn and, more importantly, the arrival of these five amazing eateries and drinkeries, where you can slug craft cocktails while eating everything from raw fish, to donuts, to fried pickles, to steaks. Now that you can finally put down that waxing kit, hire a babysitter for what's-his-face, and get out there to conquer these restaurants.
Ataula
You'd think working in a storied family restaurant in Barcelona and several PDX faves would have Ataula's chef thinking big, but noooooo. He's thinking small -- in the form of Spanish-style tapas like fried eggplant, ink-black calamari, and salted-cod fritters. There's also paella, plus homemade donuts, so while the plates are small, you won't be after a few visits.
Daruma Sushi + Sake
This super-tiny Beaumont joint lets you get up close and personal w/ the chef as he meticulously turns out rolls like tekka tuna and kanpachi amberjack, plus nigiri like ikura salmon roe and bincho albacore. Or just order it up omakase and let the chef do whatever he wants. In fact, at $30, it's the least expensive omakase option, like, ever… so say it twice.
Brooklyn House
Taking over the small space that once housed the acclaimed Berlin Inn, the German restaurant's former employees have transitioned the house-turned-restaurant into a cozy joint rocking Euro comfort food, like top sirloin w/ pepper, herb-crusted rack of lamb, fresh pastas, and steamed mussels that aren't actually from Brussels but're still pretty (Van) damn comforting.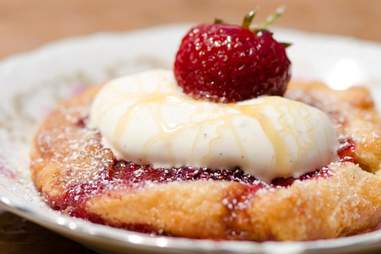 Sugar Cube
Sugar Cube
Sugar Cube's smooth operator became food-cart royalty for her delicious cupcakes and insanely delicious brownie made w/ olive oil, but with the opening of her brick-and-mortar, she's attempting a bold move of appealing to the brunch crowd, that 100-deep horde of hipsters that seems to live in lines outside any place that serves toast. Among offerings at the Cube are roasted-mushroom strata and plates of mascarpone/honey toast... which means you better get in there before that toast-crazy crowd gets wind of the place.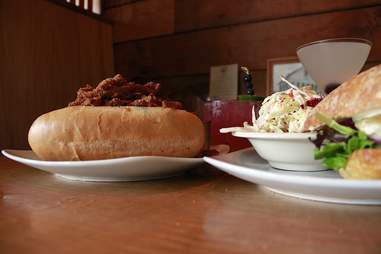 Andy Kryza
Biloxi Deli Lounge
The dudes behind the Alberta's Alleyway (the bar, not the place where you buy bootleg Bieber albums) have descended on Mississippi to open the stretch's only all-sandwich paradise, where they pair craft cocktails like the Blueberry Mule and the Hemingway Daiquiri w/ Cajun-inspired sandwiches, like a pulled pork topped w/ fried pickles and, soon, a sub loaded w/ gator meatballs that aren't just a rude name the University of Florida calls its linemen.