The Fireside is a char-some concept: they cook up campfire food, except it's the crazy-deluxe campfire food that you would've eaten if your counselor was Anthony Bourdain (who, by the way, tells the scariest ghost stories, all of which are true, and about his life from 1974-1993)

Located in the iconic space that once housed Music Millennium, the place now looks like a super-slick cabin, complete with a fireplace smack dab in the middle

On the off chance that you're Frankenstein's monster and fear open flames, there's also this super-chill lounge area with a glass-plated gas fireplace

Since the West Hills block the sunset, the bar's been tricked out to glow before making you glow.

During lunch, you can score charcuterie like pork rillettes, plus fresh elk chili, grilled flatbread pizza, and sandwiches like this Bacon Bomb w/ pickled-egg salad and the Hunter Sandwich w/ roast beef & mushrooms (red convertible and crazed Samoan lawyer not included)

When the dinner bell rings, score small plates like these berry-covered lamb riblets, or go big w/ beef brisket, flat-iron steaks covered w/ more olive butter than Popeye on his honeymoon, and trout grilled w/ sunchokes.

There's a rotating selection of PNW beers and a huge wine list, plus craft cocktails like this beastly Root Down (rye, root beer bitters & absinthe), the Backyard Grillin' (tequila & rhubarb amaro), and the aquavit/ gin Rose Colored Glasses, a few of which will guarantee you have no reservations about anything whatsoever.
Recommended Video
Wine Workouts Are Just What We Need in our Fitness Routines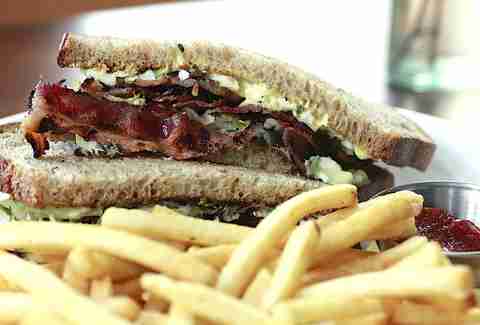 Previous Venue
Next Venue
Venue Description
1. The Fireside
801 NW 23rd Ave, Portland, OR 97210
Fireside burns bright in the space once occupied by Music Millenium, a favored music store in the neighborhood. These days it's all about a different sound -- that of guests eating outdoor-inspired American eats by Chef Henry Kibit in a dining room with a U-shaped bar framed by two fireplaces. Sharable snacks and small plates make up most of the menu, ranging from "pig candy" with bitters syrup and local bee pollen to grilled lamb kebabs with beet & harissa yogurt. Still, larger entrees like saucy cheeseburgers and herb-buttered steak beat campfire-warmed cans of beans. The cocktails -- notably the Feelin' Funky, loaded with cachaca, Cynar, lemon and pineapple -- will get your inner fire going.