Not the way Ben Affleck's gonna pronounce his future superhero buddy's name (that'll be "soopah"), but rather a super-dope, ultra-tiny, Pearl District eatery, Supa takes the concept of wine pairing and applies it to soup and "melties!", which is the restaurant's name for gourmet grilled cheeses that pack extreme flavor (you can tell by the exclamation point). Though the menu'll be changing to include seasonal ingredients, we popped in and paired every sandwich w/ every soup on offer.
The Piper: A thick layer of aged cheddar and cream cheese isn't just delicious, it's also essential in cooling down the green chilies and chipotle aioli, making this the second Piper to combine hot and cheesy (the first was Perabo in Coyote Ugly).
The pairing: Spice begets spice, and chilies beget beans, so behold the lime-spritzed, sour-cream-topped Spicy Black Bean.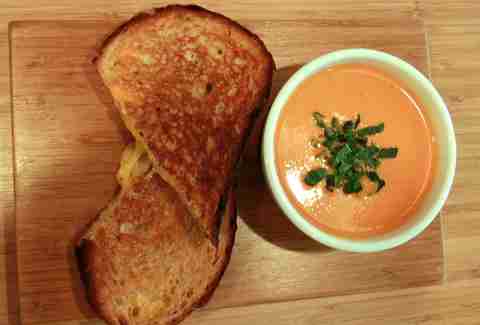 The Classic: Your childhood favorite gets a grown-up twist (look! They kept the crusts on! Mommmmmm!!) with a combo of Swiss, fontina, aged cheddar, and pesto aioli.
The pairing: Tomato bisque... duh! But this kind has chevre in it and is topped with something green... Eeeeeeew! Mommmmmmm! What's a basil?!
The Lizzie: Lizzie is either a French kid with a sweet tooth or part bear, but she's probably not thin Lizzie if she subsists solely on this sweet combo of shaved apples, honey, and melted chevre.
The pairing: The steaming Kale, Sausage, and White Bean... because bears love meat, and sausage goes great with apples.
The Radix: Wow... that was the longest we've ever written about sandwiches without sweet, sweet bacon making an appearance. Welcome back, buddy. You look extra good with all that Gouda and caramelized onion dripping around you.
The pairing: The Italian Country Chicken, which is way tastier than the Italian Big City Chicken (it's so full of itself), and is loaded w/ peas, spinach & carrots.
The Roast Beef & Brie: Brie and beef go perfectly together (just look at her chemistry w/ John Hamm on Mad Men!), so this oozy beauty doesn't muck up the flavor with too many other additives... just some caramelized onions and Dijon to round out the profile.
The pairing: The corn-filled, crab-topped Northwest Chowder, which Ben Affleck would pass on, because he prefers Northeast Chowdah or Lobstah Bisque.