Slinging the tastiest small Italian dishes since Rhea Perlman hung up her bar towel at Cheers (rawr!), Piattino has swung open its doors and its gigantic front-and-center oven in the Pearl, where you can get Italian takes on tapas, fresh desserts, and the kinds of cocktails Norm and Cliff would never dream of... mainly because they only drink beer and don't appear to sleep.
Recommended Video
Really Dough's Mark & Scott Take a Bunch of Shots, Do Blind Pizza Taste Test, Argue a Lot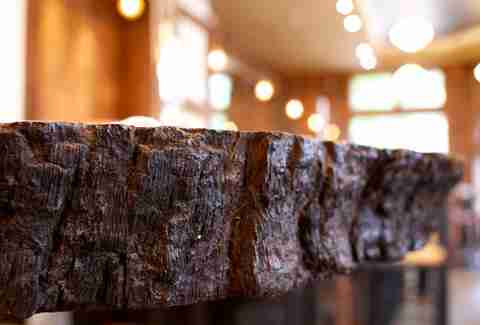 The restaurant features more random wood than Elijah's family reunion, including tables made from cross-sections of the reclaimed tree hunks used to create the bar and its stools. Even the oven is wood-fired, which is the kind of thing no one wants to hear about at Elijah's family reunion.
The ever-changing menu's comprised mainly of small plates, including these arancini fritto misto balls, which're croquettes stuffed w/ shrimp, oysters, and clams. You can also score fire-charred mussels, fried porchetta, and meatballs with smoked tomato sauce... something that Seth Rogen once did while desperate on vacation in Tuscany.
On the healthier side of the small-plates section that manages to actually be delicious without clogging your arteries is this albacore tartare w/ pickled celery and capers, along with a roasted hen and a spicy lentil soup.
You didn't think they'd have that fancy oven up top and deny you pizza, did you? These plate-sized babies come loaded w/ toppings like smoked sausage, mortadella, and buffalo mozz. There's also fire-roasted pasta, including fettuccine w/ pistachio pesto, pork-belly tortellini, and lamb pappardelle.
There's a full bar shaking up cocktails like pistachio martinis, but definitely save room for dessert like tiramisu pudding or this peachy yogurt cheesecake, which, like Rhea Perlman, is sweet and slightly sour, beautiful to gaze upon, and delicate in its milky layers (RAWR!).