These guys put pork & bacon gravy on EVERYTHING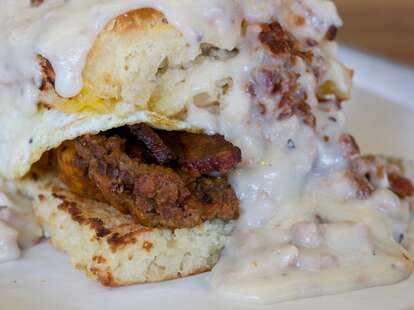 All photos by Drew Tyson
All photos by Drew Tyson
If you want to make one of Portland's best burgers, you gotta do something special, which is why when blue collar Swan Island mainstay TILT decided to crash Downtown's posh dining district, they decided to do something else: offer up bowls of badass pork & bacon gravy that you're encouraged to put on everything, including their already awesome (and completely new) burger/sandwich menu.
For proof that their burgers are already pretty awesome, just look at this stack of bacon, jalapenos, fried eggs, onion rings, lettuce, tomato and bleu cheese. Trust us, it's even awesomer dipped in the aforementioned gravy.
If burgers aren't your thing, TILT does two other foodstuffs well: biscuits and pie. On the biscuit side of things, there's this chicken fried steak sandwich that, yes, we all but completely covered in... waitforit!... whipped cream, 'cause we're trying to seduce Mox. Just kidding, that's totally gravy!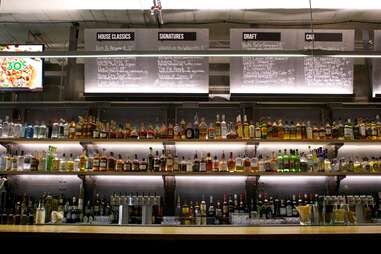 After all that pork & bacon-based goodness, it's time to hit the impressively stocked bar, where they're pouring Americana-inspired craft cocktails.
An early favorite, "The Last Word", is a cocktail made up of entirely alcohol-based liquids (gin, Chartreuse, and Maraschino liqueur) that, despite the aforementioned focus on Americana, tastes like dew from a French meadow.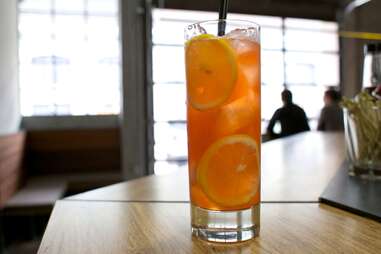 Meanwhile, the "Second Amendment" boasts rum, Aperol, lemon, cinnamon, bitters... and guarantees a constitutional right that's pretty unfortunate when you consider that after that much gravy, you probably shouldn't bear anything.