When Ned Ludd shuts down on Mondays, two former roommates -- one a chef, the other an artist and front-of-house mastermind -- are going All In (Together Now) on a weekly pizza pop-up/party called Pizza Rules Everything Around Me (or P.R.E.A.M.), that combines their love of old-school hip-hop and pies prepped in the restaurant's wood-fired oven, which seems like it was Only Built 4 Cuban Linx this kind of thing. Here's what you're in for...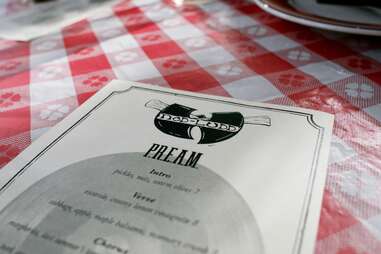 The night's menu is split into sections called Intro, Verse, and Chorus, though helpfully -- and unlike the song that inspired this whole thing -- it isn't just the last of 'em that mentions dolla dolla bills y'all.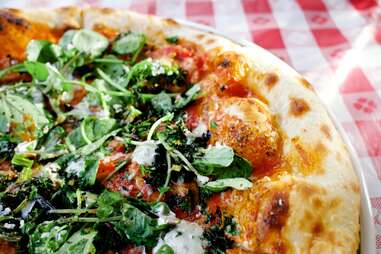 Said dolla bills buy you rotating, seasonal 'za like one with charred rabe, miner's lettuce, Meyer lemon, and tuna aioli that's made from fish scraps, and adds a sweet, seafood-y taste to the bright Spring flavors.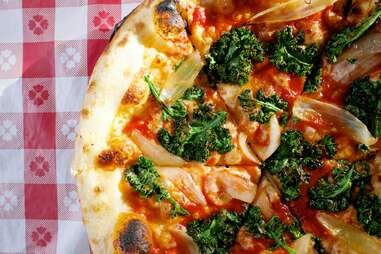 There's also one w/ kale, onion, and burnt honey, as well as mozzarella and lardo that have been smoked... probably by Method Man.
The classic Margherita's got mozz, fresh basil, and tomato, but Can It Be All So Simple? Nope, it's actually made with tomatoes that Ned Ludd canned last Summer.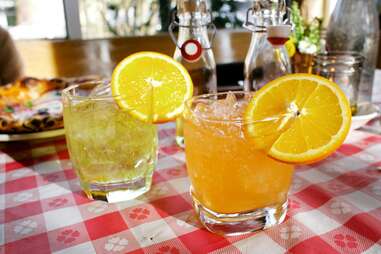 To top it all off, they've got bottle-aged cocktails (the Porch Swing w/ suze liqueur, combier & vermouth) and a weekly playlist packed with '90s rap tracks from people like Pete Rock & CL Smooth, Beastie Boys, Eric B. & Rakim, and... waitforit!... Wu-Tang Clan.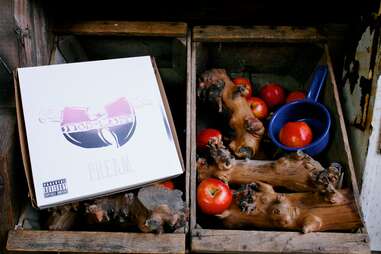 The real C.R.E.A.M. of Ned Ludd's epic new hip hop-inspired pizza crop, though? Your leftover pie goes into a to-go box that's printed with a custom "W" logo, and rules every other pizza box around.