David L. Reamer
David L. Reamer
Portlanders seems to have a high tolerance when it comes to waiting for a table. Maybe it's because often times the food is just that good, or because they don't know about these sweet places, but whatever the reason, these 12 PDX restaurants, at least, are totally worth waiting in line for...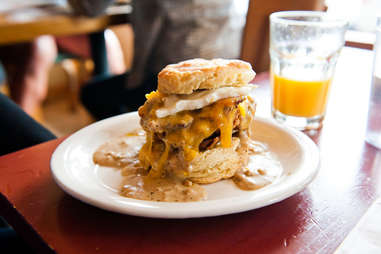 Alberta
Fluffy biscuits topped with fried chicken, fried green tomatoes, over-easy eggs, bacon, gravy, and ooey-gooey cheeses... are you in line yet?
Sellwood-Moreland
If you want to be part of the first seating at this intimate sushi spot you can't be afraid to be a door buster, because raw-fish-lovers are often lined up an hour before opening (even in the pouring rain).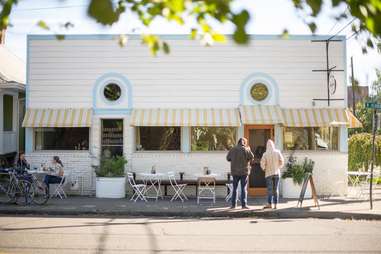 Humboldt
Saturdays and Sundays will bring long wait times for one of the two dozen quaint tables at this beloved, locally sourced cafe. But no one will complain when the thoughtfully rolled breakfast burrito and a slice of honey pie arrives.
Richmond/Chinatown
Knowing that rich, flavorful moles, handmade tamales, and tangy margaritas are at the end of a sometimes 10-plus-deep line gives you the strength to wait at this authentic, casual Mexican joint.
Richmond/Sabin
It's all about them wings, and this take on chicken is worth it at Andy Ricker's flagship Thai spot. At least at the Division location, you can hang at the Whiskey Soda Lounge until your table is ready.
Eliot
John Gorham's Spanish-meets-Northwest tapas spot is known for its long, hour-plus wait times, but don't be deterred, the minute you get a seat at one of the lively communal tables and the first round of small plates arrives, you'll forget you just spent the last hour starving.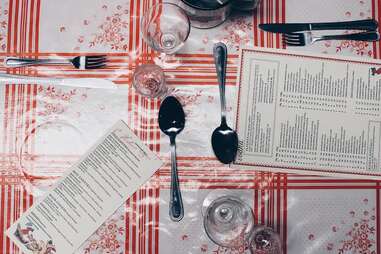 Buckman
Though you may need a Russian dictionary to truly understand what you're ordering, once your long anticipated table is full from corner to corner with zakuski and your glass is filled with vodka, your patience will have paid off in full.
Boise
On Saturdays and Sundays just watch as hipsters gather, dreaming of Moroccan Chicken Hash and Chocolate Potato Doughnuts. Oh, and then realize that you're one of them.
Richmond
Thanks to the recent addition of more seating, pinball machines, and a TV showing every Blazers game, the wait times may be slightly less than the super-early days at this pizza mecca, but the pie continues to kick some serious hind-parts, and is well worth the time in line.
Downtown
People have been known to wait up to three hours for a seat on a vintage leather couch at this whiskey emporium with cocktails made table-side and tasty bar snacks.
Kerns
Often referred to the best Southern brunch spot in Portland, you might get through three mugs of strong coffee before sitting down to your fried oyster Benedict or fluffy buttermilk pancakes, but the caffeine should help to make the wait fly by.
Sign up here for our daily Seattle email and be the first to get all the food/drink/fun in town.