No other food combines spice, meat, and phallic punnery quite like sausage. And, lucky you, Portland's got so many artisan intestine-stuffers that it's easy to turn a day wandering the city into the greatest sausage fest this side of a pre-DMB tailgate (see!). That's why we've designed the meatiest, most artery-clogging sausage crawl in town, an epic bender of sausage-y bliss. There will be meat. There will be beer. And then there will probably be a prescription for insulin.
Stop#1: Gruner
1215 SW Alder St; Downtown; 503.241.7163
Much like Bob Evans on a long trip, downtown's Alpine oasis packs its own sausages, with the bratwurst taking the spotlight… and sharing it on a "choucroute garnie" plate that also comes w/ dry saucisson sausage, plus non-packed meats like cider-braised pork belly and cured tenderloin. But don't get distracted: you've gotta stay on-theme!

Stop #2: The Bent Brick
1639 NW Marshall St; Pearl District; 503.688.1655
Offering a peaceful solution to your brain's internal war when choosing between hamburgers and hot dogs, Bent Brick's put them together in the Hamburger Dog, which packs ground beef and cheese into a sausage casing. But then there's the Reuben Sausage. And a duck/sage Hunter's Sausage. And a chorizo one… Looks like the cerebral war has only just begun.
Stop #3: Olympic Provisions
107 SE Washington St; SE Portland; 503.954.3663
Having executed a salty takeover of pretty much every charcuterie board in town, OP's basically a synonym for NW sausage, making its SE location the ultimate sausage party… a wonderland full of salami, chorizo, kielbasa, chocolate sausages, cacciatore, and the biggest franks this side of Ocean.


Stop #4: The Wurst
724 E Burnside St; Lower Burnside; 503.236.2454
Now that you've gotten the traditional ones out of the way, it's time to get weird at this hubris-less bar/mini-arcade, where the buns are filled w/ sausages stuffed w/ everything from pork/garlic and elk/maple syrup, to lamb/apricot and duck/pancetta.
Stop #5: The Slide Inn
2348 SE Ankeny St; Buckman; 503.236.4997
This funky little German-inspired Buckman joint attached to the Jade Lounge rocks gigantic -- like, almost emasculating -- house-stuffed sausages, including a turkey beast w/ roasted apples and perhaps the spiciest Hungarian since Zsa Zsa Gabor, which's stuffed w/ beef, pork & cayenne.

Stop #6: Bar Dobre
3962 SE Hawthorne Blvd; Hawthorne District; 503.477.5266
Portland's only all-Polish joint -- read: sausages, vodka, and potatoes -- translates to "good bar", probably because the real reaction to the gigantic, hand-stuffed kielbasa plate would register as slightly profane… which it so say, it's dobre as f***.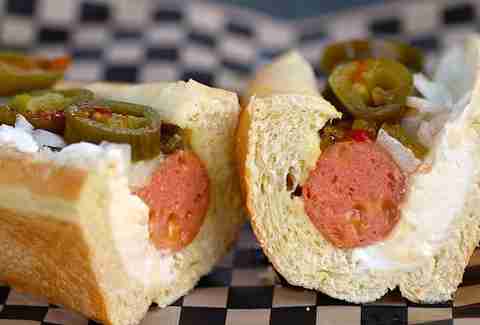 Stop #7: Zach's Shack
4611 SE Hawthorne Blvd; Hawthorne District; 503.233.4616
Finish your tour de intestinal casings w/ that most American of creations: hot dogs at Zach's, which're served until 3a nightly and include epic twists on the classics, like a cheese-stuffed chili dog or a neon green-relished Chicago dog. Cap off the night with a game of ping-pong. Then realize you're way too full for that, and find yourself under the (ping-pong) table and dreaming.