Portland, the Best Day of Your Life is almost here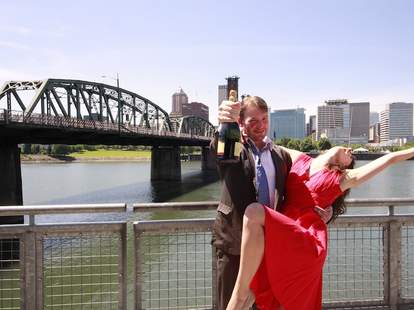 Circle June 21st on your calendar, because, thanks to Thrillist, it's going to be the Best Day of Your Life
Here's how it's all going down. First you're going to call in sick, because you can't be working on the longest day of the year. Then follow this itinerary to lead you to glorious hookups like free video games at Ground Kontrol and cocktails on us at The Aviary, all the while keeping track of all the #BDOYL social action here
522a: Wake up and greet the sun. If that yellow bastard actually decides to come out today.
544a: Hop on your bike and cruise around the neighborhood singing "Here Comes the Sun" or "Morning Has Broken" or some other horribly obnoxious song at the top of your lungs
Crack of dawn: Head home and wash off the bike sweat. Put on your most comfortably suave clothes. You have to look good on the best effin' day ever.
Early morning: Roll up to Ristretto Roasters and order up a piping hot cup of joe, then kick it on the sidewalk seating area and hit on girls walking their dogs past you. If it's too busy, head a few blocks down to Fresh Pot and do the exact same thing.
Breakfast: Head a couple of blocks east to Alberta and belly up to the counter of Pine State Biscuits. Order up the signature Reggie Deluxe -- a biscuit loaded with fried chicken, bacon, egg, and sausage gravy -- and a Gourmet Chocolate Milk. You're gonna need the extra calories today.
Post-breakfast: Pop over to Radio Room for a nonjudgmental breakfast cocktail on the rooftop. Check your email one last time. Then another cocktail. Who's judging? Nobody, that's who
Late AM: Time to head downtown, so hop on the MAX and head for Washington Park… but on the way, stop off at the classic Rich's Cigars and get yourself a stogie…. it's a celebration.
Noonish: Reboard the MAX and take that cigar up to Washington Park and hop the shuttle to the International Rose Test Garden. Drown out the sweet smell of flowers while taking in one of the best views of the city.
Lunchtime: Pop over to Lardo for a pork-belly burger. If they're too full, head out to one of the nearby food carts and snag something weird like nacho cheese-stuffed dumplings. Actually, do both.
Post-lunch: Take a streetcar North and then work off some of that pork belly with a leisurely walk through Forest Park. Stop to smell the moss and talk survival skills with feral bums.
Level up!: Cruise over to Ground Kontrol to get down on some Tron and pinball action and in a crazy, glowing arcade! If you hate that kind of awesomeness, get down on a different variety by heading over to Blitz to catch whatever game they're showing. If there's no game on, just scream at the blank flatscreens.
Pole position: Walk over to Old Town and spend some time at the rack of Magic Gardens. You have to. You're from Portland… it's calling to you
Happy Hour: It's time to get happy, so head over to Alberta's Aviary nice and early, cuz Thrillist has holes in its pocket and is buying rounds for some lucky folks. Order up something boozy, then get down on pig snouts and slaw dogs... which are probably actually made of snout. And are delicious.
Feeding time: Amble over to Ox to chow down on one of the city's best steaks, grilled up before your eyes on a gigantic Argentinian grill. If they're too full, either wait it out with Miss Muffet-style cocktails in the adjoining Whey Bar, or mosey North and grab a seat at the rustic Ned Ludd.
903p: Head downtown to the Nines, then take the elevator up to Departure, where you can put your feet up while taking in a panoramic view of the PDX sunset while sipping Sriracha cocktails and eating amazing sushi. Reflect on what was the Best Day of Your Life, then order another cocktail and gear up for the Best Night of Your Life.